New Jerseyans Paying Fare Increase Fear More Down Line
by
Commuters paying 9 percent more as of Oct. 1 after budget gap

Labor contracts, Amtrak fees ahead as Christie resists gas tax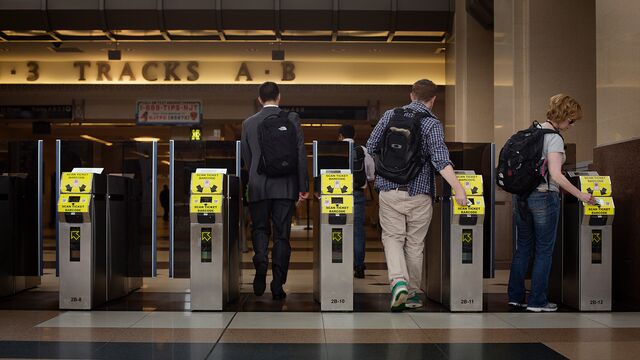 New Jersey Transit, charging as much as $499 a month for round-trip trains to Manhattan starting today, is due for more budget hits with fewer resources to manage them beyond commuters' wallets.
Riders are paying an average 9 percent more, helping the third-largest U.S. mass-transit operator bridge a $120 million shortfall. A bigger gap is taking shape for July 1, when the agency will no longer have $295 million that Governor Chris Christie diverted to its budget after killing a tunnel project. It also faces contractual salary raises and higher track-user fees.
The crunch confronts a state almost out of money to improve rail performance and fix highways as its Republican governor, running for president, favors tax and spending cuts. New Jersey residents, who have one of the longest average commutes in the country, have little choice but to pay more for less reliable rides.
"We're chasing them off the trains with high fares and bad service, and putting them on roads with bad surfaces and ridiculous wait times," said Assemblyman John Wisniewski, a Democrat from Sayreville who is chairman of the Transportation Committee.
New Jersey Transit handles about 907,000 passenger trips on a typical weekday, with service at capacity for rush-hour trains to or from Manhattan. From 2010 to 2020, the agency expects a 13 percent increase in midtown bus trips, and Manhattan-area trains won't have enough seats for all passengers at the peak rush.
Maxed Out
Already, the system is stressed. New York City commuters in July were plagued by a string of rail delays as long as an hour, and breakdowns affecting bus traffic to the midtown Manhattan depot operated by the Port Authority of New York and New Jersey.
Nancy Snyder, a New Jersey Transit spokeswoman, declined to comment on whether the agency is considering higher fares.
"NJ Transit continues to work to identify every reasonable cost efficiency while pursuing new and creative ways to generate more revenue from our assets," Snyder said in an e-mail.
Last week, Democratic lawmakers proposed bills to limit future fare increases and increase public disclosure.
"This is creating a hardship," said Assemblyman Carmelo Garcia, a Democratic sponsor from Hoboken, where a majority take mass transportation to work. "It's not like we've got salaries going up."
As Christie, 53, courts voters nationally, he's resisted the Democrat-led legislature's calls to raise the gasoline tax, which is supposed to pay for transportation projects. All that $500 million in annual revenue, though, goes to payments on $14 billion in debt incurred by the Transportation Trust Fund.
The $8 billion account, which funds about 40 percent of New Jersey Transit's infrastructure needs, will be dry by June 30.
Christie, at a New Jersey Commerce and Industry Association breakfast in Hanover on Sept. 28, said that a gas-tax increase could be tied to tax cuts elsewhere, and he mentioned New Jersey's levies on inheritances and estates as a possibility.
"I will consider any option that's presented to me as long as those options include tax fairness for the people of New Jersey," Christie said.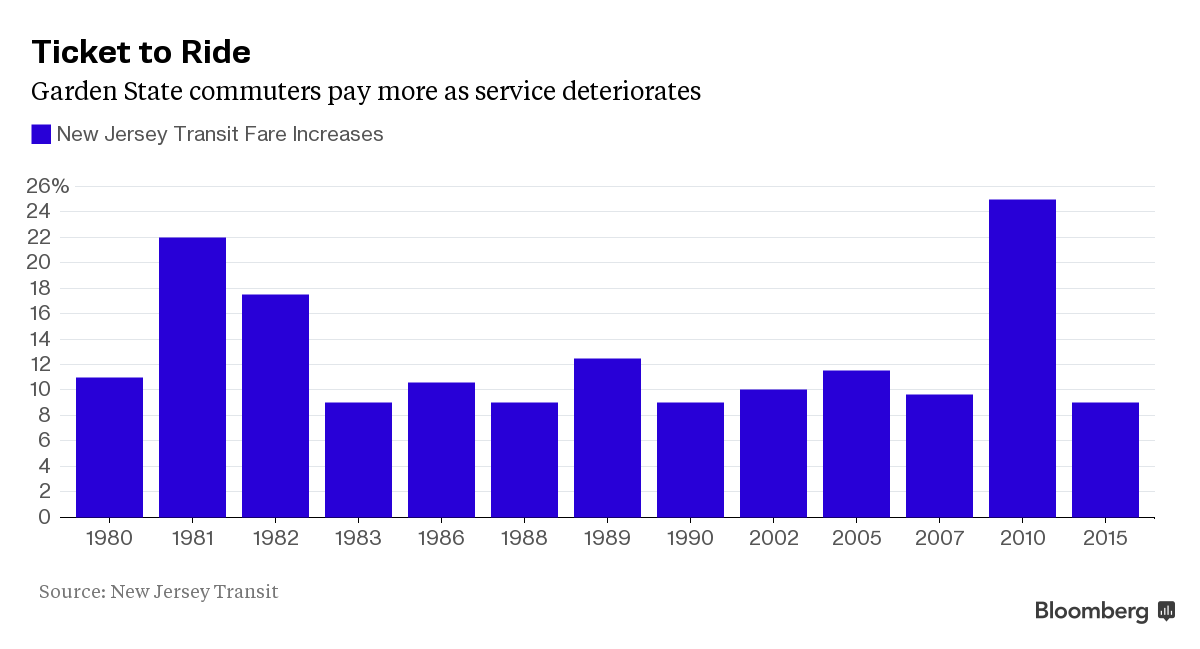 Though this year's fare increase helped balance a $2.1 billion budget, it doesn't address what's ahead.
Next year, for the first time, railroads in eight states will have to pay a portion of $925 million in annual operating and capital costs along Amtrak's Northeast Corridor. New Jersey's share will be in addition to the $100 million it pays for annual track access and maintenance. Amtrak hasn't publicly detailed how the costs are being determined and what each state will pay, and it required participants not to disclose details.
Come July 1, New Jersey Transit also won't get annual spoils of $295 million, its share from when Christie canceled a Hudson River commuter-rail tunnel and parceled out $1.25 billion in dedicated funding to New Jersey transportation needs.
The next budget also will have to accommodate the higher labor costs under negotiation. Of 11,000 employees, about 9,500 are union-represented.
Union Talks
In August, a negotiations board appointed by Democratic President Barack Obama recommended compounded wage increases totaling 18.4 percent over six-and-a-half years for 4,300 of the workers.
New Jersey Transit had offered 10 percent over seven-and-a-half years, according to the New Jersey Transit Rail Labor Coalition, a group of unions. The agency couldn't accept the negotiations board's recommendations, Snyder said, because they "fail to recognize economic realities or the massive cost burden they will put upon our customers."
"We will continue to negotiate for a fair and equitable settlement," she said.
As debt and benefit obligations consume increasing portions of state spending, New Jersey Transit's state subsidy for the fiscal year that began July 1 is $33.2 million, an 18 percent drop from the prior year.
"It goes back to Governor Christie slowly but surely each year reducing the amount of state support to New Jersey Transit," said Al Papp Jr., a director of the Raritan-based New Jersey Association of Railroad Passengers. "They have no other choice to maintain their revenue stream other than go to their customer, the passenger."
To raise $56 million toward a $120 million budget shortfall, the agency's board of directors in July voted to raise bus and train fares an average 9 percent. Starting today, a rail rider to Manhattan from Princeton will pay $499 a month, a $41 increase.
The agency last asked riders for more in 2010, when a $300 million budget gap led to 25 percent higher fares.
N.J.'s Creaky Mass Transit Endangers Boom for Wall Street West
Ferries Lie Tantalizingly Beyond Reach as Hudson Tunnels Decay
N.J. Transit Board Goes 12 Years Without Dissent as Trains Crawl
Before it's here, it's on the Bloomberg Terminal.
LEARN MORE