Hillary Clinton Aide Cited Danger Of Using Private E-Mail
Clinton's chief of staff told her they might not want to "telegraph" officials' usage of private e-mail, apparently as it might attract hacking attempts.
by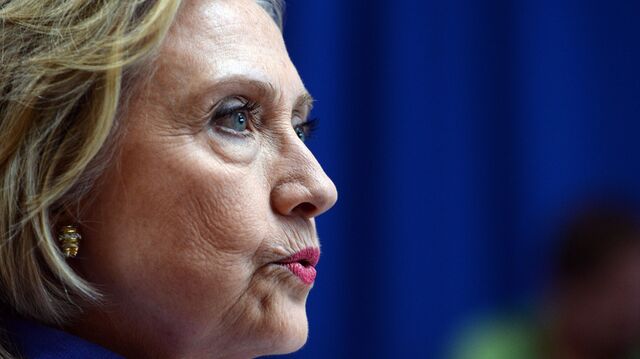 Hillary Clinton was warned against revealing her private e-mail practices at the State Department over hacking fears. 
An aide to Clinton sent an e-mail on June 4, 2011, suggesting that the then-secretary of state and her staff not "telegraph" that some officials were using private e-mail accounts on which they conducted government business, according to messages made public on Wednesday. 
The aide, chief of staff Cheryl Mills, suggested to Clinton and others that she had been the victim of an attempted hacking and wrote that she was "not sure we want to telegraph how much folks do or don't do off state mail b/c it may encourage others who are out there."
Clinton's presidential campaign has faced months of questions and dozens of lawsuits because she used a private e-mail server for some daily communications. Many experts contend her set-up might have been insecure, and government inspectors general have found information that they say should have been classified among the e-mails. (The campaign disputes this.)
It was also learned on Wednesday that hackers did indeed attempt to access Clinton's account just two months later, sending a series of phony e-mails disguised as parking tickets and soliciting the recipient to click an attachment that would have transmitted information to overseas servers, including one in Russia, the Associated Press reported. It's unclear if Clinton clicked the attachments.
The warning from Mills was prompted by an e-mail from a former State Department employee, Anne-Marie Slaughter, who wrote on June 3 "that State's technology is so antiquated that NO ONE uses a State-issued laptop and even high officials routinely end up using their home e-mail accounts to be able to get their work done quickly and effectively." The subject line refers to an apparent hack of Gmail and the "woeful state of civilian technology."
Before Mills's warning, Clinton responded that Slaughter's proposed remedy—going public about the issue with a statement or an op-ed from someone at the department—"makes good sense."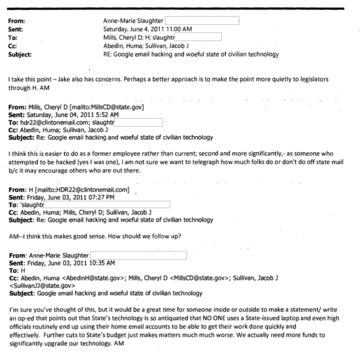 In addition to Clinton's two private e-mail accounts, another key aide, Huma Abedin, used a personal account on the Clinton server. An AOL account of close Clinton ally and frequent correspondent Sidney Blumenthal would later be hacked, and his private memos to Clinton ended up on the Internet.
A State Department spokesman and a representative for Slaughter both declined to comment on Wednesday's revelations. A lawyer for Mills did not comment on the record. A Clinton campaign spokesman did not immediately respond to a request for comment.
The latest release of Clinton's e-mails is part of the ongoing process by the State Department of making her correspondence public in response to requests under the Freedom of Information Act. Clinton was not alone in using a private e-mail address while heading the department. Former Secretary of State Colin Powell has also said he used a private e-mail address when he held the position from 2001 to 2005.
(Correction: A previous version of this story said Anne-Marie Slaughter was a State Department employee in June 2011. She had left the department in February.)
Before it's here, it's on the Bloomberg Terminal.
LEARN MORE