Republican Group Tells Candidates for House Leadership Positions to List Policy Positions
The conservative Republican Study Committee will host a forum to help distinguish the views of those seeking a leadership position.
by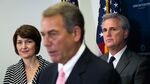 A group of House Republicans is holding a leadership candidate "forum" on Oct. 7, the day before internal party elections for speaker and perhaps other top positions.
The Republican Study Committee is asking all candidates for party leadership jobs to fill out a survey to describe their policy positions, answer what the House agenda should be—and explain how it should function procedurally.
The RSC calls itself a conservative group and includes as many as 170 members among the total 247 House Republicans.
In a "Dear Candidate" letter attached to the "RSC's 2015 Republican Leadership Survey," Representative Bill Flores of Texas writes that the group wants candidates to detail "your priorities and elaborate on the leadership methods and strategies you would utilize if elected to the post you are seeking."
Speaker John Boehner, who set off the leadership race scramble last week with the announcement he will step down as party leader at the end of October, decided Wednesday to schedule the party elections for Oct. 8.
The Flores letter tells candidates that responses need to be in by noon Oct. 5 in advance of the forum to be held two days later.
Before it's here, it's on the Bloomberg Terminal.
LEARN MORE