Clinton Camp Senses Moment to Expose Benghazi Committee
House Majority Leader Kevin McCarthy unleashes the perfect talking point for Democrats pushing for the panel to be dismantled and investigated.
by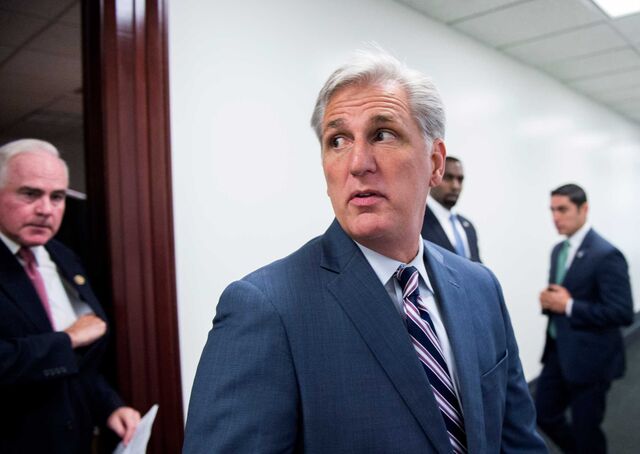 Hillary Clinton and her fiercest defenders couldn't have said it better themselves.
Instead, the Republican leading the race to replace John Boehner as House speaker said it for them, boasting Tuesday that his party has spent nearly three years dragging her through investigations of the Sept. 11, 2012, attack in Benghazi in hopes of doing serious damage to her presidential campaign.
"Everybody thought Hillary Clinton was unbeatable, right?" House Majority Leader Kevin McCarthy boasted on Fox News Channel's "Hannity." "But we put together a Benghazi special committee, a select committee. What are her numbers today? Her numbers are dropping. Why? Because she's untrustable. But no one would've known any of that had happened had we not fought and made that happen." 
The California Republican didn't reveal a secret plot or anything close to it. (His office issued a statement later trying to walk back his comments, saying the committee's focus has always been on a serious and substantive investigation of the Benghazi attack.) But in saying what Democrats have insisted all along, and with particular ferocity since the House Select Committee on Benghazi was formed in May 2014, McCarthy gave them the perfect talking point and a key piece of evidence in pushing for the panel to be dismantled and investigated.
"It's just jaw-dropping," said former Democratic presidential candidate and Vermont Governor Howard Dean, who has endorsed Clinton. "The Republicans lied through their teeth when they said this wasn't about politics."
Clinton herself said on Wednesday that McCarthy's comments were "deeply distressing."
"When I hear a statement like that, which demonstrates unequivocally that this was always meant to be a partisan political exercise, I feel like it does a grave disservice and dishonors not just the memory of the four that we lost but of everybody who has served our country," she said in an interview with MSNBC's Al Sharpton.
Earlier, Clinton campaign press secretary Brian Fallon called McCarthy's words "a damning display of honesty by the possible next speaker of the House," who has "just confessed that the committee set up to look into the deaths of four brave Americans at Benghazi is a taxpayer-funded sham. This confirms Americans' worst suspicions about what goes on in Washington."
The Benghazi committee's top Democrat, Maryland Representative Elijah Cummings, said in a Wednesday statement that McCarthy had simply acknowledged what "Republicans never dared admit in public." He added that Republicans "have blatantly abused their authority in Congress" by spending more than $4.5 million in taxpayer funds on the Benghazi committee "to pay for a political campaign against Hillary Clinton."
New York Representative Louise Slaughter, the top Democrat on the House Rules Committee, added: "That's not what we're here for and, in fact, I think that might be impeachable for crying out loud."
The committee has been active for 72 weeks—more time as of this week than the congressional investigation of Richard Nixon and Watergate—and is not expected to end for at least several months. Clinton is slated to testify before the panel at an open hearing on Oct. 22, which was scheduled only after months of back-and-forth between Clinton's lawyers and committee Chairman Trey Gowdy, a South Carolina Republican, who had wanted to hear from the former secretary of state behind closed doors.
With McCarthy's comments in hand, pro-Clinton groups began the drumbeat Wednesday for a probe into the panel's motivations and operations.
David Brock, founder of several groups that support Clinton including the super-PAC Correct the Record, called Wednesday for a House Ethics Committee to launch an investigation into "this abuse of power and misuse of taxpayer funds for political purposes." By the end of the business day, the Brock-founded American Democracy Legal Fund, had written to the ethics panel's chief council asking for an investigation into whether violated House rules by using the Benghazi committee for political purposes.
"Our approach to this for some time has been to [point out] the fact that the Benghazi Committee is just the Select Committee to Destroy Hillary Clinton," ADLF president Brad Woodhouse said in an interview. Congressional Republicans "wouldn't say it because they shouldn't be using a taxpayer funded committee to try to destroy Hillary Clinton's chances of being elected president but Kevin McCarthy just confirmed it." 
Referencing writer Michael Kinsley's definition of a gaffe in a political sphere, Woodhouse added: "The gaffe is just the truth. That's what this is."
Before it's here, it's on the Bloomberg Terminal.
LEARN MORE