Carly Fiorina Woos Capitol Hill Republicans
The former Hewlett-Packard CEO offers a rare moment of comity for her congressional colleagues.
by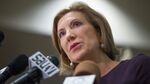 An hour after concluding a fractious effort to pass a stop-gap budget and avoid a government shutdown, congressional Republicans found a rare moment of comity Wednesday during an appearance by presidential hopeful Carly Fiorina on Capitol Hill.
Fiorina, a surging candidate who's gone from the kiddie table at the party's first debate to credible contender, met with Republicans and their chiefs of staff for a couple of hours at the Capitol Hill Club, a party bastion a block from the Capitol building.
Representative Peter King of New York said she's on his short list for president, a roster that also includes Marco Rubio, Jeb Bush, and possibly John Kasich.
"It was a pretty good cross-section in there. I mean, it's not often I'm in the same room as the guys from the Freedom Caucus," he said, referring to the House Freedom Caucus group of hard-right members that held up the spending measure over a symbolic effort to defund Planned Parenthood. 1 Bloomberg Philanthropies provides financial support for Planned Parenthood. He said the session revolved around policy and budget.
"She was able to take it. Not just the sound bite: 'We spend too much' or 'Obama's a bad president'—that sort of thing," King said. 
As they left, several members said Fiorina received a warm reception from those who attended the closed-door meeting. 
For Fiorina, who has positioned herself as an outsider candidate in a political climate that's proved difficult for insiders to navigate, the gathering was a chance to grab face time with party figures in the nations capital city.
"She was able to take it to the second or third level. Maybe even the fourth if she had time," King said.
Before it's here, it's on the Bloomberg Terminal.
LEARN MORE