De Blasio Joins Call for New York Pensions to Divest From Coal
Henry Goldman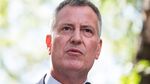 New York Mayor Bill de Blasio wants city pension funds to get rid of about $33 million invested in coal companies to demonstrate his opposition to climate-changing fossil fuels.
De Blasio, a Democrat who has set a goal for the city to reduce total carbon emissions 80 percent by 2030, said the city's five retirement funds, which hold assets of about $160 billion, should end stock investments in thermal coal.
"New York City is a global leader when it comes to taking on climate change and reducing our environmental footprint," de Blasio said Tuesday in a statement. "It's time that our investments catch up -- and divestment from coal is where we must start."
The mayor's recommendation has no power beyond persuasion. Comptroller Scott Stringer, not the mayor, oversees the five pension boards, each obligated to pay retirement benefits to municipal unions representing teachers, school administrators, police, firefighters and civil servants. Each board is controlled by union appointees.
'Killing People'
Stringer raised the issue of divestments in April, saying a decision had to balance the merits of supporting the environmental policy against the stewardship of funds required to pay for workers' retirements.
"We believe the future is in clean energy," Stringer said in an April interview with Yahoo News. "We're worried about coal. One, it's killing people, but also it could be a dying industry, so we want to have discussion about this."
On Tuesday, Stringer joined the statement de Blasio released, saying he welcomed the mayor's "contribution to the ongoing discussion," and said he intended to engage "with our trustees in a robust conversation about the best ways to achieve our shared goals."
In 2013, former Comptroller John Liu announced that the the New York City Employees' Retirement System, which represents civil servants, had divested $16 million in stock holdings of gun and ammunition manufacturers.
Before it's here, it's on the Bloomberg Terminal.
LEARN MORE