Trevor Noah Finds Himself in a Political Straitjacket
He can transcend his old tweets—but can he escape from Jon Stewart's legacy?
by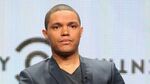 Over the last two weeks, Comedy Central has finally been sending Trevor Noah, the new host of the Daily Show whose reign begins Monday night, out into the wild. In the six months since he was named the surprising successor to Jon Stewart, Noah has been touring and working with the writing staff (most of which is holding over from Stewart's reign), but publicly, he has been a non-presence. He made a cameo on the final Daily Show episode, he showed in a couple of ads, he did Jerry Seinfeld's show, but until the last two weeks, you've seen almost none of him. This has caused Noah a serious problem.
Remember, when Stewart announced he was leaving the Daily Show, the general consensus was that the show was comedy's Oval Office, the most desired daily gig available. (Many felt John Oliver, who is currently thriving on HBO, had left the show just a few months too early; he would have been a logical, obvious successor.) This turned out not to be the case exactly (Chris Rock, Amy Poehler, Louis C.K., and Amy Schumer all turned down the job) but nonetheless, Noah, at the tender age of 31, was suddenly thrust from almost total obscurity in the United States to the biggest stage in the comedy game.
There was some initial positive press about giving a black African such a high-profile assignment in an industry dominated by white men—but the honeymoon only lasted 24 hours. Things totally fell apart for Noah when online sleuthers dug into Noah's Twitter history about found a series of offensive (and, worse, unfunny) jokes about Jews, gays, women, and the obese. The backlash was immediate and total, and Noah was forced to give a non-apology apology. 
The problem for Noah wasn't that the jokes were bad or uncouth (though they were). After all, Louis C.K., perhaps the most popular and beloved comedian on the planet right now, has said things a thousand times more offensive. (He has a bit about peanut allergies and slavery that is as cruel and nihilist as it is uproarious.) The problem for Noah was that they became the only thing that Americans, who hadn't seen Noah's standup and didn't know his story, knew about him. The first time millions of people ever saw him was in this defensive crouch. His narrative switched immediately from "smart, insanely young talent" to "crass jerk." And, I'm sad to say, it hasn't switched back. If anything, it has cemented.
Much of this has to do with how quiet Noah, and Comedy Central, have been in the ensuing months. There were no Web videos (like Stephen Colbert did during his time away from cameras), no cameo appearances on sitcoms. Noah didn't start trying to reintroduce himself to the American public until the last two weeks, when he gave a series of interviews and appeared on Stephen Colbert's new show, where he did himself no favors by trying out some shaky political material in front of the man who has mastered the art.
And even those interviews have caused him trouble, most notably his comments about criticism of Vanity Fair's pictorial of every current talk show host, of all whom were men. Noah said, in the tone-deaf fashion that has become his hallmark, that women were in fact "more powerful" than men in comedy, which is, uh, not close to being true. He hasn't had to apologize for that, not yet, but only because there weren't as many paying attention. Noah's inability, culturally based or otherwise, to accurately read the outrage winds that push today's conversation has led Previously.TV, a terrific television-focused pop culture website founded by the creators of Web 1.0 Hall of Fame site Television Without Pity, to run a featured called, "Predicting Trevor Noah's Future Scandals." ("Lets Paper shoot him in a Native American headdress for a story on his new role as Daily Show 'Chief.'" "Says his favorite season of Friday Night Lights is 2.") The site has come to calling Noah's firing from the Daily Show to be "inevitable."
For the record, Noah's version of the Daily Show has not yet begun. But that is the point, of course. And this is where Noah is probably screwed no matter how good he is. In the last few years, Stewart's show grew to become less about the comedy and more about the politics. The Daily Show became a political institution of its own, a place where liberals could laugh at those stupid Republicans, a show often more ideally placed on MSNBC than Comedy Central. (This swing is another reason you can see Colbert, now released from this echo chamber, is trying to hard to change his own show to make it more inclusive to viewpoints other than his own.) That Noah was a powerful, up-and-coming comedy talent—and if you've seen the 2011 documentary about him, You Laugh But It's True, you know he is an undeniable talent—was completely beside the point. The Daily Show, more than it needs a funny host, needs someone whom the audience believes is on their side. That's just the way the show has evolved. Noah's show inevitably will have a different sensibility than Stewart's. Anytime he has a view that clashes with what the Daily Show audience is used to, it's going to be a problem. The show has put itself in an ideological straitjacket. And now Noah's trapped in it.
This is almost certainly unfair to Noah, who, after all, hasn't even gotten to do his show yet. But this is the world he walks into. It's also worth noting that the "otherness" that people were praising when he was hired now is working against him. One of those Previously.TV commenters wrote, "He also has a massive mountain to climb to prove he understands his audience. Being an 'international comic' is all well and good in theory, but the show's ratings figures come from WITHIN the US, not from outside it. You don't have to pander, but playing the bemused foreigner snarking on American idiocy could be a dangerous game, if he winds up going that way." Stewart has spent 10 years "snarking on American idiocy." Now we're not even going to let Noah do that. Considering Oliver has becoming hugely popular doing that precise thing, it's doubly difficult.
Noah is an immensely skilled comedian, but he's 31 years old and is being flung into the maelstrom of a program that is demanding more of him than any human being, no matter how funny or skilled, could possibly give. Noah launches on Monday night with the first of four shows that he calls a "miniseries" to introduce him to Americans, but the only real night that will matter is the first. Noah has 27 minutes to convince a skeptical audience that he's just like them, particularly difficult considering, well, he's not. Forget the Oval Office of comedy: This has to be the toughest gig in entertainment right now. Wish him luck. He sure is gonna need it.
Before it's here, it's on the Bloomberg Terminal.
LEARN MORE