Syria War Dominates UN as Strained Ties Hamper Obama, Putin
by , , and
Obama, Putin fail to reach breakthrough in 90-minute talk

Role of Syria's Assad in any agreement divides leaders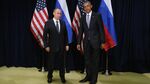 World leaders remain divided over how to end the carnage in Syria after the first face-to-face talks between the presidents of Russia and the U.S. ended without signs of a significant breakthrough.
Russian leader Vladimir Putin, wrapping up a one-day visit to New York, told reporters that a 90-minute meeting with Obama at the United Nations was "frank" and that "relations between Russia and the United States are unfortunately at a pretty low level."
With Russia sending troops and weapons to bolster embattled President Bashar al-Assad, the deteriorating situation in Syria took center stage on the first day of the annual UN General Assembly. Western leaders differ over their willingness to coordinate anti-terror attacks with Syria's government, hampering an agreement to end a conflict that has killed hundreds of thousands of people and displaced millions more.
Syria Deal?
The prospect of an accord on Syria had been dangled heading into this week's UN gathering, as leaders including German Chancellor Angela Merkel and U.K. Prime Minister David Cameron signaled more flexibility in their stance toward Assad, who they have previously said must step aside. In his speech to world leaders Monday morning, Obama said he was willing to cooperate on the issue, but only so far.
"The United States is prepared to work with any nation, including Russia or Iran, to resolve the conflict," Obama said from the UN podium. "But we must recognize there cannot be -- after so much bloodshed, so much carnage -- a return to the pre-war status quo."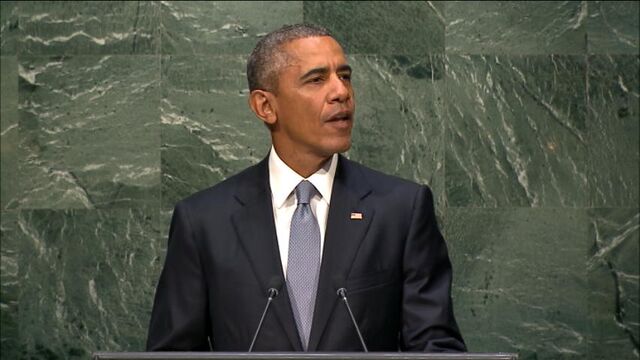 Putin said the strained ties with the U.S., which has criticized Russia's annexation of Crimea, shouldn't get in the way of them working together on Syria. With control of Syria divided between the government and a collection of militant Islamic groups, the two nations did at least agree that their militaries will communicate to try to avoid conflicts.
Political Resolution
Obama, who is hosting a summit on countering extremism on Tuesday in New York, left the Putin meeting without speaking to reporters. An administration official said he and Putin were willing to explore a political resolution, including ways to potentially bring in different parts of the Syrian opposition, but no formal mechanism was established.
U.S. Secretary of State John Kerry called the meeting "genuinely constructive" and "very candid" in an interview with MSNBC on Tuesday, and said he would continue discussions Wednesday with Russian Foreign Minister Sergei Lavrov. Kerry said Obama and Putin agree that Syria should be unified and secular, but disagree on Assad remaining in power.
Sunni 'Buy-In'
"Violence in Syria ends once Assad steps aside," Kerry said. The Russians "need to understand you can not have peace unless you have Sunni buy-in" as they represent 60 to 65 percent of the Syrian population, he said. Assad is of the minority Alawite sect.
Cameron said on Tuesday that Syria is "the most difficult and intractable problem that we face," and that both Islamic State and Assad's regime must be removed from the country.
"I will work with anybody to build a Syria that's free of Assad and free of ISIL," Cameron said on the CBS program "This Morning" in New York, echoing the U.S. position. "We'll never have a secure Syria until both those things are eradicated."
One major disagreement is over backing for anti-Assad rebels, which Putin said amounted to illegal support for groups he considers to be terrorists. Turkey and France were among nations holding firm to their position that Assad should go.
"Turkey cannot move forward with Assad in charge," Prime Minister Ahmet Davutoglu told reporters. "Assad can't be trusted to manage Syria's transition to peace."
'Illegal' Airstrikes
While ruling out the use of ground troops in Syria, Putin kept open the possibility of Russia joining Western nations and Assad's government in coordinating air strikes in Syria. He said that strikes currently under way by the U.S., France and Australia without the Syrian government's authorization are "illegal."
"We are doing everything possible to, if not achieve a breakthrough on Syria, to avert a breakdown," Lavrov said in New York Tuesday.
Russia, which has set up a military center in Baghdad to share information with Syria, Iran and Iraq, won't accept a single command structure in alliance with the U.S.-led coalition, though it proposes a coordinated campaign on the ground and in the air, Lavrov told state-run RT television.
Putin also made clear he thinks the U.S. and others shouldn't be weighing in on the fate of Assad, a long-time ally of Russia. He said he respects "my colleagues the U.S. president and the French president, but I don't think they're Syrian citizens so I don't think they should be involved in deciding the future. It's up to the Syrian people to decide that."
Russia will introduce a UN Security Council resolution on Sept. 30 backing political and military coordination among nations, which would also include the governments of Syria and Iran, according to a diplomat familiar with the proposal. Four vetoes cast by Russia and China at the Security Council have limited intervention in the crisis that erupted in 2011 after protesters demanded Assad's ouster.
Before it's here, it's on the Bloomberg Terminal.
LEARN MORE