Kasich Pushes Cooperation Even as Hardliners Drive Out Boehner
Mark Niquette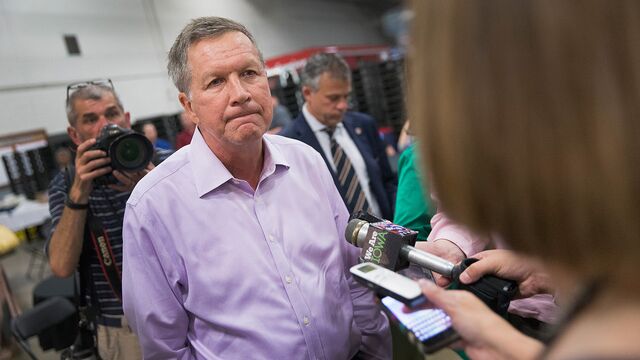 The weekend after Republican House Speaker John Boehner announced his resignation amid complaints that he was too conciliatory, John Kasich found fresh virtue in cooperation.
The Ohio governor and presidential candidate told audiences in Iowa, where conservative and evangelical voters dominate the first Republican caucuses, that it will take an experienced leader unafraid to compromise to get action on immigration, taxes and other issues.
Kasich's appearances in Iowa exposed a party at an inflection point. While some conservatives celebrated the departure of Boehner as a leader who wouldn't stand against Democrats and President Barack Obama, Kasich said they're the minority. He's betting that Boehner's demise and the prospect of ideological warfare in Congress will give his pragmatism a new sheen for party members.
"They do want change, they do want reform, but I think when we get to the final day, it's going to be about, well, who can actually deliver it?" Kasich said Saturday in an interview between events in the state where caucuses begin in four months. "Everybody, at the end of the day, knows that we have to solve problems in this country."
After a woman at a Sioux City foreign-policy forum asked Kasich how to get Washington politicians to compromise, he took a snap poll: Who in the room was for "more fighting," and who was for "more compromise?"
The latter drew some applause from the crowd of about 100 people.
"John Boehner had a 94 percent conservative rating last year," Kasich said. "I guess that wasn't good enough."
Boehner said Friday that he will leave Congress at October's end as some presidential candidates and members of his caucus push for a government shutdown to defund Planned Parenthood, which they say promotes abortions. His departure raises the prospect of a House whose leader will have no ability to move legislation that would pass muster with the Senate or a Democratic president.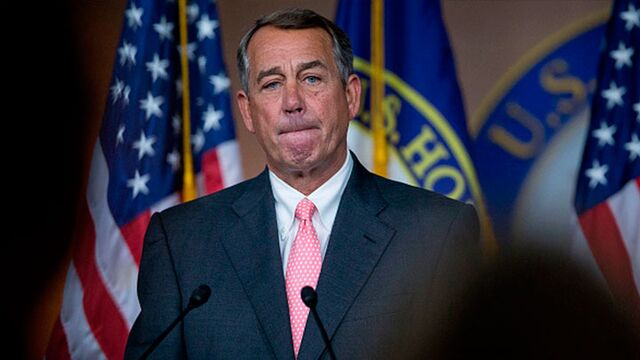 Angry Din
Republicans willing to deal with Democrats are "drowned out by the voices that yell, 'Stand for something,'" Kasich told reporters after the Sioux City event.
"I'm hearing increasingly, 'How do we get people to work together?'"
Later, at a Council Bluffs hog roast, Kasich touted the ability to "hang with principle but yet to be constructive" and "compromise without compromising your principles."
As candidates without government experience top the polls, led by real-estate mogul Donald Trump and neurosurgeon Ben Carson, Kasich has positioned himself as a leader who can buck orthodoxy despite his career as an 18-year member of Congress and two-term governor.
Since joining the race in July, Kasich has focused most attention and resources on New Hampshire, which holds the first U.S. primary. While he's polling well there after spending $5 million on television ads, he's near the back of the pack in national and Iowa surveys.
With Wisconsin's Scott Walker bowing out, Kasich is now the only Midwestern governor in the race. He has hired two staff members in Iowa and is making two trips there in five days, after only three visits the entire year.
Walker had been a national frontrunner until his campaign collapsed after a string of wooden appearances, and he quit the race Sept. 21.
Walker's departure and the inability of establishment candidates such as former Florida Governor Jeb Bush or Florida Senator Marco Rubio to gain traction creates an opening for Kasich, said Craig Robinson, a former political director for the Iowa Republican Party. A respectable showing in Iowa by Kasich will hurt his rivals and boost his own chances in New Hampshire, Robinson said.
"It's a smart play," Robinson said. "There is a void here, and I think people are interested in hearing and seeing from him more."
Unfamiliar Face
Kasich's biggest challenge is getting better known, said Cory Crowley, his state director and a former aide to U.S. Senator Chuck Grassley of Iowa.
"You hear a lot of references to, 'Oh, the guy from Ohio,' or 'the guy who did so well in the debates' or 'the guy who's kind of the adult in the room,'" Crowley said. "But they don't always associate the name."
There are Iowa Republicans who cheer Boehner's departure and will react suspiciously to Kasich's calls for comity, said state Representative Mary Ann Hanusa, his chairwoman there.
Yet Iowans are pragmatic and want government to work, she said.
"Compromising has sort of a bad connotation to it," Hanusa said. "I want someone who can look at something critically who can say, 'These are my views, but I can still listen to the other side, I can still try to find common ground.'"
Brian Johnson, a 54 year-old financial consultant from Sergeant Bluff outside Sioux Falls, describes himself as a conservative Republican and said after hearing Kasich that he hasn't settled on a candidate. Johnson said he hopes Kasich remains an option when the caucuses take place Feb. 1.
"Is there a perfect candidate?" he asked. "We do need someone who can help people from both sides unite."
Before it's here, it's on the Bloomberg Terminal.
LEARN MORE