Trump's Tax Plan Borrows From Republicans Who've Gone Before Him
The billionaire candidate, who has been criticized by rivals as having a loose grip on policy, leans on many of the proposals from Marco Rubio, Jeb Bush, Rand Paul, and John McCain.
by and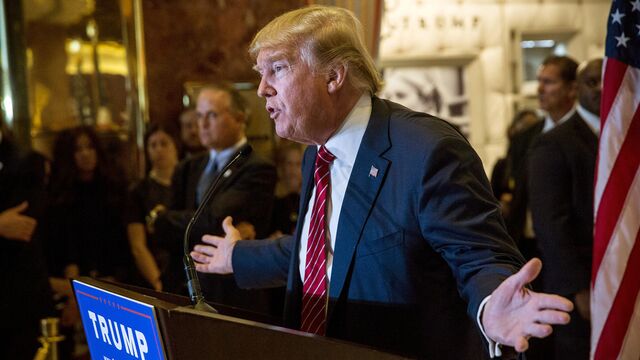 Donald Trump has portrayed himself as a different kind of Republican presidential candidate. His tax plan is mostly more of the same.
The billionaire front-runner for his party's presidential nomination has been promising to make "hedge fund guys" pay more by eliminating the carried-interest deduction, which taxes private equity and hedge fund profits at 23.8 percent. But Trump's plan also reduces the top income tax bracket on the wealthiest Americans to 25 percent from 39.6 percent, effectively minimizing the hike that the real estate celebrity has spent months promoting.
"This is my wheelhouse," Trump, 69, said Monday during a news conference at the Trump Tower in New York. "The economy is what I do well."
Trump, who has been criticized by rivals as having a loose grip on policy, leans on many of the proposals that they have put out before him. Trump's plan would reduce the number of tax brackets to three from seven; former Florida Governor Jeb Bush suggested three (slightly higher) tax brackets earlier this month. U.S. Senator Marco Rubio has proposed abolishing the alternative minimum tax and ending all deductions, save those on charitable giving and mortgage interest; Trump would do the same. Trump said he'd cut the corporate tax rate to 15 percent; U.S. Senator Rand Paul has called for a 14.5 percent flat tax.
U.S. Senator John McCain, the party's nominee in 2008, has proposed taxing corporate cash held overseas at 8.75 percent, instead of the full 35 percent; Trump proposed a one-time rate of 10 percent to encourage the repatriation of an estimate $2.5 trillion. 
"There will be a major tax reduction," Trump told reporters, saying his plan would increase growth between 3 percent to 6 percent. "It'll grow the American economy at a level it hasn't seen in decades."

Like his rivals, Trump also leans on projected growth to pay for the tax cuts. Bush's cuts would cost an estimated $3.4 trillion over a decade, with a net revenue loss of $1.2 trillion after projected economic growth. Rubio's plan to slash taxes on investments, wages, and business income would reduce collections by $1.7 trillion during the same time, while, like Bush, largely favoring the top 1 percent of Americans over the middle class. 
Trump claimed his plan would be "fully paid for," but didn't provide his projections. During an interview on 60 Minutes on Sunday, Trump said his plan relied on economic growth to avoid adding to the nation's $18 trillion debt. On Monday, Trump said his plan would be paid for if the country makes "much better deals."
"I'm not a populist," Trump told reporters on Monday. "I'm a man of great common sense."
Trump would also eliminate the so-called marriage penalty and the estate tax. Single people earning less than $25,000 per year or married people earning less than $50,000 per year would pay no income tax, he said. Or, as his plan posted online said, "They get a new one page form to send the IRS saying, 'I win.'"
'Basic Conservatism'
Closing loopholes such as carried interest would fall in line with "basic conservatism and Republican orthodoxy," economist Stephen Moore said in an interview prior to Trump's news conference.
"If Trump's plan is going to sell with supply-side economists, the tax rates across the board are going to have to come down," said Moore, who has consulted with Paul and Bush on their tax plans and said he spoke to Trump's team about six weeks ago.
Trump has been the front-runner for the Republican presidential nomination for the past three months, but his lead in national polls has shrunk during the past 10 days. An NBC/Wall Street Journal survey released on Sunday showed him with a lead of just 1 percentage point over retired neurosurgeon Ben Carson.
Republican voters, meanwhile, have said they trust Trump on economic policy. In a CNN poll of Iowa Republicans last month, Trump was picked as the best GOP candidate to handle the economy. In a Gallup poll in July, the only issue that a majority of Republicans said Trump would do a good job of handling was the economy.
But Does It Add Up?
The criticisms from his rivals seem to be resonating with Trump, who has said he "would be the best jobs president that God ever created."
In a town-hall meeting in South Carolina on Wednesday, he boasted that his tax plan would be "long on policy" and "very specific."
Jared Bernstein, former chief economist for Vice President Joe Biden, said he preferred the plan before he knew more about what was in it.
"I liked it better before I learned more about it, and I didn't like it that much to begin with," Bernstein said. "I think this is another one of those highly regressive plans that loses oceans of revenue from the treasury," adding that Trump's claims that losses will be offset by increased domestic production are "not credible," "not plausible," and "not correct."
On 60 Minutes, Trump said he would increase taxes on Chinese imports if the country continues to devalue its currency, and would tax products made by companies that moved operations overseas to take advantage of lower rates. Those details weren't included in his tax plan. 
Trump said he would make up for all that lost tax revenue by bringing more jobs back from overseas and would do so by not allowing foreign competitors like China to devalue their currency. If competitors don't comply, Trump will tax their imports, he said. 
"If they don't come to the table, they're  going to have a tax when they put their products into this country," he said. "And they're  going to behave."
When host Scott Pelley brought up how such a practice could violate the North American Free Trade Agreement in place with Mexico, Trump said, "We will either renegotiate it or we will break it. Because, you know, every agreement has an end."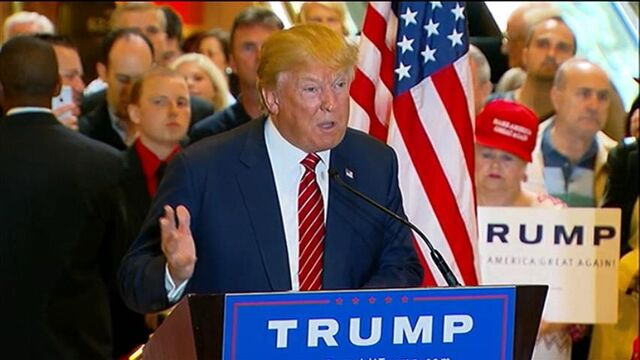 Before it's here, it's on the Bloomberg Terminal.
LEARN MORE