Go-Slow Urged on Republican Elections to Replace Boehner
by
Roskam of Illinois says House lawmakers need time to reflect

Leadership posts up for grabs after speaker's surprise move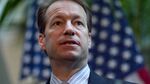 At least some Republicans in the House of Representatives want to take a few deep breaths before electing new leadership following Speaker John Boehner's unexpected announcement Friday that he is stepping down.
Representative Peter Roskam of Illinois, in a letter on Saturday, urged his colleagues not to "launch headfirst into leadership elections." And others have said they want the time to get a clear sense of the policy positions and strategies of the party's leadership hopefuls.
Roskam, mentioned by other members as a possible candidate for the No. 3 party post of majority whip, said in a "Dear Colleague" letter that the Republican Conference should take time to reflect and to talk about "why we're here serving, what we expect of our leaders, and how we plan to accomplish our goals."
"In this environment, I am not announcing a run for any leadership position because I currently don't believe our conference or our leadership can be successful until we confront the underlying issues that have led to this moment," Roskam wrote.
Holding elections for a new leadership slate without doing a round of soul-searching "won't heal the fractures in a conference that has thus far proved unleadable," said Roskam, a five-term representative from the outer suburban area of Chicago. "In fact, we will find ourselves right back where we are now -- stymied by dysfunction and disunity."
Representative Tom Cole of Oklahoma said Friday he was told that the elections would be held Oct. 1. Roskam, though, is not the only House member urging colleagues and leaders to delay.
"There is no immediate rush to elect a new Speaker, and this provides all of us an opportunity to weigh the decision carefully," Representative Steve King of Iowa said in a statement late Thursday.
King said he wants to hear from each candidate how they are going to address such issues as defunding Planned Parenthood, the Iran nuclear deal, immigration, and ObamaCare.
A Boehner spokesman, Kevin Smith, said on Friday that the date for elections has not yet been set. Boehner, speaker since 2011, plans to leave Congress at the end of October.
Before it's here, it's on the Bloomberg Terminal.
LEARN MORE