Why Republicans Should Embrace the Pope's Message
Even the pope's choice of liberal icon Dorothy Day as an example of a "great American" holds some opportunities for conservatives.
by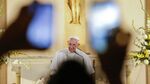 In a Thursday speech to Congress that really did serve up the whole Catholic enchilada, Pope Francis called on Americans "to avoid a common temptation nowadays: to discard whatever proves troublesome."  
His halting English only added power to his words because of the difficulty it took him to deliver them as Francis pointed to four "great Americans" he held up as models: Abraham Lincoln, Martin Luther King, Jr., Dorothy Day, and the Trappist monk Thomas Merton.
Yes, the obvious first impression was yikes (or wahoo!), that is one lefty list. Yet his inclusion of both King and Day, who founded the Catholic Worker Movement and protested every armed conflict in her lifetime, including World War II, is one that some wily Republicans may greet not with horror but with, well, opportunism.
Day, whose big, messy life included affairs and an abortion, practically invented Catholic civil disobedience. She was arrested many times, and in her autobiography, The Long Loneliness, wrote this about the protesters whose marches she covered as a journalist: "The demands of the marchers were for social legislation, for unemployment insurance, for old-age pensions, for relief for mothers and children, for work… The years have passed, and most of the legislation called for by those workers is on the books now. I wonder how many realize just how much they owe the hunger marchers, who endured fast and cold, who were like the Son of Man, when He said, 'the foxes have holes, and the birds of the air have nests but the Son of man hath not where to lay his head.'"
Though she has not yet been canonized, those who oppose, say, same-sex marriage, and argue that they shouldn't have to follow that unjust law, either, could well adopt her as their patron saint.
Here's what Francis had to say about Day, a one-time communist and convert to Catholicism: "In these times when social concerns are so important, I cannot fail to mention the Servant of God Dorothy Day, who founded the Catholic Worker Movement. Her social activism, her passion for justice and for the cause of the oppressed, were inspired by the Gospel, her faith, and the example of the saints. How much progress has been made in this area in so many parts of the world! How much has been done in these first years of the third millennium to raise people out of extreme poverty! I know that you share my conviction that much more still needs to be done, and that in times of crisis and economic hardship a spirit of global solidarity must not be lost. At the same time I would encourage you to keep in mind all those people around us who are trapped in a cycle of poverty. They too need to be given hope. The fight against poverty and hunger must be fought constantly and on many fronts, especially in its causes."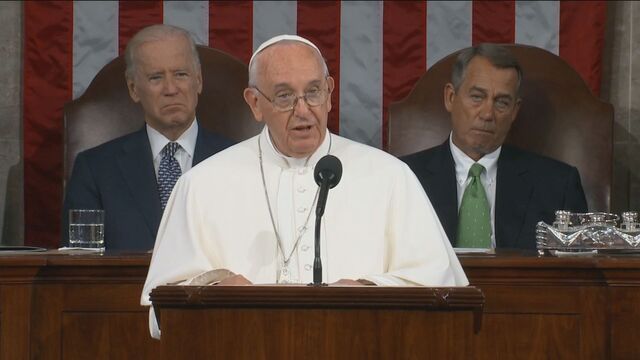 Day was also many things that many of us are: stubborn, recalcitrant, and often lonely. She made a pain of herself, and her personal life was painful to her.
That all saints were sinners, too, might go without saying, but lifting up a woman who had an abortion speaks even more clearly of mercy than Francis's recent announcement that for the "Year of Mercy" starting in December, he'll be simplifying the process of reconciliation for other women who've terminated pregnancies.
What Day is remembered for above all, of course, is her action. She didn't just talk about poverty as an abstraction, but lived with and served people who suffered from it. 
In Robert Coles' book Dorothy Day: A Radical Devotion, he begins with an account of the first time they met. She was sitting with a woman who was drunk and agitated and babbling, and she wasn't only sitting there, but was listening to and soothing the woman. When at last the storm subsided, Day asked her companion if she would mind a brief interruption in their conversation, and crossed the room to greet Coles. "Were you waiting to speak to one of us?" she asked him. That's how Day lived, affirming the dignity of every child of God, very much like the pope who passed on lunch with lawmakers Thursday so he could eat with the homeless.
Day consistently refused to participate in structures she saw as sinful, or to obey laws she saw as wrong. "She refused to play by the rules when she felt the Gospel and the rules were in conflict, very much like Pope Francis," said National Catholic Reporter writer and commentator Michael Sean Winters. 
And sometimes, as when the Catholic Church supported Franco during the Spanish Civil War, she took on the church hierarchy, too, and stood up to New York's Cardinal Francis Spellman on a number of occasions, including when grave-diggers at church cemeteries went on strike.
In her autobiography, she wrote about a priest who "told me he found little of Christ in my writing but much of self. I would have taken that criticism humbly," she wrote, "except that he added, 'I will tell you when to write.' Since this priest is one who objected to all my social interests on the ground that it was too late to do anything except prepare for death, I left him and found another" confessor.
To listen to the commentariat is, I think, to get an inflated sense of Republican unhappiness with Francis: A survey out last week from Faith in Public Life and the Catholic University of America's Institute for Policy Research & Catholic Studies found that 70 percent of Catholic Republicans see Francis as leading the church in the right direction. That's well below the 92 percent of Catholic Democrats who feel that way, but that's still a "right track" any secular politician would celebrate.
The country's first Catholic vice president, Joe Biden, did look a lot happier with the Pope's talk than his fellow Catholic House Speaker John Boehner did. (Of course, Boehner was also moved enough to dab his eyes during at least one passage. And maybe Biden was thinking about some other recent polling.)
But the truly Catholic response to the parts of the Pope's talk that conservatives may have been less keen on would be to co-opt and turn those to their advantage. Without that maneuver, the church might not have survived long enough to send us Francis. 
Before it's here, it's on the Bloomberg Terminal.
LEARN MORE