China Vows to Curb Commercial Hacking in Agreement With U.S.
by and
Obama says he told Xi theft of company secrets `has to stop'

Chinese leader says `new consensus' reached on cybersecurity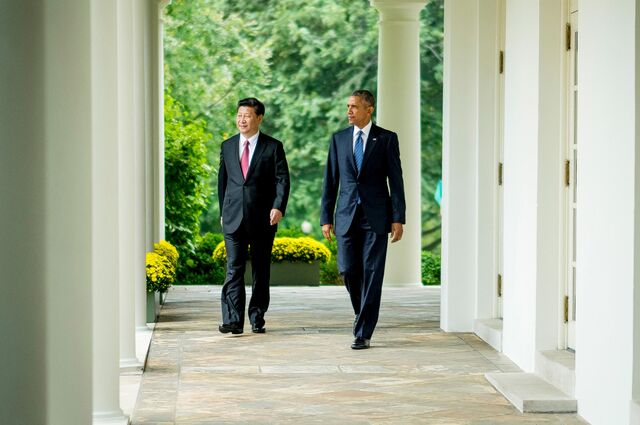 The U.S. and China announced agreement on broad anti-hacking principles aimed at stopping the theft of corporate trade secrets though President Barack Obama pointedly said he has not ruled out invoking sanctions for violators.
After a morning of meetings with Chinese President Xi Jinping, Obama said the two governments pledged they won't condone hacking to steal commercial secrets, a first step toward resolving one of the biggest disputes between the two countries.
"I raised once again our growing concern about cyberthreats," Obama said during a joint White House news conference with Xi. "I indicated it has to stop."
The White House said last month it was considering economic sanctions on Chinese individuals and companies in response to a string of cyber-attacks against American businesses and government agencies. Obama on Friday reiterated that he's ready to impose penalties "where we have proof that they've gone after U.S. companies or U.S. persons."
Investigating Cybercrime
Xi said he and Obama agreed to step up prosecutions and cooperate on investigations of cybercrime, including creating a hotline between officials in the two countries. He didn't answer a question about whether China would retaliate if the U.S. imposed sanctions on any individuals or entities.
"We have broad common interests in the field of cyber, but we need to strengthen cooperation and avoid confrontation," Xi said.
Both sides are seeking to present an image of the world's two largest economies working in concert and resolving differences. For Xi, the visit is about recognition of China's status as a world power. Obama is seeking to make good on his promise to pivot the U.S. focus to Asia while also registering U.S. concerns about cybersecurity, economic policy as well as territorial conflicts between China and U.S. allies.
Climate Change
As a demonstration of cooperation, the U.S. and China issued a joint statement on climate change in which China announces it will start a national pollution-trading system to cut global warming emissions and make a substantial financial commitment to help poorer countries move away from fossil fuels. The actions are a follow-up to last year's agreement, unveiled by Obama and Xi in Beijing, that commits China and the U.S., the world's No. 1 and 2 greenhouse polluters, to emissions limits.
The top issue heading into the summit from the U.S. standpoint is the hacking of corporate computer systems to steal trade secrets or gain economic advantage.
A statement released just before Obama and Xi stepped into the White House Rose Garden to answer questions said that neither government "will conduct or knowingly support cyber-enabled theft of intellectual property, including trade secrets or other confidential business information, with the intent of providing competitive advantages to companies or commercial sectors."
It's unclear how the agreement will substantively affect U.S. companies and government agencies reeling from sophisticated attacks alleged to have been carried out by the Chinese government or its proxies, including the theft of corporate information and millions of health care and federal personnel records.
'Watching Carefully'
Obama said that while the agreement represents "significant progress," the U.S. will be "watching carefully" if words are followed by action.
China denies being involved, saying it's a victim of cyber-espionage itself and opposes hacking. The two countries had high-level exchanges on cyber-issues that were suspended after the U.S. indicted five Chinese military officials last year on charges that they stole trade secrets from companies including Westinghouse Electric Co. and United States Steel Corp.
A week before the Obama-Xi summit, as U.S. warnings about hacking grew louder, Meng Jianzhu, Communist Party's Politburo member who oversees state security, was dispatched to meet with U.S. officials including White House National Security Adviser Susan Rice.
"This is the first major step for the two countries in putting aside disputes," said Li Yuxiao, a professor who studies Internet regulation at Beijing University of Posts and Telecommunications. "They still have lots of disagreements on cyber issues and things could still be ugly in the future, but at least this shows they have the intention to solve the problems."
Source of Growth
Xi said the talks between his government and the U.S. reached "some new consensus" on the issue. He said cybersecurity "could be a new growth source rather than a source of contention between our two countries."
The two leaders also addressed other points of contention during their joint press conference, offering competing rhetoric on human rights in China and maritime disputes in the South China Sea.
Xi reiterated China's claim over disputed islands in the South China Sea, saying they've belonged to China for centuries.
Obama said the U.S. remains concerned about China's increased assertiveness in the South China Sea, including land reclamation and military exercises that have inflamed regional tensions in recent months. While Xi did not say China would refrain from those activities, he pledged to allow for freedom of navigation and said China "does not intend to pursue militarization."
Despite what Obama called a "frank discussion" on human rights, the two leaders essentially agreed to disagree, with no major policy announcements addressing U.S. concerns that China is violating the basic freedoms of its citizens, journalists and non-governmental organizations. Xi said "we must recognize that countries have different historical processes and realities" for governing human rights. Chants of protesters, gathered outside the White House to protest during Xi's visit, could be heard in the Rose Garden as the two presidents spoke.
Obama and Xi also agreed to step up cooperation on military training, international peacekeeping and combating North Korea's nuclear program.
Before it's here, it's on the Bloomberg Terminal.
LEARN MORE