Marco Rubio Goes to War With Donald Trump
Playground-style insults aside, the choice of issues highlighted by the each contender is revealing.
by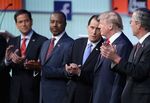 Marco Rubio is really getting under Donald Trump's skin.
The billionaire businessman who's leading the Republican presidential field was met with loud boos from a social conservative audience when he dubbed the Florida senator a "clown" Friday at the Values Voter Summit.
But he wasn't deterred. Trump, whose speech was otherwise well-received, went on to knock his rival's co-authorship of an immigration reform bill in 2013, which the real estate mogul called "terrible." He said there was "nobody weaker" on immigration, before reiterating his call for building a wall on the southern border. He also attacked Rubio for having the "worst record" of voting attendance in the Senate.
Rubio campaign manager Terry Sullivan took note of the negative reaction on Twitter, and Trump subsequently repeated his attacks in two tweets.
"Trump is his own worst enemy," said Gary Frazier, a Texas-based conservative activist who attended the summit. "There's no reason to attack Marco Rubio."
Trump's attacks capped a week of escalating punches between the two White House hopefuls as the Florida senator finally took off the gloves amidst a slew of never-ending taunts by his rival, marking a shift from his earlier strategy of taking the high road.
On Tuesday, Rubio said on Fox News that Trump "hasn't met the threshold in my mind" when it comes to demonstrating seriousness on foreign policy.
Trump took note. Campaigning Wednesday in South Carolina, he assailed Rubio as a "lightweight" who "sweat" profusely in the recent debate and has had financial difficulties in the past. "He's got nothing. I mean, he's got nothing," Trump said, according to a report in BuzzFeed.
On Thursday, Rubio told Kentucky Sports Radio that Trump was a "very touchy and insecure guy" who's "not well informed on the issues. He really never talks about issues and can't have more than a 10-second soundbite on any key issue."
Playground-style insults aside, the choice of issues highlighted by the each contender is revealing. Trump is going after Rubio on immigration, where the senator is vulnerable with the base while the businessman has won support as a deport-all-illegal-immigrants hardliner. Rubio is going after Trump on foreign policy, an issue that the political rookie visibly struggles with and one in which the senator, a member of the Foreign Relations Committee, excels with the right.
But Trump and Rubio exemplify the two distinct paths the party can take heading into the 2016 election. Will the nativist faction win out and steer the GOP toward a more anti-immigrant direction that Trump embodies? Or will the party nominate, for the first time, a Hispanic candidate who represents a diversifying America and can reach new audiences that may be critical to winning the presidency?
"Whoever's our nominee—that is going to define our party," said Katie Packer Gage, who was Mitt Romney's deputy campaign manager in 2012. "We're going to be held to whatever our nominee is touting—and is what [Trump] is saying what we want to be the Republican Party brand? I don't think so."
Before it's here, it's on the Bloomberg Terminal.
LEARN MORE