Boehner Said to Propose Plan to Avoid Government Shutdown
Erik Wasson and Billy House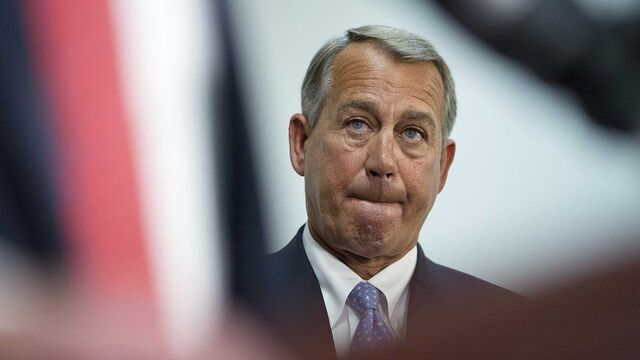 House Speaker John Boehner is proposing to rebellious Republicans a strategy to avoid a U.S. government shutdown while separately sending legislation defunding Planned Parenthood to President Barack Obama's desk, aides said.
The speaker plans to spell out the approach to members during a private meeting Friday, said two Republican aides who sought anonymity to discuss the plan. He's trying to satisfy about 30 members who say they are willing to shut down the government if defunding Planned Parenthood isn't linked to a spending bill. Some members threaten to challenge Boehner's speakership.
Current government funds run out after Sept. 30. The Senate plans on Sept. 28 to advance a bill to fund the government through Dec. 11.
The plan backed by Boehner, of Ohio, ultimately wouldn't succeed in defunding Planned Parenthood because Obama would veto such a bill and Senate Democrats could keep Congress from overriding his veto. But it would get such a measure to the president's desk, forcing him to defend Planned Parenthood, the women's reproductive health service.
The idea, not yet final, was defended by Ways and Means Committee Chairman Paul Ryan, a Wisconsin Republican and his party's 2012 vice-presidential nominee.
"I share the frustration with this organization, but I think we ought to be honest with people about what we can actually achieve given the constitutional constraints we have," Ryan told CNN on Thursday.
Senate Vote
The Senate plans Monday to advance a bill to fund the government through Dec. 11. Under Boehner's scenario, the House would pass that measure, and then attach a separate provision defunding Planned Parenthood that the Senate would be free to vote down, according to one of the aides.
The other aide said the House would pass a separate bill defunding Planned Parenthood with an expedited procedure that was used to enact Obamacare and the Bush-era tax cuts into law. That seldom-used process, called reconciliation, allows the Senate to pass a deficit-cutting measure and send it to Obama. Minority Democrats couldn't demand a 60-vote threshold.
Conservatives have said they are outraged by undercover videos purporting to show Planned Parenthood officials discussing reimbursement for providing tissue from aborted fetuses to researchers.
The organization has said it doesn't sell fetal tissue for profit, and instead receives the cost of collecting and delivering it. Bloomberg Philanthropies provides financial support for Planned Parenthood.
Heritage Action
Boehner's proposal was immediately panned by Heritage Action for America, a Washington-based lobbying group that promotes conservative public policies.
"Using the budget reconciliation process for anything other than full repeal of Obamacare is a distraction, and means GOP leaders broke their promise," said Dan Holler, a spokesman for the group.
Some of the Republican conservatives met privately with Boehner Thursday afternoon, and afterward Representative Matt Salmon of Arizona said they hadn't reached any agreement with the speaker.
Representative Mick Mulvaney of South Carolina said that if Boehner put a measure that included Planned Parenthood funding on the floor for a vote, "He would lose a bunch of Republicans." He predicted the number would be at least 50.
Study Committee
Signaling trouble for Boehner's plan even before Friday's meeting, the chairman of a broader House group -- the Republican Study Committee that claims about 170 members -- criticized the Senate plan.
"Voting on the Senate's continuing resolution without amending it is not enough," said Representative Bill Flores of Texas in a statement. Flores said the measure "reads like Harry Reid's wish list," and that the RSC is preparing a number of amendments, including one to keep Iran sanctions in place.
Voting against such an amendment would be painful for House Republicans who want to avoid a shutdown.
Senate Majority Leader Mitch McConnell proposed a stopgap spending bill that wouldn't defund Planned Parenthood on Thursday after eight Republicans joined Democrats blocking a short-term spending plan that would strip Planned Parenthood funds.
McConnell scheduled a procedural vote on the new proposal for late Monday.
'Not My Preference'
"It's certainly not my preference, but we don't want to fail to keep the government operating, so that's what this is about," said second-ranking Senate Republican John Cornyn of Texas.
Republican leaders of the House and Senate have said they won't shut the government down over Planned Parenthood. The party was stung by public opposition to a 16-day partial shutdown in October 2013 over an unsuccessful Republican attempt to defund Obamacare.
Some senators, including Republican presidential candidate Ted Cruz of Texas, have insisted that the only way to defund Planned Parenthood is to attach the language to must-pass legislation such as the spending measure.
Obama, while presenting a citation to members of the Public Health Service's Commissioned Corps for their work on Ebola in Africa, said, "I hope that Congress chooses to keep our government open and operating so that heroes like this can keep working."
Veto Threat
The Obama administration reiterated Thursday that the president would veto any spending legislation that blocks funds for Planned Parenthood.
Eight Republicans joined Democrats in the 47-52 vote to block Thursday's Senate measure that would defund Planned Parenthood, with 60 required to advance it.
That stopgap measure would redirect about $235 million in Medicaid from Planned Parenthood to community health centers for a year. McConnell's new plan would grant the same White House wish list of spending modifications as his prior amendment.
The spending measure, now offered as an amendment to H.R. 719, would give the Obama administration much of what it asked for, while saying no to a request to revive the Export-Import Bank.
It would provide funding at an annual rate of $1.017 trillion, including an extra $700 million for fighting wildfires, more than the White House request of $450 million. The bill would set war funding at an annualized rate of $74.7 billion, more than the $58 billion Obama sought.
Before it's here, it's on the Bloomberg Terminal.
LEARN MORE