Pope Plunges Into Political Fray on Climate, Immigration
by and
Francis backs Obama on cutting emissions, opening to Cuba

Pope urges respect for "right to religious liberty" in U.S.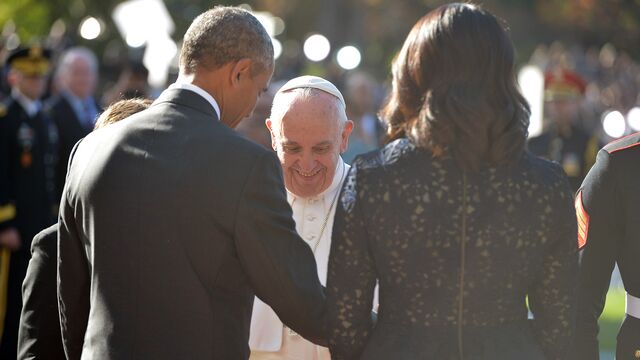 Pope Francis plunged directly into some of the most politically charged debates in the U.S., declaring support for President Barack Obama's drive to fight climate change and his opening to Cuba, as well as making a plea to welcome and protect immigrants.
During a celebratory greeting with pomp and bunting at the White House and an address later to U.S. bishops, the leader of 1.2 billion Roman Catholics also made plain his disagreements with the administration. He urged respect for Americans' "right to religious liberty," a reference to deep differences with Obama on abortion rights, contraception and same-sex marriage.
Speaking in heavily accented English to a crowd of more than 11,000 at the White House on Wednesday, Francis emphasized action on climate change in his first public remarks in the U.S. The world has an urgent duty to protect the environment on behalf of millions of poor people who are overlooked by the global economic system, he said. 
"Climate change is a problem which can no longer be left to a future generation," Francis said to the heaviest applause of his speech.
The pope's spokesman, Father Federico Lombardi, told reporters late Wednesday that the pontiff was "very happy" with his visit to the U.S. so far, calling it "a very good beginning."
Papal Priorities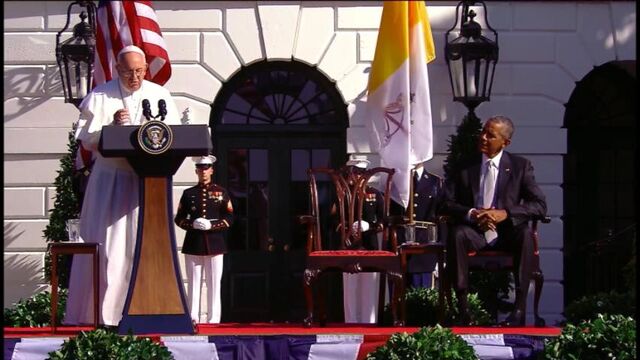 During his first full day in the U.S., the pope made only glancing references to his critique of global capitalism, which has drawn some criticism even within the church. While he may return to the subject later in the week when he speaks in New York and Philadelphia, Francis made his priorities clear for the Washington portion of his trip.
He introduced himself at the White House as "the son of an immigrant family." The child of an Italian immigrant to Argentina, he returned to the theme when he addressed about 300 U.S. bishops at a prayer service later in the day at St. Matthews Cathedral. 
At a time when Donald Trump, the front-runner for the Republican presidential nomination, has called for fortifying U.S. borders and deporting millions of undocumented immigrants, the pope asked the bishops to look past cultural prejudices against the foreign-born.
"Perhaps it will not be easy for you to look into their soul: perhaps you will be challenged by their diversity," Francis told them. "But know that they also possess resources meant to be shared. So do not be afraid to welcome them."
Washington Parade
Francis arrived at the White House in an unassuming -- but environment-friendly -- Fiat 500L for the grand ceremony, including military bands, lines of soldiers standing at attention and a review of the Army's colonial-era fife and drum corps. After leaving the White House, he rode in a specially modified Jeep Wrangler for a parade in downtown Washington past tens of thousands of cheering onlookers. At several points, he paused his motorcade to kiss children brought to him by his security detail.
The White House abstained from its traditional 21-gun salute for foreign leaders. Obama's press secretary, Josh Earnest, told reporters later that the "repeated firing of weapons" wasn't appropriate for a ceremony welcoming a "professed man of peace."
At St. Matthews, Francis called on U.S. bishops to adopt a more conciliatory posture toward policy makers after years of virulent U.S. church condemnations over issues such as abortion and same-sex marriage.
"Harsh and divisive language does not befit the tongue of a pastor, it has no place in his heart," Francis said. "We need to learn from Jesus, or better to learn Jesus, meek and humble."
Divisive Debate
Francis has provoked outrage from some Republicans for entering the U.S. debate on climate change. Representative Paul Gosar, an Arizona Republican, has said he will boycott the pope's address to Congress on Thursday, accusing the pontiff of acting like "a leftist politician."
Obama, in his welcoming remarks, touched on climate only briefly, referring to a shared "sacred obligation to protect our planet." He described religious liberty in terms of freedom to worship and freedom from repression. He suggested that threats to those freedoms exist mostly abroad, citing killings of Christians in the Middle East.
Francis, who has made income inequality a theme of his papacy, framed the climate debate in terms of the world's poor. He called for "a serious and responsible recognition not only of the kind of world we may be leaving to our children, but also to the millions of people living under a system which has overlooked them."
Invoking King
Standing about a mile from the Lincoln Memorial where the Baptist minister delivered his historic "I Have a Dream" speech in 1963, Francis said: "To use a telling phrase of the Reverend Martin Luther King, we can say that we have defaulted on a promissory note and now is the time to honor it."
Spotlighting the world's poor and downtrodden, Francis urged Americans to support efforts "to protect the vulnerable" and stimulate integral and inclusive development. He has in the past criticized "an economy of exclusion and inequality," saying "such an economy kills."
In his White House remarks, the pope was also forthright in his backing for "my brothers, the United States bishops," who have fought the administration on policy involving family and other issues.
Again addressing Obama directly, Francis said American Catholics are "concerned that efforts to build a just and wisely ordered society respect their deepest concerns and their right to religious liberty."
That freedom remains one of America's most precious possessions, Francis stressed, and "all are called to be vigilant, precisely as good citizens, to preserve and defend that freedom from everything that would threaten or compromise it."
Message to Congress
In a glimpse of the message he will deliver on Thursday when he will become the first pope to address Congress, Francis said he would offer "words of encouragement" to lawmakers called to guide the nation "in fidelity to its founding principles."
In a further sign of his concern over threats to Catholic beliefs, he said that when he attends the World Meeting of Families in Philadelphia at the end of his trip, he will "celebrate and support the institutions of marriage and the family" at what he called "a critical moment in the history of our civilization."
Francis is one of the most admired world leaders. Sixty-four percent of Americans have a favorable view of the pope compared with 50 percent of Obama, according to a Bloomberg Politics national poll completed taken Sept 18-21.
That doesn't necessarily translate into support of his stands on public policy. Asked about positions Francis has taken that "represent a change for Catholicism," 70 percent favor the Pope encouraging nations to be "more welcoming of immigrants" while 33 percent favor the pontiff "chastising those who deny a human connection to climate change," according to the poll.
Obama lauded Francis as "a living example of Jesus' teachings, a leader whose moral authority comes not just through words but also through deeds."
"In these gentle but firm reminders of our obligations to God and to one another, you are shaking us out of complacency," Obama said. He thanked Francis for his "invaluable support" in helping to renew diplomatic relations between the U.S. and Cuba.
In a separate White House meeting, Cardinal Pietro Parolin, the Vatican's secretary of state, told U.S. Vice President Joe Biden that the church had "a negative position" on the Cuban embargo, papal spokesman Lombardi said.
Later on Wednesday, Francis celebrated his first Mass in the U.S. and canonized the Hispanic missionary Junipero Serra. Serra is a controversial figure; historians say that in establishing Catholic missions in California, he likely oppressed Native Americans.
Before it's here, it's on the Bloomberg Terminal.
LEARN MORE