Senate Republicans Take First Step Toward Avoiding Shutdown
Kathleen Miller and Erik Wasson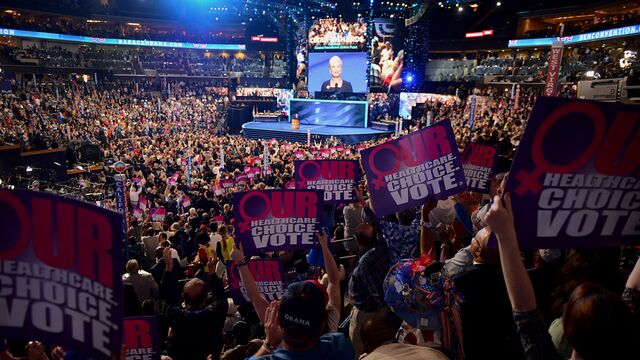 Senate Republican leaders set up a test vote for Thursday that could be the first step toward avoiding a U.S. government shutdown when funding runs out Sept. 30.
Senate Majority Leader Mitch McConnell said Tuesday that he will seek the vote on a measure to keep the government operating until Dec. 11 while stripping funds from Planned Parenthood for a year -- as many conservative Republicans insist on doing.
Even McConnell has said that strategy won't work because Senate Democrats plan to block the measure.
McConnell, a Kentucky Republican, wouldn't say what the Senate would do next, but Senate Democratic leader Harry Reid said the only alternative will be to offer a stopgap spending bill that leaves Planned Parenthood funds untouched. That plan would win the support of Democrats.
"If he's not going to do that, I have no idea what he's trying next," Reid of Nevada told reporters. With federal funds set to expire Sept. 30, "he better move to a clean CR," he said, using shorthand for a short-term spending bill known as a continuing resolution.
Republican leaders of the House and Senate have said they won't shut the government down over Planned Parenthood.
The stopgap measure McConnell announced Tuesday would redirect about $235 million in Medicaid from Planned Parenthood, the women's reproductive health organization, to community health centers.
The proposal "represents the best option to keep the government funded" and also "press the pause button" on Planned Parenthood funding, McConnell said. He said the Senate will take a procedural vote on that approach Thursday.
Speaker Boehner
House Speaker John Boehner has been unable to resolve a dispute with several dozen conservative Republicans who say they are willing to force a government shutdown if defunding of Planned Parenthood isn't linked to a federal spending bill. He scheduled a private meeting for House Republicans on Friday to discuss strategy.
The Senate vote on Planned Parenthood would be "another re-run vote" that has failed before, said Reid of Nevada. "It's really a shame we're on the verge of another unnecessary crisis."
Conservatives have said they are outraged by undercover videos purporting to show Planned Parenthood officials discussing reimbursement for providing tissue from aborted fetuses to researchers. Senate Democrats say they'll block any measure that defunds Planned Parenthood.
'Exercises in Futility'
McConnell said earlier this month that while he supports defunding Planned Parenthood, further efforts to take funds from the organization would be "exercises in futility" because President Barack Obama wouldn't sign such a measure.
Obama's spokesman, Josh Earnest, reiterated Tuesday that the president won't support a spending bill cutting Planned Parenthood's funding.
"Planned Parenthood is an organization that provides health care to millions of families across the country" and doesn't use tax dollars for abortions, Earnest said.
The organization has said it doesn't sell fetal tissue for profit, and instead receives the cost of collecting and delivering it. Bloomberg Philanthropies provides financial support for Planned Parenthood.
McConnell's spending measure would give the Obama administration much of what it asked for, while while saying no to a request to revive the Export-Import Bank. It would provide an extra $700 million for fighting wildfires, more than the White House request of $450 million. The bill would set war funding at an annualized rate of $74.7 billion, more than the $58 billion Obama sought.
'Out of Time'
Reid said Democrats would agree on funding the government through Dec. 11.
"We are running out of time" to work out a plan to finance the government, second-ranking Senate Republican John Cornyn of Texas said Tuesday. He said the chamber may need to work this weekend.
Senator Ted Cruz, a Texas Republican who's running for president, said Tuesday, "The only way to actually defund Planned Parenthood is to include it on must-pass legislation" such as a government spending bill.
Arizona Republican Senator John McCain said he wants to defund Planned Parenthood but would vote to keep the government open.
"Too much damage was done," McCain said, referring to the 16-day partial shutdown in 2013 prompted by a Republican effort to defund Obamacare. "Overwhelmingly the people rejected the shutdown of the government. They don't like the government but they don't want it shut down."
Separate Bill
On Sept. 18, the House voted for a separate bill to block federal payments to Planned Parenthood for a year, though the action didn't satisfy some Republicans who are willing to shut down the federal government over the issue.
Unanswered is whether Boehner would turn to Democrats to get enough votes to pass a funding measure that doesn't cut off Planned Parenthood. More than three dozen House Republicans told him in a letter earlier this month that they wouldn't support any funding for the organization.
Not all Republicans agree with that approach. A Boehner loyalist, Representative Devin Nunes of California, said in an interview Monday that he and other House Republicans are urging Boehner to reject the hard-liners' tactics.
Nunes predicted, "The government is not going to be shut down. Period."
Before it's here, it's on the Bloomberg Terminal.
LEARN MORE