Carly Fiorina Sings on Jimmy Fallon's Late-Night Show
The competitor whom Donald Trump calls "robotic" shows off her human side.
by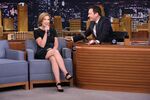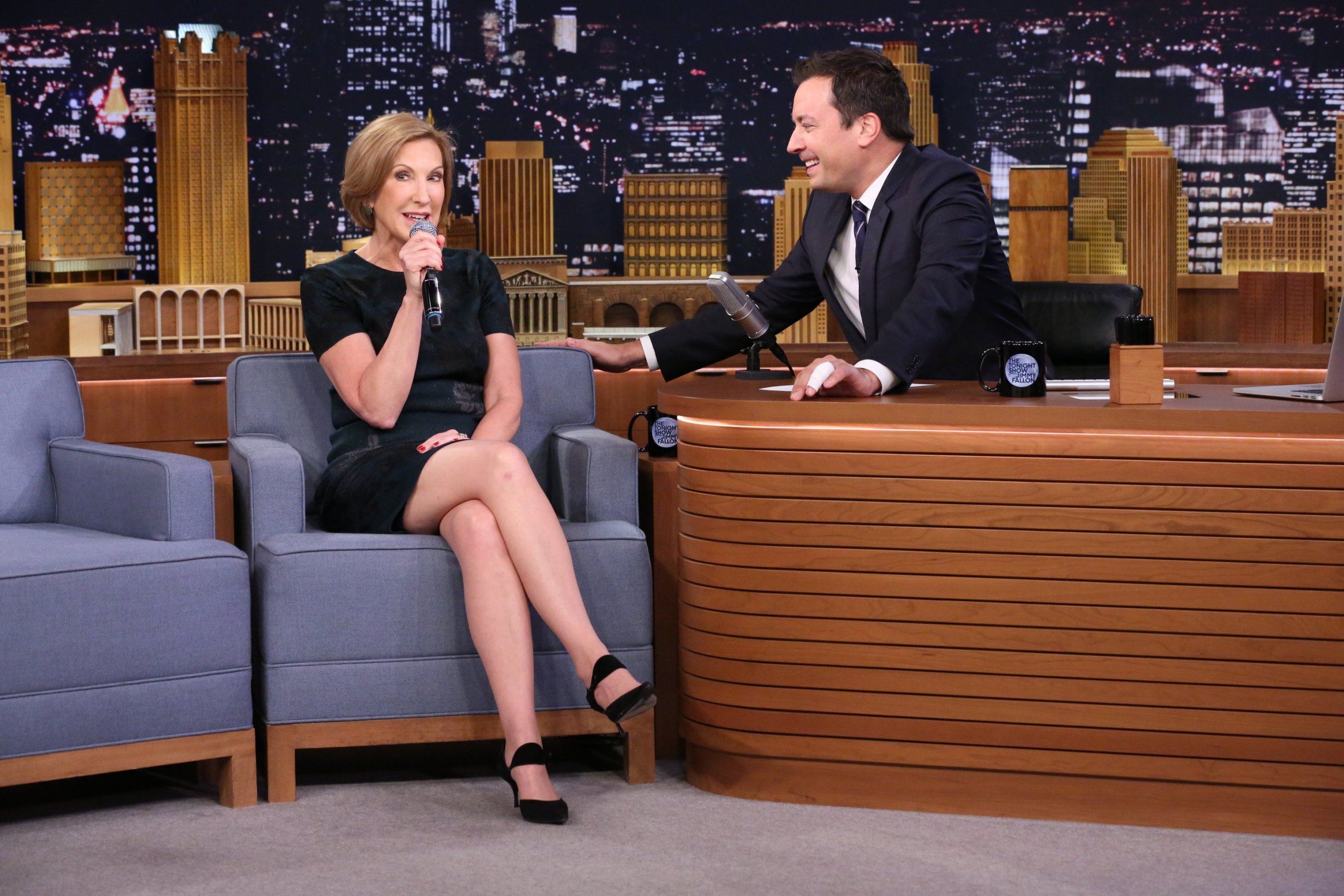 Never mind Jeb Bush, who, on the debate stage, selected "Eveready" as his desired Secret Service name. It's his up-and-coming presidential competitor Carly Fiorina who seems to be always on. At the Republicans' primary debate last week at the Ronald Reagan library, Fiorina deployed her basilisk gaze and her ability to marshal information to conquer the unconquerable: Donald Trump. She rocketed to number two, behind only a falling Trump, in a CNN/ORC poll released Monday morning. On Monday evening, she headed to 30 Rockefeller Plaza for an appearance on The Tonight Show Starring Jimmy Fallon. There, the shot was closer, the host's face nearer: less need for armor or artillery. Just a casual New York Getting to Know You. Why, that she can do, too.
"When I started this race," she said, "nobody knew who I was, honestly. Most people—I don't know, 90-plus percent of the American people—had never heard my name, didn't know I was running for president, so I had to work really hard to introduce myself. That happy-hour debate," she continued, giving a demure, country-club-cocktail wave of the hand as she referred to an earlier Republican showdown in which she was relegated to a forum for lower-polling candidates—"gave me the first opportunity. And obviously last week gave me the second opportunity."
How fully she exploited said opportunities can be measured on the Trump-outburst barometer. The Republican front-runner has spent the past days on a bit of a bash-Fiorina circuit; instead of "low-energy" Bush, he's got a new target: "robotic" Fiorina.
Earlier, Fallon had told the audience that his second guest—the one after Ryan Reynolds—was the former CEO of Hewlett-Packard. "First she's gonna talk about the campaign," he said, in his eager-puppy manner, "then she's gonna help me fix the paper jam in the printer!"
When the time came, Fiorina walked out in a dark green and black shift, sparkling green earrings, and black heels. She alluded to duties earlier in her career that were as humble as the ones Fallon had joked she'd assume tonight. "I started as a secretary, typing and filing for a nine-person real estate firm," she said. Then without a pause, she delivered the punch, the stump crescendo. "It's only in this country that you can go from being a secretary to the chief executive of the largest technology company in the world, and run for president of the United States—it's only possible here."
Fallon, as if on cue, let out a breathy "wow."
Fiorina went on to speak of the need to give similar opportunity to all Americans—the chance to "fulfill their potential and use their God-given gifts," she put it. "If you're poor, we've tangled your life up in webs of dependence. If you're a small business, you're getting crushed." A moment later, back to notions of "potential," the theme she's always raising: unlock, fulfill. "This is not a nation that's allowing people to really fulfill their potential, men or women." That's Fiorina's savvy boardroom-empowerment speak.
Fallon did briefly venture into less comfortable territory. "The one thing…people are trying to…hit you with," he said, evidently thinking about his words, "is that…Hewlett-Packard, they said that you kind of left the company in…in disarray, and that they collapsed after you left."
Fiorina replied, "I think those are Democrat and Trump talking points, actually." She deftly brought up Fallon's performance as Trump, in Trump's own recent visit to the show, and brought back out when Hillary Clinton came by. "By the way, your persona of him was just perfect," Fiorina said, and so the applause came.
Having bought a moment's time, she proceeded to defend her tenure, declaring, "I will run on that track record all day long."
To which Fallon offered, "OK, there ya go, that's your answer. I mean, it's just that people are trying to hit you for every little thing so you have to defend every single thing."
Fiorina did not defend fellow Republican presidential candidate Ben Carson, who said that no Muslim should be president.
"Well, I think that's wrong," she began. "You know, it says in our Constitution that religion cannot be a test for office. It is also true that this country was founded on the principle that we judge each individual and that anyone of any faith is welcome here. I actually believe that people of faith make better leaders, whether they're Christian, as I am—" She deftly turned her critique of Carson into a sell of herself: "My faith has sustained me through some very bad times. I've battled cancer. I've lost a child, I've been tested. But whether it's a person of Christian faith or Jewish faith or Muslim faith or other faiths, I think faith gives us humility and empathy and optimism."
Fallon asked her about the pope (more business-speak: "I don't agree with him on all of his politics for sure, but I certainly admire how he is trying to break down the bureaucracy of the church in a lot of ways") and about Russian President Vladimir Putin, whom she has met, as she said in the debate. She told Fallon the circumstances of their meeting: green room, APEC economic summit, Beijing. "He actually can be quite funny and charming," she said, "but he's a KGB guy, you know, we should never forget this." Fallon raised the possibility of Putin meeting with Trump, which Fiorina says she would not do. She offered, "The two of them have a lot in common, actually." 
While Trump is on the defensive—the pundits observe he's not that comfortable talking policy—Fiorina on Fallon comfortably rattled off her military vision. What she'd do in Poland, Germany, the Baltics—and how she'd improve the situation in Syria, where, in her mind, President Barack Obama and Clinton had failed.
Suddenly, Fallon looked up from his desk and said, "I want to ask you to do something silly—because that's what our show is all about." He brought up the songs she sings to her two dogs, Yorkshire Terriers named Snickers and Max. Fiorina's voice went up as she said their names, but the mode shift was effortless: from Syria to Snickers. She said she makes up little ditties, just like her mother did, and offered to sing one verse—a taste. To the tune of "Rock Around the Clock," she began: 
My name's Snick, and I'm lazy;

Please don't take a walk with me.

I'd rather stay right here at home instead,

I want to lie back down in my nice warm bed.

My name's Snick, and you're gonna have to carry me.
The audience clapped along, and laughed, and Fallon put his hand on Fiorina's shoulder. The GIFs await. Fiorina can carry a tune. And she gives good late-night.
Before it's here, it's on the Bloomberg Terminal.
LEARN MORE