Union-Buster Scott Walker Goes Bust
On Monday morning, he and his wife met with campaign aides to go over their options before huddling in private. The couple returned to say that he wanted to set in motion getting out of the race.
by and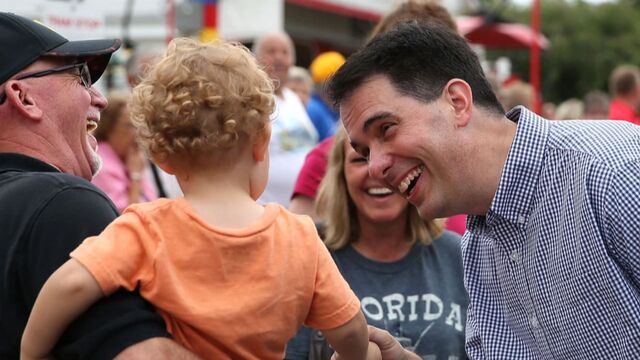 After occasional meetings with advisers over several days about his campaign's finances, Wisconsin Governor Scott Walker on Monday took a break to talk to his wife for 30 minutes. By the time he returned, he'd made his decision.
Within hours, the man who rocketed to national prominence less than five years ago by confronting as many as 100,000 angry protesters surrounding the state capitol in Madison would end his presidential bid at an upscale hotel just a few blocks away.
His four-minute statement invoked his political hero, Ronald Reagan, and then his nemesis, Donald Trump. Walker said the Republican front-runner threatens his party and nation, while calling on other candidates to also exit the race so voters can coalesce behind someone who can beat the billionaire.
"I believe that I am being called to lead by helping to clear the field in this race, so that a positive, conservative message can to rise to the top," Walker said.
True to form, Trump did not let Walker's plea pass without comment. 
"I look forward to Governor Walker supporting my campaign when I am the Republican nominee," Trump said in a statement to the conservative website Breitbart.com. 
It was a precipitous fall for Walker, a candidate who had previously won three statewide elections in four years in one of the nation's key swing states. On paper, Walker had looked like the perfect Republican contender, someone able to appeal to the Tea Party, social conservative, and business wings of his party, while also potentially raising millions from mega-donors like Charles and David Koch and the Ricketts family that's associated with the founding of TD Ameritrade Holding Corp. and present owners of the Chicago Cubs.

"This was one of the more spectacular collapses in presidential campaign history," said Charles Franklin, director of the Milwaukee-based Marquette Law School poll and someone who has closely followed Walker's political career. "It is also notable that he collapsed not due to a scandal or attacks from other campaigns, but because his campaign failed to hold early supporters."
Walker's decision to quit followed two lackluster debate appearances, tepid fundraising and several statements that attracted a flurry of negative headlines, including those that followed the candidate's assertion that building a wall along the Canadian border was a possibility that deserved further examination. It may have also been hurt by the fact that Walker is essentially a life-long politician in an election season in which Americans are so far embracing outsiders.
While Walker's union-bashing record provided his ticket into the race, the narrative that brought him headlines and donors didn't prove to be a white-hot issue. At a time when organized labor is already losing membership, reducing its clout hasn't been a top national priority for most Republicans. In the first debate on Aug. 6, the word "union" was used just three times, and only once by Walker, in his closing statement.
"I took on the big-government union bosses, and we won," said Walker, who saw his state and national poll numbers fall almost as soon as Trump entered the race. "They tried to recall me, and we won. They targeted us again, and we won."
The references were to Walker's 2011 fight with public-sector unions, as well as his 2012 recall and 2014 general election victories, both contests that included heavy union spending against him. His ability to remain "unintimidated" in those battles has become a central theme of Walker's campaign.
On the campaign trail, however, Walker wasn't that intimidating. In an often monotone Midwestern voice, his speeches virtually never changed and he wasn't as quick on his feet in interviews or during debates as some of his opponents. While he worked extremely hard to stress his common-man credentials, seemingly making almost continuous references to his love of his Harley-Davidson motorcycle, it also kept him from looking presidential.

Walker's enemies—and he has many in Wisconsin and nationally—relished watching him fall to less than 1 percent in the latest national poll. They weren't shy about gloating over his collapse on the national stage.
"Scott Walker is still a disgrace, just no longer national," AFL-CIO President Richard Trumka said in a statement shortly before Walker made his announcement.
Simply put, Walker wasn't really as tested as he claimed to be. His Wisconsin elections had always been in non-presidential election years, when fewer independent voters tend to turn out. He'd had weak or uninspiring opponents in his races for governor, allowing him to distinguish himself in Wisconsin debates as folksy and genuine.
Two senior campaign advisers, including one who was with Walker in Madison on Monday, said the former presidential candidate had a series of briefings over the last few days on the campaign's finances. On Monday morning, Walker and his wife, Tonette, met with six campaign aides to go over their options before huddling in private.
After that private discussion, the couple returned to say that the governor wanted to set in motion getting out of the race.
Some in the campaign are disappointed at the failure to control spending, but Walker didn't complain, said the advisers, who asked to not be named to speak freely. There simply weren't even the resources to get through the basic expenses of several hundred thousand dollars a month. Compared to virtually all of the others in the race, Walker is a man of modest financial means and he and his wife didn't want to risk going into debt, the advisers said.
Walker's aides have told him for several weeks they are confident that Trump will fade on his own, but Walker isn't as sure, the advisers said. Walker now wants to consider what else he can do to help shape the race. He sees former Florida Governor Jeb Bush, Senator Marco Rubio of Florida, and Ohio Governor John Kasich as the best options for beating Trump and winning the White House.
Walker, 47, feels he is young enough to get out now, preserve his viability and run in the future, his advisers said.
The campaign had considered moving everything to Iowa—essentially closing down the headquarters in Madison—but there wasn't even enough money for that, the advisers said.
In Iowa, Walker's advisers believe Rubio and Texas Senator Ted Cruz have the most potential to rise (Cruz is strong in the western part of the state, while Rubio does best in the east), follow by retired neurosurgeon Ben Carson.
For Walker, returning home to a state that's become more divided during his tenure won't be easy, especially since he may be viewed as less powerful with a now-tarnished national name. Wisconsin won't have another governor's race until 2018.
"The falloff in his support, to a 39-percent approval rating, and with only about 37 percent saying he cares about people like them here in the state, certainly shows that voters at the moment don't think he's that into us anymore," said Franklin, the pollster.
Walker's sudden exit from the race reminded Franklin of 2006, when he withdrew early from a gubernatorial primary in which he was trailing badly.
"It's not clear what his agenda is for the next three years because except for the budget, he's been out running for president this year," Franklin said. "Is it something that either rebuilds his state support for a third gubernatorial election in 2018, or is it a program that builds him a base from which he could seek the presidency another time, in 2020 presumably?"
—With assistance from Esme E. Deprez in Santa Barbara, California.
Before it's here, it's on the Bloomberg Terminal.
LEARN MORE