Pope Francis' Political Critics Are Missing Something Fundamental
The pope has been accused of infusing politics in to religion, but his message is much deeper, and at times more confounding, than a partisan screed.
by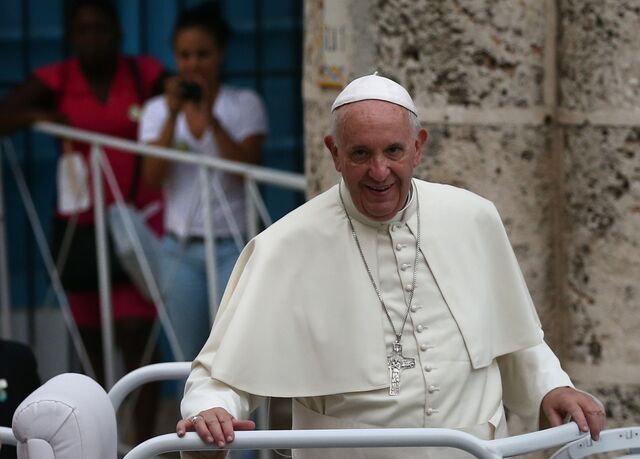 So much has already been written about what Pope Francis is going to tell Americans when the former archbishop of Buenos Aires visits the United States for the first time in his life this week that this might be a good time to point out that there is a reason Jorge Bergoglio is the 'surprise-a-day' pope: Somehow, the leader of the Roman Catholic Church is both consistent and consistently unpredictable, so don't be too astonished if much of what you've been told to expect turns out to have been wrong.
At Cuba's Havana Cathedral on Sunday, for instance, he chucked his prepared homily and spoke off the cuff about poverty. And he did so in a way that even some who fight poverty full time in the United States may find confounding: "We always try to curtail poverty," the pope said. "That's a reasonable thing, but I'm talking about the heart."
Paradoxically, he said, "Richness impoverishes you; it takes away from us the best we have. It makes us poor in the only richness which is worthy—trust in God." Though many see it otherwise, "Our Holy Mother Church is poor,'' he said, as "God wishes it to be poor. Love poverty as a mother."
Then, though the church in Cuba has long been persecuted under the Castros, he saw fit to call out…nuns? Yes: "May God spare us grey nuns, those who are always lamenting things,'' he said, speaking directly to the religious sisters at the vespers service. "Saint Teresa used to say that to her nuns. Woe to that nun!"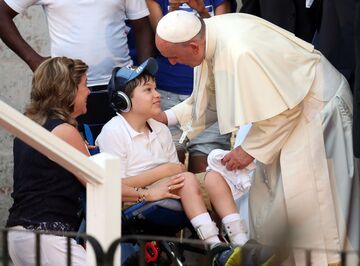 Religious life, he said, is really about sacrificing everything to serve those the world has no use for—the "disposable material" of humanity, including those who "if it is discovered [in utero, that] they have a degenerative sickness, the world wants to send them back before they are born.''
He also chided priests not to "hide in fears or rigidities,'' but to be more like a sister who had spoken earlier about her ministry with disabled people: She and her coworkers "are not angry when they find the sick person filthy; they just clean him. When the penitent comes to you, don't feel bad. Don't be neurotic. Jesus embraced them. Jesus loved them."
One of the things we do know about what Pope Francis will say in this country is that only a couple of the some 18 addresses here will be given in English, with the rest to be delivered in Spanish, which is not only Francis's native tongue but that of more than half of American Catholics under the age of 30. 
Because so many ugly things have been said in the political arena recently about immigrants and even about speaking Spanish itself, just the sight and sound of so beloved a faith leader doing so here may be corrective.
But despite all the commentary to the contrary, to see Francis's visit here through a political prism is to miss not only that he's going to challenge people across the spectrum. It's also to miss that he wants to knock down the walls of all kinds that separate people, including the walls between parties that both the Republicans and Democrats have an interest in keeping in place.
The columnist George Will's recent excoriation of the pope and his most recent encyclical, Laudato Si', misses that so completely that it raises two possibilities: Either he has not read the document he dismisses as "impeccably fashionable, demonstrably false and deeply reactionary," or he is cherry-picking so hard he is going to fall off the ladder and hurt himself. 
In fact, conservatives might be pleasantly surprised by the encyclical, and progressives less enchanted than they expect. Yes, Francis takes on what he and his predecessors see as the excesses of capitalism, and quotes himself, from his earlier encyclical, Evangelii Gaudium, that "whatever is fragile, like the environment, is defenseless before the interests of a deified market."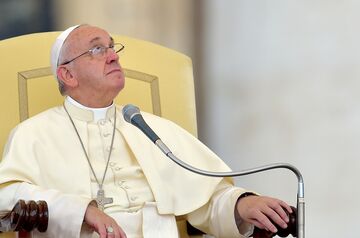 But he also says that "[n]eglecting to monitor the harm done to nature and the environmental impact of our decisions is only the most striking sign of a disregard for the message contained in the structures of nature itself. When we fail to acknowledge as part of reality the worth of a poor person, a human embryo, a person with disabilities—to offer just a few examples—it becomes difficult to hear the cry of nature itself; everything is connected."
So, what should we expect to hear from the pope, beyond bipartisan challenges, and surprises delivered in Spanish? Again, Bergoglio's own words are the only reliable guides.
They usually contain some odd twist that reminds us that he really is from another place, and in some ways from another time: He often, for example, uses the word "grandmotherly" as a pejorative—to mean used up, past its "sell by" date, in need of an overhaul. To be called "motherly" by him, on the other hand, is a high compliment. 
In a recent interview with the Portuguese radio station Rádio Renascença, or Radio Renaissance, he used those words in saying that Europe had made a mistake in forsaking its Christian roots: "I'm not criticizing, just remembering, when it chose to speak of its identity without wanting to recognize the deepest level of its identity, its Christian roots. That was a mistake. But well, we all make mistakes in life." In making that particular error, he went on, Europe "has not died, but has only become a little grandmotherly. But it can return to being a mother."
At a time when the Vatican is taking in two refugee families, among the thousands pouring into Europe, he is sure to talk about that crisis, those fleeing Central America to come here, and the economic roots of those problems: "These poor people are fleeing war, hunger, but that is the tip of the iceberg.'' Under that tip, he says, is "a bad and unjust socioeconomic system." In the Christian view, "the person always has to be in the center" of the economic system, rather than "the god of money" or the "idol of fashion."
As challenging as Francis's homilies are, however, they are never, to use George Will's word, sanctimonious; on the contrary, he frequently reminds listeners that he, too, is a sinner, and that he finds great comfort in remembering that his predecessor Saint Peter, was, too. 
Unlike the narcissistic culture he stands against, he is humble, aspiring to "smell like the sheep" of his flock, or as he said in Cuba, to have his face covered in the saliva of the disabled. And he doesn't really expect his current popularity to last. 
When asked in his interview with the Portuguese radio station how the approving reaction he's gotten across the globe in the last two years squares with Christ's warning that his followers will be hated by the world around them, he said, "Jesus also, for a certain time, was very popular, and look how that turned out." 
Before it's here, it's on the Bloomberg Terminal.
LEARN MORE