Trump Courts Skeptical Christian Conservatives in Iowa
The Republican front-runner received only periodic applause at the Faith & Freedom Coalition dinner in Des Moines on Saturday night.
by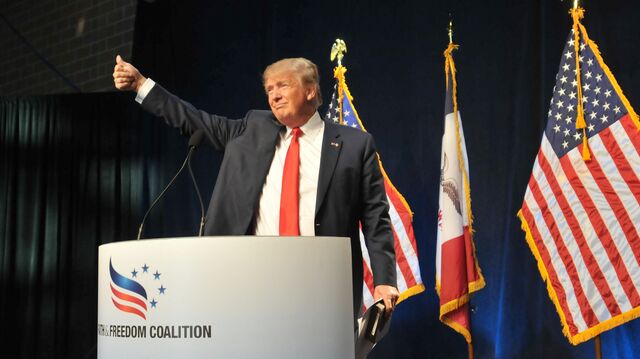 Republican front-runner Donald Trump is moving to try to establish deeper roots with social conservatives, a key segment of his party's electorate and one that's skeptical about him.
He granted an interview to a Christian broadcaster last week and flew to Iowa on a Saturday evening for the specific purpose of speaking to nearly 1,500 activists at the Faith & Freedom Coalition dinner. Later this month, the billionaire is set to meet with evangelical Christian leaders at his New York office, his campaign confirmed this weekend.
As Trump took the stage in Des Moines, the very first words he uttered were these: "I brought my Bible."
Trump, who once supported abortion rights, has work to do if he wants to secure more support from social conservatives, polling data and interviews with those in attendance show. 
Social conservatives have long been a key constituency in the Iowa caucuses and could sway the 2016 outcome if they solidified their support around a single candidate. So far, that hasn't happened and Trump is benefiting because their support has been scattered.
"I just don't see any coalescing happening right now," said Steve Scheffler, a Republican National Committee member from Iowa who helped organize Saturday's event. "They might have their top three or four, but I don't think many have made a definitive choice."
In the 2008 and 2012 Republican caucuses, social conservatives broke late in the race and helped former Arkansas Governor Mike Huckabee and former Senator Rick Santorum of Pennsylvania win Iowa.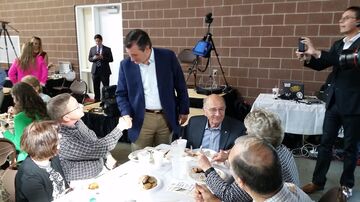 The current indecision is typified by Sharon McNutt, a retired medical care worker who drove two hours from western Iowa to attend the event. She's still trying to pick between Huckabee, retired neurosurgeon Ben Carson, Wisconsin Governor Scott Walker, and Senators Ted Cruz of Texas and Marco Rubio of Florida.
One person she said she won't back is Trump. "They are just following a TV star," she said of Trump's leading status in Iowa polls. "I don't think it's real."
Bridget Pasker, a stay-at-home mother who attended the event, said she's planning to back Carson, but Cruz is her second choice. "He's incredibly intelligent and controlled," she said. "He doesn't just shoot his mouth off."
Trump received only periodic applause, although many in the hall at the Iowa State Fairgrounds stood to clap for him at the end of his 20-minute appearance. "I also brought my confirmation picture," Trump said, as the audience laughed and applauded.
At the start of his remarks, Trump spoke about the latest controversy surrounding his candidacy, one that started Thursday when a man at one of his rallies in New Hampshire called President Barack Obama a Muslim who is not a U.S. citizen.
Trump, who didn't correct the man, told the Iowa gathering that he's not "morally obligated" to defend Obama every time somebody says something bad or controversial about him.
The former reality television star also dinged Senator John McCain of Arizona for his actions as the Republican nominee in 2008 when he took a microphone away from a woman to correct her after she stated that Obama was an Arab. Trump called McCain's actions "harsh" and said he would have been criticized for violating the man's free speech if he had stopped him.
"You know, for the first time in my life I got in trouble by not saying anything," Trump said, later adding that media coverage of the incident "even beat out the pope," who is scheduled to arrive in Washington on Tuesday.
Trump got some of his strongest applause when he said the word "Christmas" has largely disappeared from storefronts in Manhattan. "I want Christmas to be used," he said. "I want people to be able to celebrate Christmas."
A Bloomberg Politics/Des Moines Register Iowa Poll in late August showed 39 percent of likely Republican caucus-goers said "Christian conservative" is the best label for them, well ahead of "business-oriented establishment Republicans" (22 percent), "Tea Party" (21 percent), and "liberty movement" (8 percent).
The same poll showed that more than three-quarters of Christian conservatives say they could be convinced to back someone other than their first or second choice, if they could be assured that another Christian conservative would win. More than a third of likely Republican caucus-goers in the poll were troubled by the fact that Trump has said he has never asked God for forgiveness for his sins, a central tenet of Christian faith.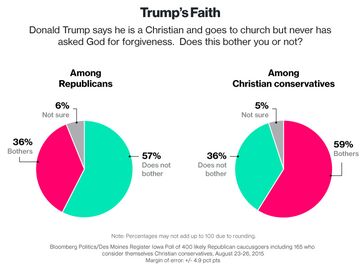 If Trump's competitors can successfully raise questions about his Christian conservative credentials, they could potentially peel off some of the front-runner's support. Another one of the eight Republican presidential candidates speaking at the dinner, Louisiana Governor Bobby Jindal, tried to do just that, saying Trump hasn't read the Bible because he "only reads books he's in."
Trump's last major appearance before social conservatives in Iowa didn't go well. During a July event in Ames, he said he'd never asked God for forgiveness and talked about communion in a casual way. More recently, he seemed to struggle to name a favorite Bible verse, when asked for one by Bloomberg Politics. Since then, he's cited Proverbs 24.
MacKenzie Dreeszen, a Republican fundraising consultant who attended the dinner, said she's trying to decide between Trump, Rubio, and former Hewlett-Packard CEO Carly Fiorina. She said she thought Trump did better on Saturday evening than he did during what she called his "awkward" appearance in Ames.
"He's not where I would like him to be on religious liberty and the importance of faith," she said. "His religious convictions are the one thing that concerns me."
After speaking at the dinner, Trump stopped by a suburban Des Moines high school's homecoming event where he directed most of his remarks to students in the audience, instructing them to stay away from alcohol and drugs. When asked whether he would consider appointing a Muslim to his White House cabinet, Trump said "Oh, absolutely."
Before it's here, it's on the Bloomberg Terminal.
LEARN MORE