Republican Ben Carson Says Muslim Shouldn't Be U.S. President
by and
Says Islamic faith isn't `consistent' with U.S. Constitution

Trump says Muslim president could happen in the future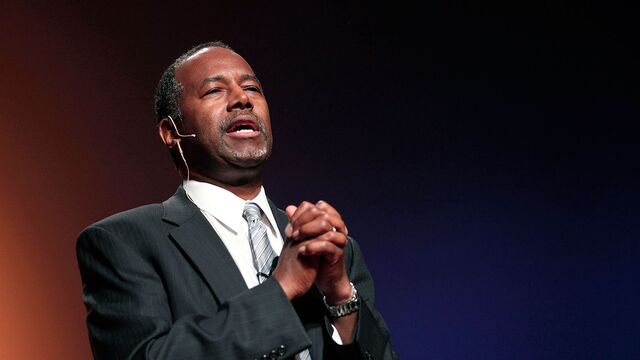 U.S. Republican presidential candidate Ben Carson said a Muslim shouldn't be president, while the front-runner in the race, Donald Trump, linked the Islamic faith with violent extremism in separate television interviews on Sunday.
"I would not advocate that we put a Muslim in charge of this nation," Carson said on NBC's "Meet the Press."
Carson said the religious beliefs of a president would matter if his or her faith was inconsistent with U.S. values. His view contrasted with that of Trump, the billionaire front-runner for the Republican presidential nomination, who said on the program that a Muslim as president is something that could happen in the future.
Religion becomes a threat when it leads to radicalization, said Trump.
Carson should drop out of the Republican contest because of his remarks, said the Council on American-Islamic Relations, which describes itself as the largest Muslim civil rights and advocacy organization, in an e-mailed statement. It called on U.S. political leaders to repudiate the comments, which run afoul of constitutional guarantees to "protect Americans of all faiths."
Even before his remarks on Sunday, Carson has seen his support drop in the polls. Carson was favored by 14 percent of registered voters surveyed in a new CNN/ORC national poll, down from 19 percent in early September. That puts him in third place after Trump at 24 percent support and Hewlett-Packard Chief Executive Officer Carly Fiorina with 15 percent.
Fabulous Muslims
Trump said he knows many Muslims who are "fabulous," but there's "a very severe problem" with some Muslims around the world -- comments he repeated on other Sunday broadcasts.
"We have radicals that are doing things," Trump said on "State of the Union" broadcast on CNN. "It wasn't people from Sweden that blew up the World Trade Center."
The comments come after Trump failed to correct a man asking a question during one of his rallies on Sept. 17, who said that President Barack Obama is a Muslim. On Sunday, Trump said he wasn't obligated to defend Obama.
He and Carson both said they believe Obama is a Christian, although Trump declined several times during an interview on ABC's "This Week" to say that he thought Obama was born in the U.S.
Before it's here, it's on the Bloomberg Terminal.
LEARN MORE