Fiorina Is Woman of the Hour at South Carolina Conservative Gathering
Ben Carson and Ted Cruz pleased, but it was Fiorina enjoying the greatest post-debate bounce at the confab in the South's first primary state.
by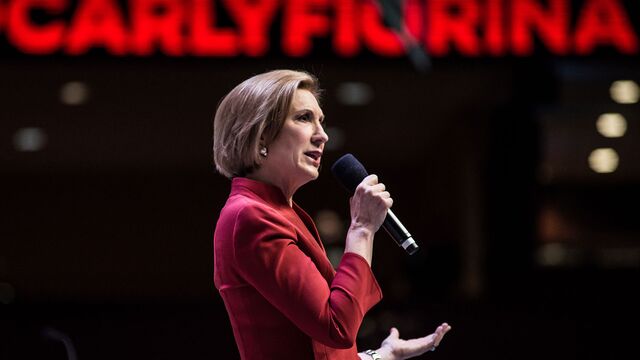 What does Carly Fiorina's post-debate bounce look like?
At Friday night's Heritage Action candidate forum, a six-hour festival of back-to-back Republican presidential candidate Q&A sessions attended by thousands of committed conservative voters in Greenville, South Carolina, the former Hewlett-Packard CEO got one of the biggest welcomes of the evening, followed by two standing ovations, both during her call to end federal funding for Planned Parenthood.
"That's called a home run," said a man in the crowd after she spoke.
In interviews, nearly everyone named her as one of the two or three candidates they like best at the moment, and many who'd already settled on someone else said she was their second choice. 
A woman in a Ben Carson T-shirt said a Carson-Fiorina ticket was her dream team, and her entire Carson T-shirt-wearing party agreed. Why? "She doesn't take crap from anybody," said Danielle Stroupe of Columbia, who was still laughing over the way Fiorina had "b---h-slapped Donald Trump the other night" on the debate stage, when she said that women all over America had heard quite clearly what he'd said in insulting her appearance. "I had to run it back a couple of times and watch it again, it was so good," Stroupe said. "I even woke up my husband."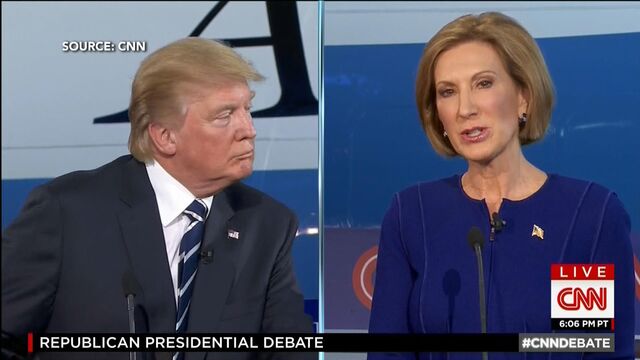 Asked who she thought had done the best job of the 10 presidential candidates who spoke at Friday's forum, Pat Burton of Spartanburg named Fiorina without any hesitation. "She was fabulous, with so many ideas." Her husband, Don, who was wearing a "Jeb!" sticker, offered that in his view, too, a strong selling point was "the way she handled Trump."
The man who's been leading the field for months wasn't in Greenville—in the state that holds the South's first primary—with his campaign citing a "significant business transaction" amid criticism from all quarters over his failure to correct a supporter who said President Barack Obama is a Muslim who wasn't born in this country.
Trump didn't seem to have been missed, though. "I was delighted" by the news he'd decided not to come, said Marie White of Greenville, whose favorites are Wisconsin Governor Scott Walker, Carson, and Fiorina. "I'm glad I didn't have to listen to him," having already spent hours this week watching him stand on the CNN debate stage "making faces and bloviating." 
One of the most powerful moments of Fiorina's Friday appearance came when Governor Nikki Haley asked her "mom-to-mom" to say more about her step-daughter's addiction-related death and what the U.S. has to do about the problem.  
"When someone is addicted, you watch them disappear before your eyes," Fiorina said. "You watch the—I call them the demons of addiction, because that's what it looks like—they're overcome by the demons of addiction. In our daughter's case, she simply did not have the physical strength to go on."
"I realized as we went through the long, painful journey with Lori Ann, I met so many other families going through this, but I did not realize honestly what an epidemic this has become," she said, even as the loss propelled her decision to run.
"The reason I'm running for president is because I don't want to see hope fading from anyone's eyes. And while there's nothing as devastating as drug addiction, it is also true that I see too many people now in this nation that lack hope," she said. She also knows "the look people get when they achieve their God-given potential. For me, that look is fuel."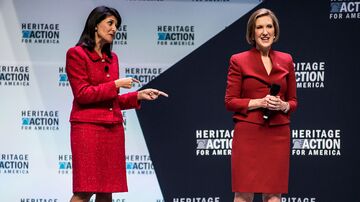 During most of her time on stage, though, Fiorina was fierce and fiery. The crowd applauded especially wildly—"Go get 'em, girl!" one man kept yelling—when she criticized Democratic front-runner Hillary Clinton, saying that it was the height of hypocrisy for her to be running on protecting women's rights when, as the country's chief diplomat, she'd done nothing to pressure China over their terrible record on women's rights and human rights. 
Conservatives in the arena also lavished applause on Texas Senator Ted Cruz's line that Republicans ought to try nominating someone as committed to conservatism as Obama is to liberalism.
They booed when former Florida Governor Jeb Bush explained his support for Common Core, and for high national educational standards in general. And they seemed to love singing "Happy Birthday" to Carson, who turned 64 on Friday and joked that the gift he'd appreciated most was the news that Trump was dropping out of the race.
But alas, Carson added, "that was just for one day." 
Before it's here, it's on the Bloomberg Terminal.
LEARN MORE