What Carly Fiorina Needs to Do Now
She badly needs money and staff if she's going to build on the momentum from Wednesday's debate performance.
by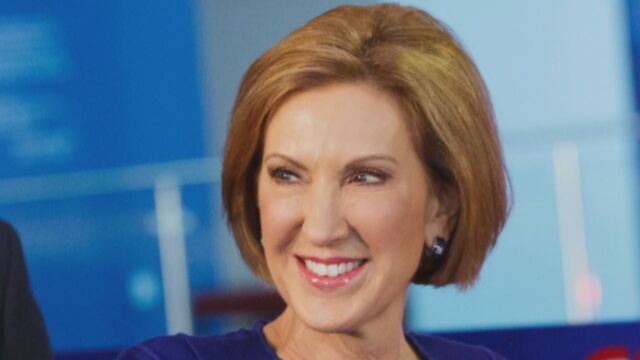 Carly Fiorina seemed to accomplish the near-impossible at Wednesday's Republican presidential debate: After being granted a late spot on the prime-time stage, the former Hewlett-Packard CEO garnered near universal acclaim for her performance, fighting her way into most of its key moments and even rendering GOP front-runner Donald Trump somewhat apologetic.
If that wasn't difficult enough, however, now things are about to get really hard for her.
"A one-time strong performance can catapult a candidate," said J. Ann Selzer, the president of Selzer & Company, an Iowa-based political survey firm that does polling for Bloomberg. "But, the campaign—and the challenges—continue."
To date, Fiorina has presided over a small campaign that has relied on her ability to personally connect with voters and reporters, spouting statistics confidently and launching zingers at Hillary Clinton, to build momentum. Now she'll face the challenges of a first-tier candidate: raising enough money to sustain her in the coming ad wars, attracting top staff, and building infrastructure in key states, all while fending off escalating attacks and trying to live up to now lofty expectations.
To do all of this, she would do well to capitalize on robust staffing and a bevy of endorsements in New Hampshire, said Dante Scala, a professor of political science at the University of New Hampshire.
"I think in New Hampshire she's poised to become a force," said Scala, who said he thinks she's weeks from top-tier status. "She's prepared the ground more here."
Fiorina, who has never held office, face strong challenges in the state, where her campaign calendar shows she's spent 14 days, compared to seven in Iowa, since the beginning of August. She's not alone in honing in on a Granite State victory. Former Florida Governor Jeb Bush, Ohio Governor John Kasich, and New Jersey Chris Christie have all built formidable campaign apparatuses there and view it, to one extent or another, as a "must win." (By contrast, Dr. Ben Carson, a fellow newcomer to politics, has pinned his hopes on Iowa.)
If Fiorina moves herself into a first- or second-place polling position in New Hampshire ahead of her establishment rivals, "then I think she's in a good position to start raising the kind of money that she needs," Scala said.
Staffing up
Money, in turn, means the ability to add more staff from candidates who, like former Texas Governor Rick Perry before them, will soon be dropping out of the race.
"You've got to bring on some talent," said Ken Khachigian, a Nixon and Reagan White House alum who is an informal adviser to Fiorina. "Typically you pick up some staff from other campaigns as you move along."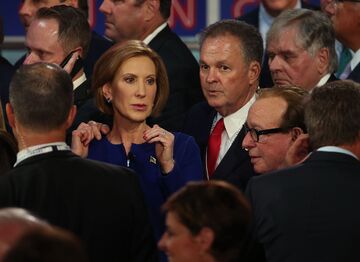 Fiorina has strong staffing at an affiliated super-PAC, which has performed certain key activities at arm's length, including event staffing and the securing of endorsements. In the coming weeks, she'll need staff close to her, though, to navigate stepped up scrutiny, Khachigian said. (Super-PACs can't legally coordinate with campaigns.)
The same holds true for cultivating donors: For now, Fiorina, whose campaign only raised $1.7 million in the second quarter, may need to go to other candidates' big donors who have already pledged money elsewhere in the large Republican field, which now numbers 16 contenders.
Her pitch, according to veteran California GOP strategist Martin Wilson, should focus on being the only candidate able to score points against Trump right now.
"Trump's like a virus," said Wilson, who managed Fiorina's failed 2010 Senate bid. "There's no cure, but maybe a multi-candidate cocktail could take him out."
There is some indication that donors may be receptive to the message: Both the super-PAC, known as CARLY for America, and the campaign say fundraising has picked up since the last filing, particularly since Fiorina's highly praised showing at Fox News's Aug. 6 debates, but they won't say by how much. The Washington Post also reported Thursday that a media mogul who supports Wisconsin Governor Scott Walker but is worried about his poll standing and poor performance "is considering also giving money to" three other candidates, including Fiorina.
Message discipline
Donations to the PAC especially could also help Fiorina continue to hone what advisers and politics watchers say is already working: her message.
In addition to supplying ground staff, CARLY for America has taken on significant rapid response duties—sending out a video the day before the debate previewing Fiorina's attack on Trump over his comments about her looks, placing print ads and editorials, and setting up a biographical website. The PAC is even putting out a biographical film on Fiorina—narrated by Academy Award-nominated actor James Woods—next week.
Should she choose to engage in the television ad war, she'll almost certainly need the kind of financial muscle that a super-PAC, which can accept unlimited donations, would bring.
Many of the duties are crucial for a candidate who up to 60 percent of voters didn't know six weeks ago.
"We are working to help build support for Carly and one of the main ways we can do that is by sharing ... Carly's life and leadership experiences," CARLY for America's communications director, Katie Hughes, said.
On Thursday, for example, the super-PAC e-mailed reporters to alert them to an op-ed in the New Hampshire Union Leader penned by a former Hewlett-Packard employee supporting Fiorina's candidacy. Fiorina has repeatedly faced attacks about her record as the head of HP, and the op-ed sought to rebut claims that her rivals, including Trump, have made that claim knocking her tenure at the company. 
Build the female base  
CARLY for America could also help Fiorina navigate the tricky politics of being the only woman in the Republican field, according to Debbie Walsh,  director of the Center for American Women and Politics at Rutger University. Fiorina often emphasizes that she's not running on her gender even as she speaks directly to women.  
In one the most replayed moment of Wednesday's debate, for instance, Fiorina said, "women all over this country heard very clearly what Mr. Trump said" when he criticized her "face."
"She clearly is tapping into women voters," Walsh said. "They don't want to say that they're using gender, but gender is clearly part of the equation."
Fiorina still faces hurdles, of course: She could founder as she tries to build her staff, or find donors unwilling to transfer their allegiances early enough to make a difference before the the big primaries. Her inexperience could easily become liability, and what came across as discipline in many voters' first view of her at the debates could make her seem rote come winter.
"First, let's see if Carly Fiorina's standout performance translates into a high standing in the polls," Selzer said.
The campaign's own plans mostly revolve around a continuing strategy of travel and voter outreach. "It's what we said after the last debate and we obviously stuck to it then as well. We'll keep traveling, talking to voters, answering their questions," deputy campaign manager Sarah Isgur Flores, said. 
Whether or not Fiorina will continue to attack Trump is "up to Mr. Trump," Flores said.
Before it's here, it's on the Bloomberg Terminal.
LEARN MORE