U.S. Companies Tread Softly on China as Obama Urges Toughness
by and
Xi will be feted by CEOs in Seattle before a White House visit

Obama challenges companies to call out China on cybersecurity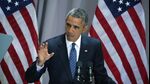 If President Barack Obama had his way, U.S. business leaders would confront Chinese President Xi Jinping over unfair competition and computer hacking on his visit to the U.S. next week.
Based on their near-silence so far, there's no chance of that.
The chief executive officers are worried that crossing China's leader would put at risk their share of two-way trade between the U.S. and China valued at $620.9 billion last year, second only to Canada. So when they meet with Xi in Seattle before he visits the White House, expect to hear them call for expanded relations, as the head of the U.S. Chamber of Commerce did after meeting with Xi in Beijing on Thursday.
"Expanding the U.S.-China commercial relationship is essential to driving needed growth in our economies and stability in the global economy," Thomas Donohue said in a statement on the business group's website. Donohue added, though, that "U.S. companies are voicing growing concerns about China, including with long-standing market access restrictions and on the cybersecurity front."
Privately, U.S. business leaders are complaining increasingly about Chinese behavior, from computer hacking to requirements that foreign automakers form equal partnerships with Chinese companies to sell vehicles in the world's largest auto market.
'Anxious, Wary'
While "the business community has been the ballast in our boat that has sustained U.S.-China relations, there are elements in this community that are more anxious and wary," Kurt Campbell, a former State Department official who now heads the Asia Group, a Washington consulting firm, said at a conference this week.
Obama said this week that it's time for companies to stand up publicly.
"Don't tell us on the side, 'We've got this problem, you need to look into it, but leave our names out of it because we don't want to be punished,"' he told the Business Roundtable in Washington on Wednesday. He cited cybersecurity violations that he said amount to "industrial espionage and stealing trade secrets."
GM, Ford
For now, U.S. automakers are hoping Obama will bring up their complaints with Xi, starting with the requirement that they share car designs and manufacturing processes with Chinese partners. General Motors Co. has 10 joint ventures in China, including with SAIC Motor Corp. to build Buicks, Chevrolets and Cadillacs.
"For automotive companies, the ownership structures that are imposed on foreign companies to invest in China are becoming very anticompetitive," said Ted Stenger, manager director at consultant AlixPartners, who helped guide GM through bankruptcy in 2009. "Intellectual property and manufacturing knowledge is being transferred into the Chinese economy. And we're seeing that same technology then redeployed against the companies that seeded it over there."
Ford Motor Co. Chief Executive Officer Mark Fields was among 94 American CEOs who sent a letter to Obama and Xi urging them to negotiate a bilateral investment treaty, which would give U.S. companies greater access to China's market and equal rights with Chinese firms.
Commercial Secrets
One complication in calling out China on cybersecurity and intellectual property theft is that it can be difficult to distinguish between state-sponsored espionage and commercial piracy, said John Hamre, president of the Center for Strategic and International Studies in Washington. "The great problem is that the people who are doing spying during the day are using the same computers at night to try to steal commercial secrets to sell them and make money," Hamre said.
A few companies have voluntarily disclosed that they were attacked by hackers from China. Community Health Systems Inc., the second-biggest for-profit U.S. hospital company by admissions, said in August 2014 that Chinese hackers stole Social Security numbers, names and addresses from 4.5 million patients.
But when the U.S. Justice Department indicted five members of the Chinese military in May 2014 for hacking, the companies that were victims stayed silent. The Chinese reacted by suspending cybersecurity talks with Washington.
U.S. Attorney David Hickton, the top federal law enforcement officer in western Pennsylvania who led the case, said in an interview last year that the government decided to take action -- not the companies that were hacked.
"It's our decision, not their decision, what case we bring," Hickton said.
Delegation Sent
The indictments didn't stop China from carrying out attacks that have since come to light against the government's Office of Personnel Management as well as health-care and travel companies and airlines.
"All the indictments did was irritate them further," said Christopher Johnson, a former China analyst at the Central Intelligence Agency who's now a senior adviser at the Center for Strategic and International Studies in Washington.
China sent a high-level delegation to the U.S. this month for a discussion of cybersecuity issues in advance of Xi's visit and under the shadow of threatened U.S. sanctions over hacking. Obama said on Wednesday that his administration is "preparing a number of measures that indicate that this is not just a matter of us being mildly upset."
Erin Ennis, a senior vice president at the U.S.-China Business Council, said dealing with China is complicated by its use of its own "cybersecurity concerns as an excuse for what looks like protectionism."
Boeing Visit
The financial stakes of a smoothly functioning U.S.-China relationship are high for both sides, in manufacturing as well as technology. That will be underscored on Sept. 23, when Xi is to tour Boeing Co.'s wide-body jet factory north of Seattle. With China poised to eclipse the U.S. as an aviation market, the visit might provide a setting for one of the large aircraft orders that Chinese officials often time to state visits.
Boeing controls more than 50 percent of China's jetliner market, where it predicts airlines will need to add 6,330 new planes valued at $950 billion over the next two decades to support a travel boom.
"China's rapidly growing aviation market plays a crucial role in our current and future success," Jim McNerney, Boeing's chairman, said.
Apple Inc.'s Tim Cook and Warren Buffett of Berkshire Hathaway Inc. are among U.S. and Chinese business leaders invited to a speech Xi will give during his Seattle visit.
The Chinese president's choice of Seattle is telling, said Daniel Rosen, a founding partner of the Rhodium Group, a global consulting group.
"I read it as a defensive strategy," Rosen said. Xi is going where business leaders will "engage with him on these tech and cyber-issues" but "in a way that's more manageable, I think from his perspective."
Before it's here, it's on the Bloomberg Terminal.
LEARN MORE