Hillary Clinton Puts White House 'On Notice,' Will Announce Keystone Opinion 'Soon'
The Democratic front-runner has been under pressure to make her views on the pipeline public.
by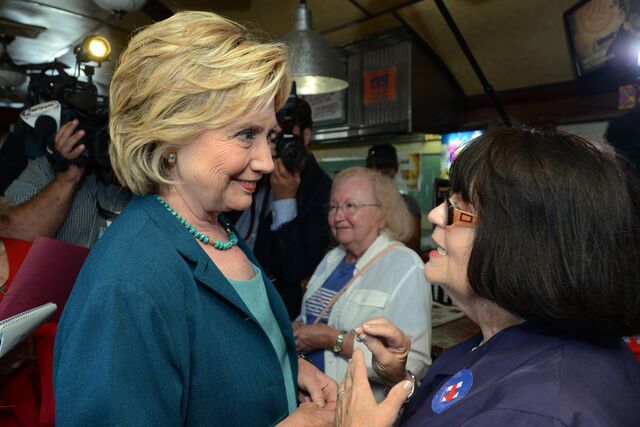 Hillary Clinton has twisted herself in knots trying to explain her lack of a position on whether the Obama administration should approve the construction of the Keystone XL pipeline. 
But after declining to weigh in for years—citing her role in initiating the approval process during her time at the State Department—she said Thursday that she is getting impatient.
"I have been waiting for the administration to make a decision," she told a town hall crowd at the Concord Boys and Girls Club in New Hampshire. "I can't wait too much longer. And I am putting the White House on notice. I am going to tell you what I think soon because I can't wait."
The Democratic presidential candidate's comments come amid sustained pressure for her to explain her position from environmental groups on the left, which have adopted the State Department's permit process on the pipeline as a key symbol.
In the past, Clinton has noted that while serving as secretary of state during President Barack Obama's first term, she "put together a very thorough, deliberative, evidence-based process to evaluate the environmental impact" of the proposed pipeline, which would run from Alberta, Canada, to Nebraska. As she rolled out the first round of her climate change proposals in July, she said that she would "refrain from commenting [on Keystone] because I had a leading role in getting that process started and we have to let it run its course."
Vermont Senator Bernie Sanders, her chief opponent for the Democratic nomination, has made clear that he opposes the construction of the pipeline and has criticized Clinton for not taking a position.
"I have helped lead the opposition against the Keystone pipeline," he said in July. "I don't believe we should be excavating or transporting some of the dirtiest fuel on this planet. I think Secretary Clinton has not been clear on her views on that issue."
Clinton didn't do much to tip her hand Thursday on the position she could end up taking, though when she brought the topic up after hearing someone in the crowd shout "Keystone!" there was a hint of what might be to come.
"Oh, Keystone pipeline. One of my favorite issues," she said.
Before it's here, it's on the Bloomberg Terminal.
LEARN MORE