Getting 10,000 Syrian Refugees Into the U.S. Won't Be Easy
by and
Only 'vulnerable' refugees are considered for U.S. admission

Applying for resettlement in the U.S. can take two years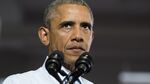 Pictures of a toddler who drowned fleeing Syria's bloody civil war have galvanized the world to the country's refugee crisis. Last week, President Barack Obama opened America's doors to more Syrian refugees, ordering his administration to admit at least 10,000 in the 2016 fiscal year.
It will be neither fast or simple to meet that goal.

Only a select few of the estimated 4.1 million people who have fled Syria's war will be eligible for resettlement in the U.S. Those hoping for a new life in America face nearly two years of bureaucratic red tape, rigorous security and health screenings and substantial uncertainty.
Workers from the office of the United Nations High Commissioner for Refugees and non-governmental organizations such as the Red Cross evaluate Syrian refugees who have fled to camps in neighboring countries. To be considered for U.S. admission, refugees usually must be deemed "vulnerable," a designation that includes widowed women, unaccompanied children, political targets of Bashar Al-Assad's regime, and those with life-threatening medical conditions.

Interviews by United States Citizenship and Immigration Services officers aim at establishing whether Syrians meet the legal definition of refugee: a well-founded fear of persecution in their home country. Customs officers also help prepare documents and biographies for security officials who determine whether refugees have connections to terrorists or militants.
After refugees are placed in the U.S., local resettlement agencies funded by the government help them find safe, affordable housing and jobs and adjust to American culture. The Office of Refugee Resettlement provides financial assistance to immigrants for up to five years after their arrival. Once in the country, refugees can freely travel or relocate.

Before it's here, it's on the Bloomberg Terminal.
LEARN MORE