Why Did Question on Iconic Women Stump So Many Republican Candidates?
At the second presidential debate, candidates found themselves searching for the right answer to an unexpected question.
by and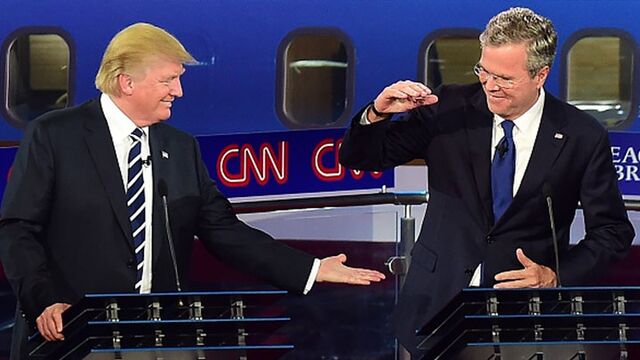 The Republican presidential candidates' choices of women to put on the $10 bill showed a disappointing understanding of half the voting population.  
At least that's what many women who watched Wednesday's debate came away thinking.  
"We are 51 percent of the population, and we should be visible," said Barbara Ortiz Howard, founder of Women on 20s, an organization that seeks to get a woman on the $20 bill.  She thought at least half of the 11 candidates in the debate "had unresponsive answers, and that speaks to how women are not valued." 
Three candidates chose their female relatives. Retired neurosurgeon Ben Carson said he'd put his mother on the $10 bill, billionaire Donald Trump his daughter Ivanka "because she's been sitting (at the debate) for three hours," and former Arkansas Governor Mike Huckabee, his wife.   
Former Florida Governor Jeb Bush chose a non-U.S. citizen, Margaret Thatcher, the British former prime minister. That's "probably illegal but what the heck, since it's not going to happen." Similarly, Ohio Governor John Kasich chose Mother Teresa.   
"When will men stop thinking about women as their mothers-or only in relation to how women have served them—or else as someone foreign, far away and so not scary?" said Linda Hirshman, author of the recently published book Sisters in Law: How Sandra Day O'Connor and Ruth Bader Ginsberg Went to the Supreme Court and Changed the World.
It wasn't only male candidates who lacked ideas. Former Hewlett-Packard CEO Carly Fiorina, the sole woman on the stage, said she wouldn't make any changes in current male-dominated bills. 
Fiorina "could have named a woman for the $10 or $20 bill and still made her follow up point," said Rayona Sharpnack, chief executive of the Institute for Women's Leadership in San Rafael, California. "Not putting a woman's face on the very currency every American uses every day is a reminder that we live from our history, not for our future."        
Coinciding with the 100th anniversary of American women gaining the right to vote, the U.S. Treasury Department in June announced that a newly redesigned $10 bill would become the first U.S. paper currency in more than a century to feature the face of a woman.  
Other choices by candidates last night: Kentucky Senator Rand Paul picked Susan B. Anthony, the 19th century women's rights activist; Wisconsin Governor Scott Walker chose Red Cross founder Clara Barton; New Jersey Governor Chris Christie picked Abigail Adams; and Senators Ted Cruz and Marco Rubio, of Texas and Florida, both named civil rights activist Rosa Parks.      
"If this debate didn't inspire us to get more women into political office at the top then nothing will," said Marie Wilson, a fellow at Barnard College and former president of the White House Conference, which trained and helped women seek political office.    
Before it's here, it's on the Bloomberg Terminal.
LEARN MORE