Was Lindsey Graham the John Kasich of the CNN Undercard Debate?
Graham's back-and-forth with Rick Santorum over immigration was well received, but not necessarily by Republican primary voters.
by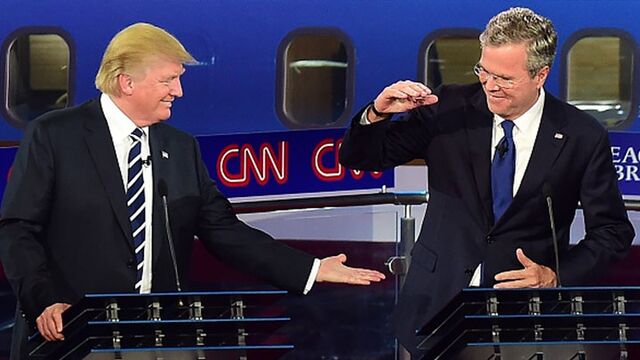 South Carolina Senator Lindsey Graham turned in a strong presidential debate performance on Wednesday night, displaying an extra dose of humor and aggression, mainly at former Pennsylvania Senator Rick Santorum. But his defense of comprehensive immigration reform was akin to Ohio Governor John Kasich's defense of accepting Medicaid expansion—the media and the left enjoyed it, but conservative voters were less impressed. 
After Graham said that he didn't remember Santorum having an immigration plan when he was in the Senate, Santorum shot back that he introduced a plan in 2006. As he started explaining the bill, Graham interrupted him.
"What did you do with the 11 million? What are you going to do with the 11 million?" Graham asked. Santorum said that 40 percent to 60 percent of the country's 11 million undocumented immigrants are visa overstays, and cracking down on them would solve half the problem. "What about the other half?" Graham asked, then "how many Democrats supported your bill?" The exchange ended with Graham forcing Santorum to admit that his bill went nowhere. 
The good news for Graham, who is currently averaging around 0.3 percent in the Real Clear Politics average of polls, is that his energetic performance was well received. In fact, searches for Graham on Google spiked during the debate.
The bad news for Graham is the praise wasn't really coming from Republican primary voters. "1 hour in: Lindsey Graham has won this debate," tweeted Dan Pfeiffer, a former senior advisor to President Obama. Mia Farrow, a left-leaning actress, also tweeted that Graham seemed to have won.
Whether conservatives will be as supportive of Graham's support for comprehensive immigration reform or his statement that "in my world, Hispanics are Americans" isn't clear, but as Philip Klein, the managing editor of the right-leaning Washington Examiner, tweeted, "Lots of people on Twitter seem to think Graham won, but problem is, none of them seem like likely GOP primary voters." Former presidential candidate Michele Bachmann seemed to agree. 
Kasich was similarly praised by the media as a better version of former Florida Governor Jeb Bush after September's Fox News debate. "Kasich smart to say that economic conservatism should seek to reach those 'in the shadows.' Cutting into Jeb's turf," tweeted Greg Sargent, a left-leaning blogger at the Washington Post. 
But while conservative voters aren't likely to come around to Obamacare's Medicaid expansion, Republican voters warmed up to Kasich, who saw a small post-debate bump in the polls. The next polls will tell if Graham enjoys a similar bump.
Before it's here, it's on the Bloomberg Terminal.
LEARN MORE