Trump Wrong on Walker's Wisconsin Budget: Reality Check
by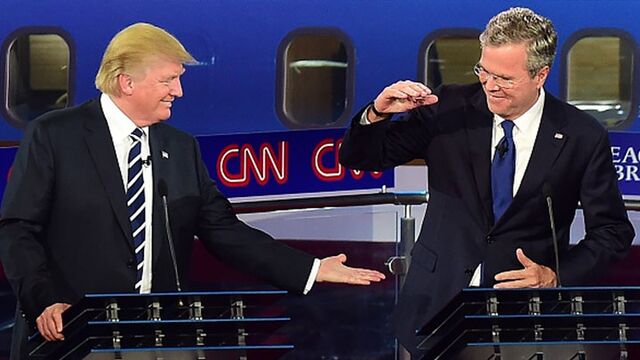 As Republican candidates battle for credibility on fiscal conservatism, billionaire Donald Trump targeted Wisconsin Governor Scott Walker during Wednesday's presidential debate and put a price tag on his allegedly cash-strapped state.
The Claim: Trump, in repeating criticism of Walker's record, said Wisconsin was losing $2.2 billion. "You have right now, a huge budget deficit," Trump said. "That's not a Democratic point. That's a point."
The Facts: The number might be familiar, but its context is wrong. 
Walker's administration, in budget requests and revenue estimates released in November, estimated that the state's shortfall could reach $2.2 billion in the 2017 fiscal year. That would be a doubling from an estimated deficit of $1.1 billion in the prior year.
Those calculations for fiscal years to come were based on state agency budget requests, minus the money the state would be bringing in. Wisconsin's actual current deficit, however, doesn't come close to what Trump claims. And the billionaire ignores that Wisconsin's constitution requires a balanced budget. The state started fiscal 2015-16 with a surplus.
Walker isn't totally off the hook on how he's balanced the state books. Wisconsin's per-capita state debt has grown 2.9 percent during his tenure as governor, compared with a 0.34 percent decline nationwide over the same period, according to data compiled by Bloomberg.
One growth measure, at least, is working in Wisconsin's favor: The state's unemployment rate, which held steady at 4.6 percent in July, beat the national average by 0.7 percentage point that month.
(Updates with Trump comment in second paragraph.)
Before it's here, it's on the Bloomberg Terminal.
LEARN MORE