Donald Trump Lost—and Still Dominated
Will he continue to defy political gravity?
by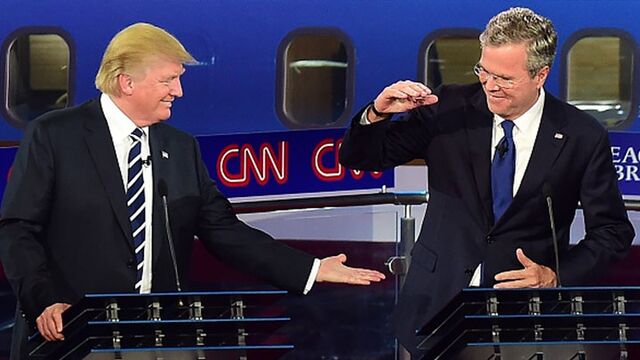 At the beginning of this college football season, Fox Sports 1, a fledging cable channel that's still attempting to find its footing in an ESPN-dominated world, stumbled into a goldmine. As it turned out, they had the broadcast rights to the biggest, most in-demand game of the opening day of the season: The first Michigan game coached by Jim Harbaugh, the eccentric, successful, and extremely entertaining former NFL head coach who returned to his alma mater in the offseason. Harbaugh was the story of college football's offseason, on the cover of every major sports magazine and so popular that a photo of him going shirtless in his signature khakis for a practice became the most viral image of the summer. And Fox Sports 1, desperate for ratings and hype, had his debut.
So they pulled out all the stops. The biggest innovation of all was a camera they referred to as Khaki Cam. You could watch the game on their channel, and, as a complement, you could log onto FoxSports.com and watch the Khaki Cam, which was, simply, a camera that was on Harbaugh the whole game. One cameraman was charged with pointing his Khaki Cam on Harbaugh and never leaving him. It didn't matter what happened in the game. It didn't matter whether Michigan won or lost. It didn't matter what anyone else was doing at all. It was just the Khaki Cam. The story was Harbaugh, and nothing else.
This is not exactly what happened at the Reagan library on Wednesday night—but the effect was definitely there.
There was this:
And this:
And even this:
There were 11 candidates on stage on Wednesday night at the Republican presidential debate but, as usual, the only one you couldn't take your eyes off was Donald Trump. Regardless of your thoughts about the intellectual seriousness of Trump as a presidential candidate, that he is a magnetic television presence is so undeniable you often forget anyone else is on stage at all. 
The CNN director tended to frame shots so that, when other candidates were talking, we could still enjoy another of his fantastic reactions. This went to preposterous lengths. When Rand Paul or Chris Christie—the two people farthest away from Trump on the stage—spoke, the director would somehow squeeze six people into his shot so he could fit in Trump.
Purely as entertainment, the beginning of the debate was possibly his finest moment. Apropos of nothing, asked an unrelated question, he looked over at Paul and said that he shouldn't even be on the stage. Seconds later, he said "I never attacked him on his looks, and believe me, there's plenty of subject matter right there."
Later, for good measure, he attacked George Pataki, who hadn't made the cut and had been at the kids' table debate earlier, calling him a "failed governor." While Jeb Bush was talking, Trump made such exaggerated movements and facial contortions that, if it were anyone else, you would fear they were having a seizure. He has taken 10 of the most accomplished officeholders and public figures on the planet, and he has turned them into supporting characters into a neverending drama created entirely in his own head. To blame the media for creating Trump is to blame lungs for creating air.
Substance definitely had more of a place at this debate than it did at the one in August. Jake Tapper played a fine straight man, steering the event toward seriousness even as he invited personal conflict between the candidates. In particular, Marco Rubio simultaneously demonstrated how much he knew about foreign policy and showed how little Trump did—and handily made a case for knowledge, and attempting to acquire it, as a concept. But Trump's smirk is its own kind of argument, just as powerful in its way. When Bush went after after Trump for not understanding the world, looking as tough as it's probably possible for Bush to look, Trump just batted him back by reminding everyone who his brother is. (Bush didn't help his case when he responded with, "He kept us safe," which is, uh, debatable.)
CNN, of course, knew what they had. But the event was hyped like it was a combination of prize fight, Super Bowl, and live musical of Peter Pan. The advertisements for the debate on CNN all day focused on Trump, and what people would say to Trump, and what he would sneer back, and how that would go on for three hours. (My favorite in-house ad simply featured Trump saying, "They say they're gonna come after me. Whatever. Whatever!" and shrugging.)
The first half hour was a flurry of hugely entertaining Trump moments. Then everything settled down, and he seemed to disappear—though, probably huge segments of the audience did, too.  
When the debate wandered into thickets of issues, the more tedious business of politics, Trump definitely seemed to get lost.
He completely, shockingly, punted on foreign policy—if he were Rick Perry, it would have been an oops moment.
But Trump is not Perry. The question in the coming weeks is whether Trump's policy shortcomings will have any effect on his poll numbers. Because, possibly, policy has nothing to do with it. 
Before it's here, it's on the Bloomberg Terminal.
LEARN MORE