Bush Knocks Down Trump's Florida Casino Claim: Reality Check
Jeanna Smialek and Michael C. Bender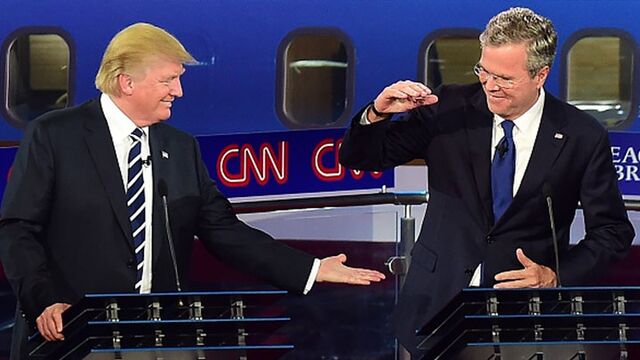 Jeb Bush, the Republican presidential candidate and former Florida governor, says he blocked competitor Donald Trump's push to expand casinos into the state. Trump says the assertion is "totally false."
The Claim: "The one guy that had some special interests that I know of, that tried to get me to change my views on something, that was generous and gave me money, was Donald Trump," Bush said. "He wanted casino gambling in Florida."
"I did not," Trump retorted.
"Yes you did," Bush said.
"Totally false. If I wanted it, I would have gotten it," Trump said.
The Facts: Bush is correct. Trump made a push for casino gambling in Florida that fell flat while Bush was governor, and Trump donated to Bush and a group supporting Bush around that time.
Trump Hotels & Casino Resorts gave $50,000 to the Republican Party of Florida while the party was supporting Bush's campaign for governor in 1998, according to Florida campaign finance records.
The party contribution, one of its largest single donations that year, coincided with a push from Trump and the Seminole Tribe of Florida to allow casinos on tribal land. Bush quashed those plans.
Trump gave $500 to Bush in 1998, according to figures compiled by the National Institute on Money in State Politics.
Before it's here, it's on the Bloomberg Terminal.
LEARN MORE