The Odd Couple Ready to Prevent a Shutdown
House Speaker John Boehner may turn to Democrats for help defeating members of his own party—again.
by and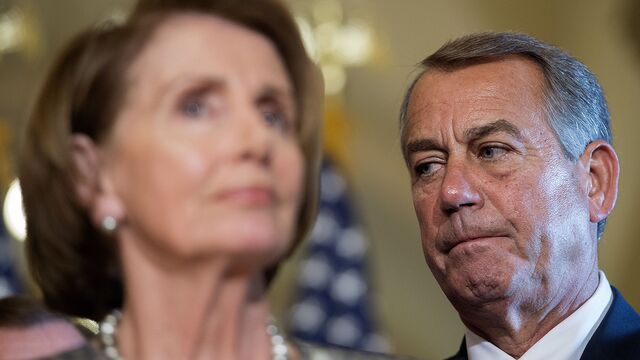 On Oct. 1, when the 2016 fiscal year starts, the U.S. government will shut down, unless Congress and the White House can agree on a bill that would keep money moving from the Department of the Treasury to the federal agencies and programs it funds. The legislative crisis is a near repeat of the dispute that triggered a 16-day shutdown in October 2013. More than 40 conservative Republicans have announced they won't vote for any appropriations that include federal funding for the women's health group Planned Parenthood, which is being targeted by anti-abortion activists. Senate Democrats have vowed to block legislation that cuts the funding, while the president has said he'd veto every Republican bill proposed so far. That leaves Speaker John Boehner with only one way to avoid a shutdown: ask his Democratic counterpart, House Minority Leader Nancy Pelosi, for help.
Republicans won 247 seats in the House in 2014, more than any year since 1928, and retook control of the Senate for the first time since 2006. The party's landslide midterm victory hasn't been enough to give its conservative wing the freedom it craves to rewrite major government programs. Boehner finds himself right where he was in 2013, when he depended on Pelosi to deliver the Democratic votes he needed to reopen the government over the objections of hard-line Republicans who wanted to deny funding for the Affordable Care Act and limit federal borrowing.
The two don't socialize, but Pelosi has publicly described herself as having a "good rapport" with Boehner, who replaced her as speaker in 2011 after Republicans won the House from Democrats. In April, Boehner was photographed smooching Pelosi in the Rose Garden of the White House at a ceremony celebrating the signing of a landmark Medicare reform package that resolved disputes over doctor reimbursement formulas dating from the Clinton administration. Pelosi and Boehner were the main architects of that deal. They drew effusive praise from Obama, who thanked everyone in attendance, including Boehner, for "a gorgeous piece of legislation."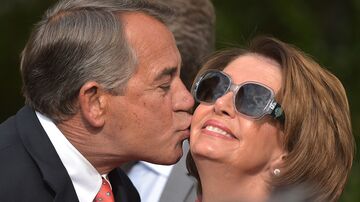 Boehner's cheeky kiss that day wasn't his first public display of affection for Pelosi; in January he gave her a playful peck after securing reelection as speaker. But the Medicare victory represented something more than emergency collaboration between the two partisan rivals. Boehner initiated behind-the-scenes talks with Pelosi to get the bill moving and made quasi-covert visits to her Capitol office to hammer out details. After it passed, he singled out Pelosi for "her indispensable leadership" in a briefing with reporters and delivered sharp words to his own party. "We didn't get elected just to come here and sit on our rear ends," he said. "As we get to these other challenges we're facing in the coming months, we are going to try to work together, with my colleagues, with Democrats if they are willing, to do the right thing for the American people. It's the way the legislative process is supposed to work."
Boehner's reliance on Pelosi has come at a price to his own policy objectives. In March the House voted to keep the Department of Homeland Security open, over the objection of 167 Republicans, after Boehner made a phone call to Pelosi promising her a bill stripped of language that would have prevented Obama from suspending deportations of undocumented immigrants. Pelosi says Boehner's reliance on Democrats could give her leverage to demand an increase to the $1 trillion cap on discretionary federal spending that was part of a 2011 deal to increase the nation's debt ceiling. "I certainly hope so," she told reporters during a briefing at the Capitol on Sept. 11.
That bothers Republican Representative Mick Mulvaney of South Carolina, a founding member of the House Freedom Caucus, the group of fiscal hawks demanding cuts to Planned Parenthood. (Michael Bloomberg, the founder of Bloomberg LP, which owns Bloomberg Businessweek, provides financial support for Planned Parenthood through his personal philanthropy.) Mulvaney says his group isn't happy with the prospect of Boehner going to Pelosi for votes again. "It relates to the number of times where he's reached out to Democrats before reaching out to conservatives," he says.
North Carolina Representative Mark Meadows, another Freedom Caucus member, filed a motion to unseat Boehner in July, after the speaker lost a fight to keep open the Export-Import Bank, a federal financing agency for companies doing business abroad. Conservatives, who argue it's a sop to corporations, have blocked efforts to renew the bank's charter. In recent weeks, members of the Freedom Caucus have threatened to force a vote on Boehner's leadership if he tries to cut a deal with Pelosi before the Sept. 30 shutdown deadline. "Going to Nancy Pelosi on a government funding bill, the debt ceiling, or reopening the Export-Import Bank is difficult for conservatives to accept," says Dan Holler, a spokesman for Heritage Action for America, an advocacy group affiliated with the conservative Heritage Foundation. Even if Boehner survives the autumn, Holler says, his willingness to strike another bipartisan deal raises the likelihood he'll lose the speaker's chair in January, or simply retire. "At some point, it becomes politically unsustainable," says Holler.
Boehner may first try to reach a deal with his own party. But Michigan Representative Sandy Levin, the top Democrat on the Ways and Means Committee, says he's sure the speaker and other moderate Republicans will wind up calling Democrats for help: "What choice do they have?"
Before it's here, it's on the Bloomberg Terminal.
LEARN MORE