Which 2016 Republican Candidate Is Really the Most Like Ronald Reagan?
by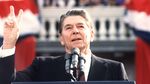 As 15 Republican presidential candidates head to the Ronald Reagan Presidential Foundation and Library in California for their second set of debates, you can bet many of them will be engaging in a favorite pastime: Comparing themselves to the Gipper. During the first debates, on Aug. 6, seven of those who will be on stage Wednesday night made reference to the 40th president, according to transcripts, as did former Texas Governor Rick Perry, who seemed to have a bit of a pronunciation problem when it came to Reagan and has now dropped out of the race.
That tally doesn't even include Wisconsin Governor Scott Walker, who likes to remind audiences he got married on Reagan's birthday, or former Florida Governor Jeb Bush, whose father was Reagan's vice president.
As Reagan historian H.W. Brands wrote in Time in May, Reagan has been "widely misunderstood" by the modern right as an uncompromising visionary when "he was also a brilliantly successful politician" who accepted tax increases for simplification of the tax code and negotiated with the "evil empire" of the Soviet Union.
So we decided to ask the experts—Reagan biographers and associates—which candidates they really thought fit the bill. Here, edited for clarity and space, are their responses.
Carly Fiorina, because she has 'personal charm'
Plus: Huckabee, Rubio, Carson, and Cruz
"I used to tell people if you muted the television set, Mike Huckabee had a lot of mannerisms that I used to see in Reagan, the way he cocked his head and that open demeanor about him. Rubio, in terms of his appearance, the way he projects, how earnest he looks, has a lot of Reagan's qualities too. I think Ben Carson has that sort of ability to make you feel affectionate toward him. Carly Fiorina doesn't seem angry even when she's talking tough. She has great personal charm, a great smile, like Reagan had. Ted Cruz philosophically is close there, but I think he fits more the Barry Goldwater kind of candidate."
—Ken Khachigian, former Reagan speechwriter, who says he is unofficially advising Fiorina.

Marco Rubio, because of his 'sparkle'
Plus: Jeb Bush
"Jeb Bush is closest in terms of confidence and consistency of policies and positions regardless of popularity. Senator Rubio has Reagan-like presence and the sparkle factor."
—Arthur Culvahouse, Jr., former Reagan White House counsel, who is is supporting Bush.
Ben Carson, because of his genial personality 
"I think Ben Carson comes closest to Reagan's persona, although he certainly lacks the kind of experience that Reagan had as a two-term governor of the nation's largest state. Carson, like Reagan, came from a dysfunctional family, but through hard work he managed to become a success in his chosen field. Both men were inveterate optimists, with a genial personality, a deep religious faith (Reagan was deeply religious, despite being our first divorced president and having a spotty church attendance record), and there seems to be an absence of guile in both men. 
"Trump accused Carson of lacking the 'energy' to be president, and this accusation was frequently directed at Reagan. (He was 'lazy,' didn't do his homework, etc.) I think Type-A personalities like Trump underestimate easygoing men like Reagan and Carson. Underneath that genuinely laid-back veneer is a burning desire to succeed. Also, Reagan would admire the fact that Carson abides by Reagan's 11th commandment, that one should 'not speak ill of a fellow Republican.'"
—Stephen Knott, co-author of two books on Reagan, including At Reagan's Side, and the former director of the University of Virginia's Ronald Reagan Oral History Project.

Rubio, because of his eloquence
"If I had to pick only one, it would be Rubio. His moving and eloquent 'Shining City' message and story of America and his own upbringing reminds me very keenly of what Reagan meant with that imagery. Rubio, too, more than any of the current crop, has much wider appeal to people across the aisle and beyond the Republican Party."
—Paul Kengor, author of four books on Reagan, including God and Ronald Reagan.
Rubio, because of his optimism
Plus: John Kasich
"In my judgment, the candidate who is most like Reagan is Marco Rubio. Much like Reagan, Rubio has an infectious optimism about the power of people, not government, to make the nation great again. He is unabashedly conservative, but in a way that goes far beyond simply being anti-Obama and instead puts forth a positive agenda. He also places a strong emphasis on foreign policy, and shares Reagan's sense of moral clarity and the belief in America as a force for good in the world (a 'shining city on a hill'). The only other one I see as being close is John Kasich. Kasich has demonstrated his conservative bona fides, but is also willing to find areas of consensus."
—Jeffrey Chidester, co-author or co-editor of three books on Reagan, including The Reagan Years.

Scott Walker, because of his 'Midwestern integrity'
Plus: Rand Paul, Ted Cruz, and Bobby Jindal
"I see parts of Reagan in most of the 2016 candidates—Scott Walker's Midwestern integrity, Rand Paul's intellectual libertarianism, Ted Cruz's principles, Bobby Jindal's reform agenda."
—Craig Shirley, author of two books on Reagan, including Reagan's Revolution. (His public affairs firm is helping Walker, but Shirley says he is "not personally involved.")
Not Rick Perry, who lacked poise
"For a time I saw something of Reagan in Rick Perry—conventionally handsome, successful record as governor of a big state, good at giving speeches, blessed with a sense of humor. And I remembered that Reagan had failed (twice) before winning the nomination and the presidency. But I was unimpressed by Perry in the first round of the debating, and was left to conclude that Rick Perry is no Ronald Reagan. He lacks the poise, the expertise on a broad range of issues, and the ability to win over audiences. Apparently those polled in the Republican Party came to the same conclusion—as Perry acknowledged by dropping out."
—H.W. Brands, author of Reagan: The Life.
Before it's here, it's on the Bloomberg Terminal.
LEARN MORE