Boehner Confronts Choices, None Easy, to Avoid Shutdown
Billy House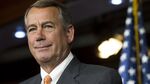 Here we go again: House Speaker John Boehner is maneuvering to avoid another U.S. government shutdown amid conservative demands that could stymie any solution and undermine his grip on the gavel.
Boehner must decide how to keep federal agencies running when existing funds expire Sept. 30 -- or whether he'll heed fellow Republicans' calls to defund Planned Parenthood and keep limits on federal spending.
"If he was coal, he'd be a diamond already," said a Boehner loyalist, Representative Steve Stivers of Ohio, regarding the pressure on the speaker.
House Republicans plan to discuss spending legislation at a private meeting late Wednesday afternoon. Here are possible paths ahead and outcomes:
PASSING A SHORT-TERM SPENDING BILL
Boehner of Ohio has said a stopgap bill to extend current spending levels and keep the government running into this fall will be needed. He hasn't committed to the duration or other terms of such a must-pass "continuing resolution," including policy add-ons like Planned Parenthood defunding.
Such a short-term bill would allow more time to negotiate on a longer-term agreement with President Barack Obama, who says he would veto any across-the-board spending cuts or Planned Parenthood defunding.
The rub is that more than three dozen House Republicans signed a letter insisting they won't support any spending bill unless it halts funding for Planned Parenthood. Boehner then might have to seek Democratic votes to get a measure passed.
The outrage against Planned Parenthood stems from undercover videos that purported to show officials for the women's health-care provider discussing reimbursement for providing tissue from aborted fetuses to researchers.
BOEHNER BACKS DEFUNDING, EVEN THOUGH IT'S D.O.A. IN SENATE
Boehner might decide he needs to give conservative Republicans a chance to pass a spending bill that eliminates Planned Parenthood funds. If he does, the measure probably wouldn't reach the president's desk anyway.
There's opposition even from his fellow Republican, Senate Majority Leader Mitch McConnell of Kentucky.
While McConnell embraces the fight to defund Planned Parenthood, he said Wednesday it can't be won by threatening to shut down the government.
"We're not going to engage in exercises of futility," the majority leader told reporters. "We know the president wouldn't sign such a bill."
A Senate bill to defund the organization didn't receive the 60 votes needed to advance in a test vote in August.
"We're going to fund the government," McConnell said. "We're not going to shut the government down."
A SEPARATE DEFUNDING BILL
Boehner also could pursue a separate mechanism to defund Planned Parenthood that would avoid a shutdown while allowing Republicans who oppose the organization to make a stand.
Representative Mick Mulvaney of South Carolina, a founder of the conservative House Freedom Caucus of about 40 members, said Boehner's leadership team is discussing alternatives during "listening sessions" with members. No definite proposal has emerged, he said.
Ideas include transferring Medicaid funds from Planned Parenthood to other women's health facilities "so that the overall commitment to women's health is the same," Mulvaney said. Obama would likely veto such a bill.
Republican leaders also could promise to try to defund Planned Parenthood later through a procedure called reconciliation. But Mulvaney said in an interview last week that leaders hadn't nailed down how that would work.
Some conservatives including Representative Steve King of Iowa say they don't want to use a separate funding mechanism because they want to force a showdown with Obama, using the threat of a government shutdown as leverage.
Bloomberg Philanthropies provides financial support for Planned Parenthood.
BOEHNER TURNS TO DEMOCRATS AGAIN
House Democratic Leader Nancy Pelosi predicts Boehner will need help from Democrats to pass spending legislation. That's how lawmakers resolved the 16-day shutdown in 2013, which stemmed from Republicans' effort to defund Obamacare.
Now, conservatives' "extreme ideology" regarding Planned Parenthood is handing leverage to House Democrats, Pelosi of California told reporters last week. Providing votes to pass a short-term spending measure will aid Democrats in negotiations on loosening federal spending limits under the 2011 Budget Control Act, she said.
Even some Republicans, including House Appropriations Committee Chairman Hal Rogers of Kentucky, have called for their party to raise the spending caps that he says have created a stranglehold on necessary increases in government funding.
Conservatives like Mulvaney and another Freedom Caucus member, John Fleming of Louisiana, say they will hold fast to demands that Boehner stick to the spending limits.
SPEAKER BOEHNER'S FUTURE?
Some Republicans have challenged Boehner's leadership, and in July, Republican Representative Mark Meadows of North Carolina filed a longshot procedural move that could be used to take away the speaker's gavel.
That frustration with Boehner has festered since he turned to Democratic votes to end the 2013 shutdown. Mulvaney didn't deny a sense of unease over what Boehner will do this time.
"It relates to the number of times where he's reached out to Democrats before reaching out to conservatives," he said. This time around, he said, "I don't think it's a foregone conclusion that we need Democrats" to pass a short-term spending bill.
Still, getting such a measure through the Senate and signed into law may be another matter entirely.
Before it's here, it's on the Bloomberg Terminal.
LEARN MORE