New York City Council Speaker Melissa Mark-Viverito Charts Course Away From De Blasio
Henry Goldman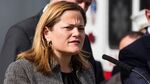 New York City Council Speaker Melissa Mark-Viverito won her job last year after Mayor Bill de Blasio pressured members to back her. She had endorsed the long-shot candidate early when he ran the year before, and he returned the favor.
What began as a partnership has turned into a pain.
As Republican presidential candidates warn that de Blasio's liberal policies are returning the biggest U.S. city to dark days of crime and decay, she's been whacking him from the other side of the political spectrum.
Mark-Viverito, 46, has complained that de Blasio has a tendency to steal the spotlight from the council and that his law-enforcement policies are unfair to minorities. Last week, she traveled to her native Puerto Rico with Governor Andrew Cuomo, the mayor's antagonist in a months-long feud.
"People said I would be a pawn," she said in an interview. "I said I was going to be independent and provide oversight."
The mayor and speaker each deny that the relationship is troubled. The disagreements are merely part of the natural tension between a government's executive and legislative branches, they say.
"There are a lot of broader issues they agree on, from paid sick leave to municipal ID to affordable housing," said Emma Wolfe, the mayor's top political aide.
First Hispanic
Mark-Viverito, the first Hispanic council leader, is also the first to share a mayor's party affiliation since 1994. De Blasio, 54, is the first Democrat to control City Hall in 20 years and has been positioning himself as a national progressive leader. Their frequent disagreements may affect de Blasio's ability to govern, said Ken Sherrill, a professor emeritus at Hunter College in Manhattan.
"When the legislative branch goes its own way, it can make the chief executive look weak," Sherrill said. "For the mayor to be traveling the country as a voice of progressivism only to return home to a council speaker more progressive than he is can also become a problem."
A graduate of Columbia College with a graduate degree in public administration from City University's Baruch College, Mark-Viverito worked as an organizer with Local 1199 of the Service Employees International Union, the powerful hospital labor group and a de Blasio ally. She won a council seat in 2005 and represents Latino neighborhoods of East Harlem and the Bronx.
Not Subservient
Term limits bar Mark-Viverito from running again in 2017, making her a lame duck with an open future. That's the same year the mayor would be up for re-election.
"I'm not running against Mayor de Blasio despite this little mess that's going on," she said. "People assumed I and the mayor were always on the same page and I would be subservient to the mayor; that's never been the case."
While the mayor has visited California, the Midwest and Washington to push proposals to tax the rich and make education and housing more affordable, Mark-Viverito has also gained national exposure.
"At a time when Republicans have antagonized Latinos, we view her as a valuable voice," said Pablo Manriquez, director of Hispanic media for the Democratic National Committee.
Mark-Viverito has also broken with de Blasio over his law-enforcement policies, with her positions sometimes at odds with Police Commissioner Bill Bratton, de Blasio's most important appointee.
She says Bratton's vigorous prosecution of minor quality-of-life infractions -- graffiti, public drinking or park curfew violations -- unfairly affects residents of minority neighborhoods. Her proposed city-financed bail fund would lend $500 to defendants accused of nonviolent offenses, allowing them to remain free while awaiting trial. De Blasio has rejected the plan.
"These are real issues of criminal-justice reform in which the system is set up against poor people," Mark-Viverito said.
Horse Fracas
The first signs that the mayor and council didn't share parallel interests surfaced in the early months of de Blasio's term. Council members sided with the Teamsters union and its allies in opposing de Blasio's campaign pledge to ban horse carriages from Central Park.
"These members were more responsive to the labor movement than to the limousine liberals advocating animal rights," Sherrill said. "She had no choice as the majority leader but to follow them on this issue."
Mark-Viverito most angrily denounced the mayor in July after he asked the council to vote for a moratorium on the growth of Uber Technologies Inc. The mayor became embroiled in a fight with the popular ride-hailing company, which spent millions of dollars on television ads that said de Blasio was merely helping his campaign donors in the traditional yellow-cab industry.
The dispute unfolded just after de Blasio had escalated his battle with Cuomo, a fellow Democrat, by accusing the governor of sabotaging his initiatives.
After calling reporters into his office to attack Cuomo, de Blasio departed the city for a family vacation, then flew to Italy for an environmental conference sponsored by Pope Francis. Meanwhile, Mark-Viverito and the governor compromised with Uber. The company agreed to share information on its operations for four months to study the impact of its growth.
When de Blasio returned, he spoke of the deal as if he had negotiated it and said he could still impose a growth limit on Uber.
Mark-Viverito insisted that the council, not the mayor, would decide whether to curb Uber's growth. A Quinnipiac University poll conducted about a week later showed only 44 percent of voters approved of the mayor's performance, his lowest rating since taking office.
"I'm not going to allow anyone to attempt to save face at the expense of this council," she said. "This council decides what we discuss, what debates we will have, what will be taken off the table, what will be on the table."
Before it's here, it's on the Bloomberg Terminal.
LEARN MORE