Hillary Clinton Might Be Wondering: What's President Obama Up To?
Officially neutral, the president seems to be sending mixed signals on a potential Democratic nomination fight between his former secretary of state and Vice President Joe Biden.
by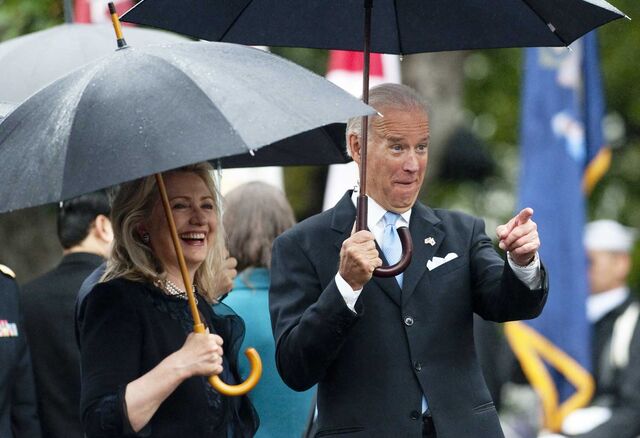 President Barack Obama says he has no preference in the Democratic fight to succeed him. Hillary Clinton could be forgiven for having her doubts.
Officially Obama hasn't taken a position in the potential contest between two of the most prominent members of his "Team of Rivals" cabinet. But he doesn't seem to be doing anything to discourage Vice President Joe Biden from upending the Democratic presidential race by making a run against Clinton, Obama's first secretary of state.
Since the start of September, the White House has dispatched Biden on photo-op trips to Democratic bastions in Florida, Pennsylvania, New York, and this week, California, Michigan, and Ohio. Last week, Biden met in New York with Robert Wolf, a top Wall Street fundraiser for Obama. And last Wednesday, when Obama took Biden's wife, Jill, on a trip to Michigan to promote the idea of free community college, he reminded the audience of his feelings toward his vice president.
"Her husband is not so bad, either. He's OK," Obama deadpanned. "Love Joe Biden."
Aides insist that Obama is neutral on the Democratic presidential nomination battle: "The president's got his own long agenda that he's focused on right now," White House Press Secretary Josh Earnest told reporters last month. But it's hard to imagine that he doesn't have an interest in ensuring the party field the strongest possible candidate to continue his legacy. And after initially seeming to show favor to Clinton—with a private meeting at the White House just before she announced and what to many sounded like a near-endorsement when she announced—Team Obama now seems to be sending different signals, as controversy over Clinton's e-mails continues, her poll numbers plummet, and Biden, still mourning the death of his son Beau, openly agonizes about whether he's ready to make his third presidential campaign.
From the White House press room podium on Aug. 24, Earnest delivered an extended meditation on a hypothetical Biden campaign, telling reporters that "a large portion" of Obama's accomplishments "would not have been possible without the wisdom, counsel and leadership of Vice President Biden." Earnest said an Obama endorsement in the Democratic primary was possible. That was a slight change from April, before Biden began exploring a run, when Earnest said it "would be the responsibility of Democratic voters" to select a candidate.
And then there was the tweet heard 'round the political world: Long-time Obama strategist David Axelrod's diss of a New York Times article on Clinton's campaign strategy as reading more like a satire.
Perhaps most tellingly, there was the secret tête-à-tête Biden held last week with Wolf. The former chairman and CEO of UBS Americas raised more than $500,000 for Obama in each of his presidential campaigns and is likely his closest friend on Wall Street. As with Biden's lunch with Senator Elizabeth Warren in August, the vice president's office didn't publicly disclose the 90-minute meeting. Wolf, however, confirmed it to Bloomberg.
Wolf says he supports Clinton and has contributed $2,700, the maximum for an individual, to her campaign. But he has not yet raised money for her, making him an obvious target for Biden's entreaties. Wolf, for what it is worth, said Biden didn't say whether he would run and didn't ask for his support.
At the White House, the official view remains, what Earnest told reporters: Both Biden and Clinton "served their country in this administration with distinction," he said. But the de facto head of the Democratic party seems to be turning his neutrality into a game of intrigue.
Before it's here, it's on the Bloomberg Terminal.
LEARN MORE