New Jersey Transit Quietly Cuts Late-Night Trains From Manhattan
Elise Young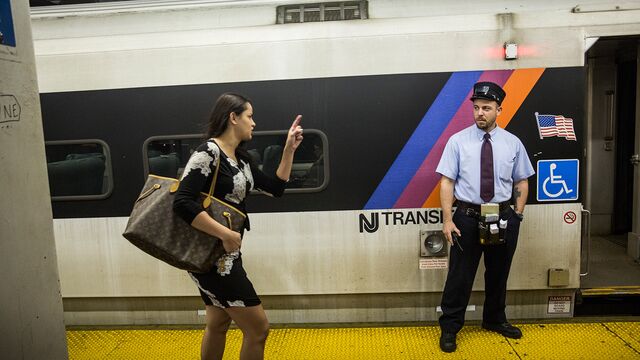 (Bloomberg) -- New Jersey Transit is cutting late-night rail service from Manhattan beyond what it told riders at hearings in May, saying federal law didn't require public notice.
Anyone working extra hours, or attending a show or sporting event, must leave earlier if they want to catch the last Morris and Essex train, at 12:34 a.m., or Gladstone, 11:35 p.m., according to schedules dated Sept. 13.
New Jersey Transit, the nation's third-largest mass-transportation agency, held nine public hearings before it approved service reductions and fare increases, averaging 9 percent, to begin Oct. 1. The curtailed late-night trains weren't disclosed during those hearings, when scores of commuters criticized the proposals as the agency faced a $120 million budget deficit for the fiscal year that started July 1.
"This service elimination (M&E) was not published for the public hearing because it did not meet the approved federal process criteria for such publication as we did NOT cut service on this line by more than two hours (it was cut by one hour)," Jennifer Nelson, a New Jersey Transit spokeswoman, said by e-mail. "Additionally, this train had low ridership (less than 100 customers.)"
The same criteria applied to the Gladstone change, she said, and the elimination of three Bay Head-to-Long Branch seasonal shuttles.
"All service changes were approved as part of the service-elimination package presented to the board at the July meeting," she said.
Stealth Attack
New Jersey Transit rail handles 295,200 passenger trips on an average weekday. More than 1.3 million people live in the area served by the affected train lines, according to U.S. Census figures.
The Midtown Direct and Montclair Boonton trains were delayed by an hour Monday night because of overhead wire problems. The system has suffered a spate of delays recently, angering commuters facing increased fares and spotty service. Riders faced interruptions of as long as 90 minutes at least six times in July alone.
David Peter Alan, president of the Lackawanna Coalition, a commuter group, called the schedule change "a stealth attack on riders."
"They've never done this before -- to mention some of the cuts they were planning but not all of them," Alan said.
Eliminations announced earlier applied to the Pascack Valley rail line, leaving from Hoboken, and the Montclair-Boonton route, from Montclair State University. Six bus routes, most in the southern part of the state, also were discontinued or reconfigured.
The service problems have revived calls to build Gateway, a $16 billion link under the Hudson River meant to ease Manhattan commuter congestion. New Jersey Governor Chris Christie, a Republican running for president, in 2010 killed plans to build New Jersey Transit its own tunnel.
To contact the reporter on this story: Elise Young in Trenton at eyoung30@bloomberg.net
To contact the editors responsible for this story: Stephen Merelman at smerelman@bloomberg.net Michael B. Marois, Justin Blum
Before it's here, it's on the Bloomberg Terminal.
LEARN MORE