Ben Carson Brushes Off Criticism by Donald Trump
For the moment, the retired neurosurgeon appears to be the greatest threat to Trump in the polls.
by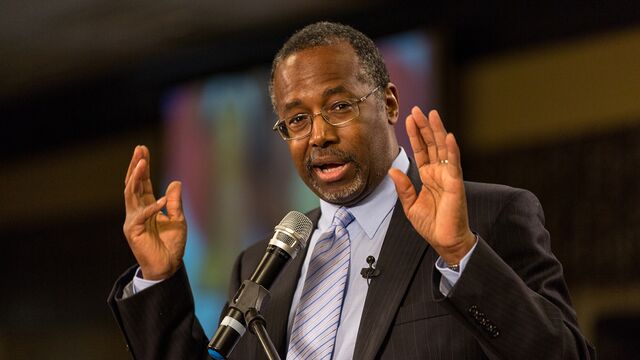 The front-runner feud is on. 
Neurosurgeon Ben Carson and billionaire Donald Trump traded measured barbs on the Sunday talk show circuit, with each outsider presidential candidate making the case as to why he has what it takes to lead the country.  
"I'm a deal maker," Trump, 69, said on the CBS broadcast Face the Nation. "I'll make great deals for this country. Ben can't do that. Ben's a doctor and he's not a dealmaker and I'll make great deals for our country, which is very important."
He added, "Ben is not a deal maker at all and I don't think would be a good—I don't think that's his natural ability at all." 
Trump's criticisms come one day after he said at a rally in Boone, Iowa, that he doesn't think "Ben has the energy" to lead the country. 
Carson, 63, responded to that critique on ABC's This Week, saying the comments aren't getting to him.
"It doesn't bother me, because I recognize that I have plenty of energy," he said, adding, "You don't have to be loud to be energetic."
Carson refuted the notion that he lacks the background to be an effective president. 
"I find it quite humorous when people say, he's an idiot savant," Carson said on Face the Nation. "He only knows neurosurgery. Just the fact that they would say something like that, they don't know what it takes to become a neurosurgeon. That's pretty idiotic itself."
With his steep rise in recent weeks in the polls, Carson has displaced former Florida Governor Jeb Bush as Trump's nearest competitor. The relative detente between Carson and Trump gave way when Carson seemed to question the businessman's faith while campaigning last week, saying he does not "get the impression" that Trump has "humility and the fear of the Lord." Carson has since apologized to Trump and said the remarks were not meant as an attack. 
When asked Sunday whether Trump was humble enough to be president, Carson held his fire. 
"I'm going to leave that up to the voters," he said. "I think that's the appropriate way to do it."
Before it's here, it's on the Bloomberg Terminal.
LEARN MORE