The Donald and Jimmy Mutual Admiration Society
Mirror, no-mirror on the wall: Who's the fairest Trump of all?
by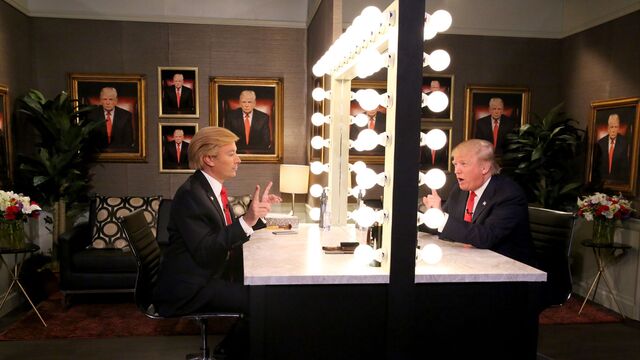 On Tuesday's debut of the Late Show with Stephen Colbert, America's favorite political-satirist-cum-Sunday-school-teacher asked the man everyone thought would be the Republican presidential front-runner, Jeb Bush, to please read off answers that were "just a little bit Trumpier." Bush was game. "I will build a wall between the United States and Iran and make Mexico pay for it," he intoned, with an uncharacteristic trace of braggadocio. "I will turn the National Mall into a luxury gulf course, and China will respect that." To loud laughter, Bush went on, "I promise to put Meatloaf on the $10 bill, and give Little Jon a cabinet position, which would send the message that this great nation will never turn down for what." The popular Lil Jon and DJ Snake song blared.
By giving him a chance to satirize his chief rival and tormentor, Colbert was doing Bush a solid, something like what Ellen DeGeneres did for Hillary Clinton earlier in the week, when she put her in warm and fuzzy and dancey circumstances.
But the real Donald Trump, as his Twitter handle goes, needs no such help.
On Friday night, just hours after announcing that he'd purchased half of "Miss Universe" away from NBC, Donald Trump was a guest on the network's Tonight Show with Jimmy Fallon, who practically bowed to him. In fact, at one point, he showed off a mock-logo reading "The Tonight Show Starring Donald Trump featuring a guest appearance by Jimmy Fallon."
You couldn't blame him. After all, how many late-night comedians get to host the elder statesman of New York entertainment? At least that's the part Trump seemed to be playing, generously praising Fallon for his success. "By the way, he's doing a great job," Trump told the audience. "The ratings are through the roof." Fallon, for his part, patted Trump on the back for the viewership he was bringing to Fox, as if he were an official ambassador for the television industry. "I gotta say, thank you," Fallon said, "from the country—the other candidates should say thank you."
Trump smiled that he was such a ratings expert, and took the moment to canvas the audience with an impromptu clap-o-meter measuring their devotion to The Apprentice. He went on to claim responsibility for 21 of the 24 million viewers for the first debate—but with a smirk of humility: "It was the largest, I guess, they say largest or one of the largest, in the history of cable television." He said he was just "a little bit nervous" about next week's second debate, but that he's decided extemporizing is the way to go. Otherwise "you don't get the reaction," he said.
He described a speech he made to a crowd of over 30,000 as "like a love fest. If you're reading, or if you have teleprompters—if you have a teleprompter, or in any way reading a speech, or even looking down all the time at notes, you're not going to get the reaction from the crowd. So I go out—and I really, you know, it's a riskier proposition, because when you read, you're not going to make any mistake, other than stumbles, but you're not going to make any mistake. When you do it just off the cuff, now I know what I'm going to say, but it's a riskier thing. But when you get it right, it's a thing of beauty." Fallon blurted, "You just go out with no notes!"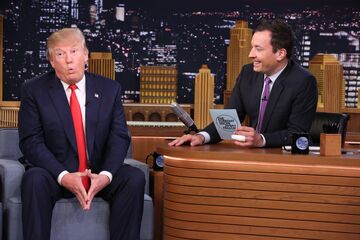 The overall mood of the evening was perfectly summed up in a Saturday Night Live-like sketch the two did before Trump's sit-down interview. The two showmen went mano a mano across an imaginary looking glass. Fallon appeared, dressed as Trump, in an office covered with identical Trump portraits: a feast of shiny red ties, dark suits, bronze-or-bronzered-skin, and pursed lips.  
"I'm about to go out for my interview with Jimmy Fallon," said Fallon-as-Trump to an imaginary interlocutor. "I'll call you back after I comb my hair. Talk to you in three hours." And then he sat down before a old-Hollywood style vanity, with light-bulbs surrounding, and, Narcissus-like, gazes at his own reflection. "Wow, I look fantastic," he says." Only there is no mirror: it's Donald Trump IRL. "No," the real Trump says. "We look fantastic."
Fallon aped Trump's gesticulations as if in an improv class, his webbed-foot-like hand gesture of emphasis, his tendency to give extra room to the letter "u" ("huuuuge"). Mirror image, they call it (only Fallon wears a wedding ring, Trump does not). Fallon mocked Trump, with statements like "I'm like a Greek god that just took a bath in a pumpkin spiced latte."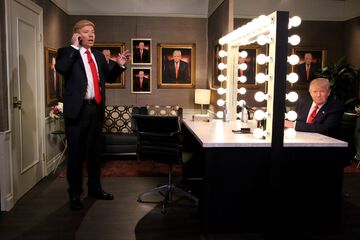 But Trump went along with it:
"Me interviewing me," Trump said, "that's what I call a great idea."
Fallon-as-Trump: "Of course it's a great idea, we thought of it."
The harshest moment in the entire evening may have come in this sketch, when Fallon-as-Trump rolls through possible interview questions.
Fallon-as-Trump: "Question. How are you gonna create jobs in this country?"

Trump: I'm just gonna do it."

Fallon-as-Trump: "Right. But how?"

Trump: "By doing it."
Here it was, the big reveal: behind the smoke, there are no policy specifics, there is no Wizard! And yet, not quite. Fallon-as-Trump replied: "Geniuuus. You, and therefore me, are geniuses."
This spirit continued, the puppy-like cheerleader who pokes only the sweetest kind of fun. When Fallon, moments after, changed from his costume and invited Trump to the stage, the real-estate and reality-TV mogul walked out with two thumbs-ups, then another as he approached where he'd be sitting. He sat down, and, right away, Fallon raised the date, Sept. 11, and the terrible attacks 14 years ago, seared into the mind of the city. He asked Trump, a fellow New Yorker, what the day meant to him. Trump replied, "In a certain sense it means strength, beause the way the city came back, I've never seen anything like it. And the country came back, and the city came back, there is a great strength and resilience that we have in this country. We have amazing people."
The crowd cheered. Fallon nodded solemnly. And then he pulled back.
"That was almost 15 years ago," he said. "And now here we are—I'm the host of the Tonight Show and you're the front-runner, by far, of the Republican Party to be president of the United States."
"When," Fallon took a beat, "did this happen?"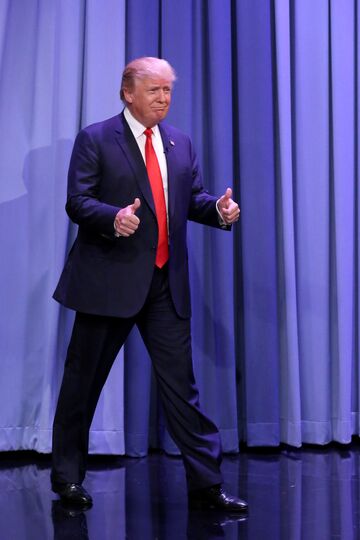 The collegial Fallon apologized for making Trump the butt of so many jokes. All in a positive spirit, of course. Eight months ago, Fallon said, the notion of a Trump candidacy, let alone campaign, was hilarious, whereas Hillary Clinton was "a shoo-in."
Not so, now.
Trump, who seems to have felt he was flying too high to puncture anybody else, feigned regret. "Well, she's has had a very, very tough time," he said. "And I think it's going to be very hard for her. She's had a very, very bad time. I've never seen anything like it." He turned to the audience, laughing with them. "I feel terribly about it." They kept laughing. "Actually," he continued, "honestly, it's tough stuff."
Just as he feels "terribly" for Clinton, he stressed that he thinks Carly Fiorina, whose face he insulted in a recent interview with Rolling Stone, "is a very nice woman"—although she, poor lass, may not be a great businessperson. He spoke favorably of Kanye West, who, if Trump were to realize his White House ambitions, could be his competition for a second term. ("I love Kanye—I know him a little bit, he's actually a much nicer person than some people think.")
Watching Trump on late-night—his first appearance on a late-night show since announcing his candidacy—is a little bit like seeing him in his natural habitat. A little bit like seeing him without the camera, so soft and so much more reasonable was he. He is made for the New York talk show, a mogul so synonymous with brass and brash boastfulness that he was the touchstone for the introduction of Mr. Big to Carrie, in the first-ever Sex and the City episode. (Samantha confides, winkingly, to Carrie, "You see that guy? He's the next Donald Trump.") 
Fallon asked if he ever apologized, and Trump used the moment to play the poor-me silly goose—this wasn't supposed to be one of the questions, Jimmy! "I fully think apologizing is a great thing," he replied, "but you have to be wrong."
Fallon closed by noting the difficulty Trump has had with his musical selections, and suggested a tune: "All I Do is Win," by DJ Khaled with Ludacris, T-Pain, and Rick Ross.
He, or someone, hit play, and the lyrics blasted. "All I do is win win win no matter what/Got money on my mind, I can never get enough."
Trump smiled his Trumpian smile. He looked at the audience, "I mean honestly, it happens to be one hundred percent true."
Before it's here, it's on the Bloomberg Terminal.
LEARN MORE