Russian Buildup Makes Removing Syria's Assad Tougher, Obama Says
Alex Wayne and Angela Greiling Keane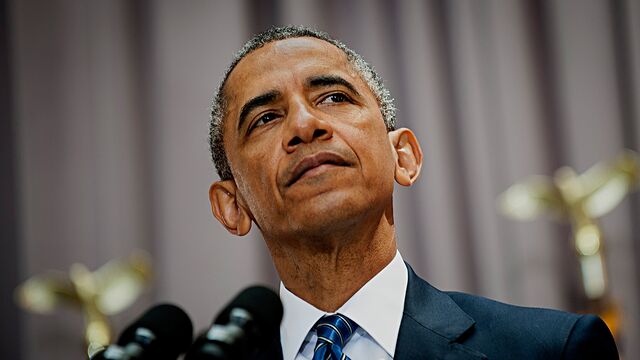 Russia's deepening military involvement in Syria will make it harder to dislodge Bashar al-Assad from power and find a political solution to the war raging there, President Barack Obama said.
Obama confirmed reports that Russia has sent additional personnel and equipment to aid Assad's forces, a tactic that the president said was doomed to failure.
"The strategy they're pursuing now, doubling down on Assad, I think is a big mistake," Obama said Friday in remarks to military personnel at Fort Meade, Maryland.
Russia is one of Assad's few remaining allies, and the relationship is one of many friction points between Obama and Russian President Vladimir Putin, who may encounter each other at the opening of the United Nations General Assembly later this month.
Assad is fighting rebels in a civil war that has killed more than 200,000 people since 2011, created millions of refugees and provided an opening for the rise of the militant group Islamic State.
Russia wants to include Assad's forces in the fight against Islamic State, an idea the U.S. and its allies have rejected.
A Russian military intervention "could prevent us from arriving at the political settlement that's ultimately needed to bring peace back to Syria," Obama said, adding that it won't change U.S. strategy against Islamic State.
A spokeswoman for Russia's foreign ministry said Sept. 9 that reports of a buildup in Syria are designed to foster "hysteria."
"Russia has never made a secret out of its military cooperation with Syria," the spokeswoman, Maria Zakharova, told reporters in Moscow. "Russian specialists are helping Syrians to use Russian equipment."
Bulgaria said on Sept. 8 that Russian military transports bound for Syria were denied permission to transit its airspace out of suspicion they weren't carrying humanitarian aid. The U.S. has also asked Greece to bar Russian overflights to Syria.
Before it's here, it's on the Bloomberg Terminal.
LEARN MORE