Obama Warns China U.S. Will Win Any Competition in Cyberspace
by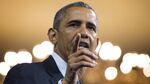 President Barack Obama warned Chinese leaders that if they compete rather than cooperate in cyberspace, the U.S. will win.
Obama, who is set to meet with Chinese President Xi Jinping later this month at the White House, said he plans to make clear that "certain practices" coming out of China aren't acceptable and that the two nations must come to terms on basic rules of behavior in cyberspace.
"There comes a point at which we consider this a core national security threat and we will treat it as such," Obama said Friday in a question-and-answer session with members of the military at Fort Meade, Maryland. Cyber-warfare is the new theater for conflict between nations and non-state actors, he said.
Obama didn't mention the hacking of computers at the U.S. Office of Personnel Management that targeted the files of more than 20 million current and former government employees. The U.S. hasn't publicly identified a culprit, though officials have indicated the attack came from China.
The administration is weighing sanctions on Chinese companies or individuals for hacking U.S. networks.
The U.S. is most vulnerable in the private sector, from businesses, utilities and financial networks down to smartphones, he said.
Director of National Intelligence James Clapper said at a House intelligence committee hearing Thursday that "Chinese cyber-espionage continues to target a broad spectrum of U.S. interests, ranging from national security information to sensitive economic data and U.S. intellectual property."
Before it's here, it's on the Bloomberg Terminal.
LEARN MORE