Joe Biden's Late Show Appearance With Stephen Colbert Turns Emotional
The vice president details how his struggle to deal with the death of his son is impacting his decision on whether to run for president.
by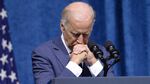 Stephen Colbert's new comedy show was effectively preempted on Thursday, its third day on the air, in favor of a wrenching, intimate conversation about love, loss, and running for president between the comedian and Vice President Joe Biden, who said he still has moments when he breaks down over the recent death of his son Beau, and "you can't do that" during a presidential campaign.
Colbert, who lost his father and two brothers in a plane crash when he was 10, begged Biden to get in the race anyway. "It's going to be emotional for a lot of people if you don't run," Colbert told him, adding that the things he alone could bring would otherwise "be sorely missed in the race."
Recently, the vice president said, he was greeting a bunch of soldiers in uniform on a rope line in Denver, "and it was going great, and a guy in the back yells, 'Major Beau Biden, Bronze Star, sir. Served with him in Iraq,' and all of a sudden I lost it. ... I shouldn't be saying this, but that, that—you can't do that."
His son, he said, was someone who didn't want "Biden" on his name tag because he didn't want special treatment, and who turned down an appointment to a Senate seat "he could have done standing on his head."
"He abhorred people who had a sense of entitlement, and he went the other way," and wouldn't wear his war medals. "That was Beau."
What he was doing, Biden said, was living out something his mom always said, then poked fun at himself for constantly quoting his mom, at which Colbert leaned in and said, "What's the use of being Irish if you don't know that life is gonna break your heart?"
Biden, whose first wife and daughter died in a car crash in 1972, then quoted his mother, who told him, "Nobody's better than you, but you're better than nobody."
"You know there's another person who said that," Colbert said, "and that's Thomas Jefferson, and this is why I think people want you to run for president."
The talk began with a moment of silliness, when Biden's microphone wasn't working. He quipped that they always do that to him in the White House, too, then guffawed at his own joke. 
But the moment quickly turned serious when Colbert offered his condolences over the loss of Beau, and as Biden stared down, asked him to share a story about his son. Even when he was a kid and lost his mom and sister and was in the hospital himself, the vice president said, "I never one single time, my word as a Biden, ever, ever heard my child complain."
That never changed, right up to the end, he said, even when, not long before Beau's death from cancer, he asked his father to "promise me you're going to be all right—because no matter what happens, Dad, I'm going to be all right."
When Colbert asked him how the Roman Catholic faith they also share had helped him respond to the loss, Biden said it was "embarrassing" to be held up as some example when so many people go through the same challenges with far less support, "so I feel self-conscious."
When his wife, Jill, wants to send him an important message, he said, she literally tapes it to his bathroom mirror, and a recent one was a quote from Danish philosopher Soren Kierkegaard that said, "Faith sees best in the dark."
"And for me,'' he went on, "my religion is just an enormous sense of solace. ... I go to Mass. … I say the rosary. I find it to be incredibly comforting. ... It's just a place you can go." Then, though, he did seem to become self-conscious, and added, "I don't want to come off like…"
"As pious," Colbert said, finishing his thought. 
But, Biden said, "I'd feel like I was letting down Beau, I'd [be] letting down my parents, letting down my family ... if I didn't just get up."
Colbert said he marveled at what he'd been able to do with his pain, and the vice president stopped him and said, "The people I find who I'm most drawn to are people who've been hurt and yet—and I'm not going to embarrass you, but you're one of them, old buddy."
The comedian said his mom got through her losses because "she had to take care of me ... and I had to take care of her."
"Can I ask you something?" Colbert asked. "I'd like to tell you this little joke, which is, I used to say, 'Oh yes, I raised my mother.'"
"My boys," said Biden, "honest to God did" raise him, too. If his son Hunter were here, Biden said he'd say, "Dad, you need anything?" During debate prep, too, Hunter always says, "Look at me, Dad. Home base. Remember who you are."
During a break, when audience members called out that he should run, Biden laughed them off by calling, "Be careful what you wish for."
If he did run, Thursday was a perfect preview of what he might run on: His commitment to women's issues goes back "generations," according to Attorney General Loretta Lynch at an event announcing new grants that will be used to clear rape kit backlogs.
At an afternoon announcement on raising the minimum wage to $15 an hour in New York, Governor Andrew Cuomo said he's "all about working families. He understands their needs intellectually and feels their plight emotionally."
"Run, Joe, run!" some in the crowd shouted, just as those waving "Draft Biden" signs did later outside the Ed Sullivan Theater where the Late Show is taped.
You can only run, Biden told Colbert, if you're in it 110 percent, "and I'd be lying if I said that I knew I was there. ... I'm being completely honest. … Sometimes it just sort of overwhelms you," he said of his grief.
Nobody could doubt either the honesty or the grief. Or the fact that no matter how long Colbert is on the air, there won't be many other shows like this one.
(Correction: This story has been updated to correct the wording of six quotes in the version published before the interview was broadcast.)
Before it's here, it's on the Bloomberg Terminal.
LEARN MORE