Bernie Sanders Is Spending Rosh Hashanah at Jerry Falwell's Liberty University
Behind the unlikely pairing.
by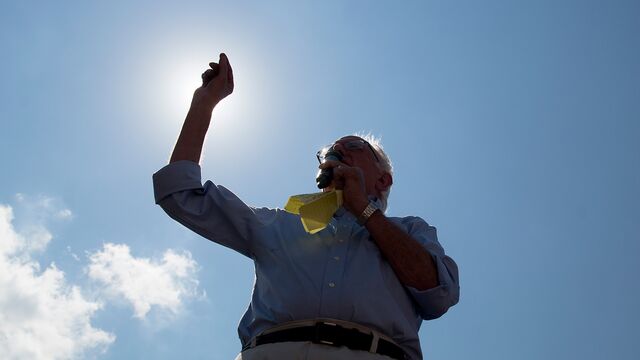 In the autumn of 1983, Senator Ted Kennedy stood at a podium in Lynchburg, Virginia, in clear, square glasses, and spoke to 4,000 students at Liberty University. Jerry Falwell, the televangelist and reverend who in 1971 founded the school as Lynchburg Baptist College, was seated to his left. Kennedy, Falwell's wife Macel later wrote, joked that he would watch the Old Time Gospel Hour if Falwell agreed to extend the students' curfew by an hour that night. He underlined the incongruity of the event, this speaker and this setting. "A number of people in Washington were surprised that I was invited to speak here—and even more surprised when I accepted the invitation," said the so-called Lion of the Senate, in the unmistakable mid-Atlantic timber of the Kennedy clan. "They seem to think that it's easier for a camel to pass through the eye of the needle than for a Kennedy to come to the campus of Liberty Baptist College." And then, in exchange for Falwell's invitation, Kennedy issued an invitation of his own. "On Jan. 20, 1985," he said, "I hope Dr. Falwell will say a prayer at the inauguration of the next Democratic president of the United States. You might not appreciate the president, but the Democrats certainly would appreciate the prayer."
No Democrat was elected to the presidency that autumn. Rather, Ronald Reagan was elected to a second term, with help from Falwell's Moral Majority. But the families—the famous Catholic Kennedys, the famous Baptist Falwells—did find at least one time pray together. When Ted Kennedy's mother, Rose, was nearly 100 years old and ailing, the senator asked Falwell to visit and pray with her, and the pastor gladly obliged. When Kennedy died in 2009, two years after Falwell did, Jerry Falwell, Jr., wrote an appreciation of the friendship between the two (he also noted that Kennedy had written him a letter of recommendation to law school). "Both of these men," Falwell, Jr. said, "understood that they could disagree without being disagreeable. They were both lightning rods for their respective causes, but they treated each other with civility and respect."
It is as a show of civility within disagreement that Democratic presidential candidate Bernie Sanders has agreed to speak on Monday at a Liberty University Convocation, which the school brags is "the world's largest weekly gathering of Christian young people." Upon accepting the invitation from the school in early August, Sanders said in a statement:
Liberty University was kind enough to invite me to address a convocation and I decided to accept. It goes without saying that my views on many issues—women's rights, gay rights, education and many other issues—are very different from the opinions of some in the Liberty University community. I think it is important, however, to see if we can reach consensus regarding the grotesque level of income and wealth inequality in our country, about the collapse of the middle class, about the high level of childhood poverty, about climate change and other issues.

It is very easy for a candidate to speak to people who hold the same views. It's harder but important to reach out to others who look at the world differently. I look forward to meeting with the students and faculty of Liberty University.
The Liberty University student code of conduct notes that "media or entertainment that is offensive (i.e., lewd lyrics, anti-Christian message, sexual content, nudity, pornography, etc.) to Liberty's standards and traditions is not permitted." It encourages "our male and female, students, and staff, and athletes to love others as Christ loves them." And it prohibits "sexual relations outside of a biblically ordained marriage between a natural-born man and a natural-born woman."
This is in strong contrast with Sanders, a proud lefty socialist, a staunch defender of abortion rights, and a critic of fastidious gender roles. Not to mention a Jew—and an unreligious one. The day Sanders is giving the convocation, which students are required to attend, happens to be Rosh Hashanah, the Jewish New Year.
As with much else in politics, you don't have to look far to find potential motivations. With his address, Sanders will get his message to thousands of people who might not be familiar with his platform. And Liberty University, the largest private nonprofit university in the country, will have the speech to point to to help it maintain its tax exemption.
In 2008, a group of students at Liberty University formed a chapter of the College Democrats for the first time in its 40-some year history. The next May, Mark Hine, the vice president of student affairs, wrote to the chapter and said, "I must inform you that the College democrats' club is no longer going to be recognized as a Liberty University club. We are unable to lend support to a club whose parent organization stands against the moral principles held by Liberty University." He continued, according to the text of the e-mail as published by the Washington Post:
Even though this club may not support the more radical planks of the democratic party, the democratic party is still the parent organization of the club on campus. The Democratic Party Platform is contrary to the mission of LU and to Christian doctrine (supports abortion, federal funding of abortion, advocates repeal of the federal Defense of Marriage Act, promotes the "LGBT" agenda, Hate Crimes, which include sexual orientation and gender identity, socialism, etc). The candidates this club supports uphold the Platform and implement it. The candidates supported are directly contrary to the mission of LU. By using LU or Liberty University and Democrat in the name, the two are associated and the goals of both run in opposite directions.
But in subsequent years, as Liberty adjusted to the death of its founder, it changed tack, as Sarah Kaplan recounted for the Post here. Falwell's son Jonathan Falwell took the reins of the church, and Jerry Falwell, Jr., reorganized the school. He turned to online education years earlier than many elite institutions to boost its finances, helping it grow, he said, "from being a small Bible school towards the goal of being a full-service university." The university now has more than 14,500 residential students and more than 95,000 more online, it says. Falwell, Jr. told the Washington Post, "We're not the Moral Majority anymore. We're not a church. Our mission is to educate."
Part of this expansion has been an easing of conservative, sometimes bigoted, restrictions (interracial dating once was banned, as were jeans). Now students can watch movies with more dangerous ratings than G, but still not R, according to the Post. And now they learn evolutionary science—alongside the teachings of the Bible.
In the gyre's widening, the group Americans United for Separation of Church and State in May 2009 filed a complaint with the Internal Revenue Service questioning Liberty's nonprofit status. The following month, the school announced that that it would no longer grant the College Republican club official status either—a way to avoid the appearance of bias. And it shook up its speaker list. Upcoming speakers include the former baseball player Darryl Strawberry, Rabbi Daniel Lapin, Texas Representative Louie Gohmert, Fox News anchor Gretchen Carlson, and Duck Dynasty stars Korie and Sadie Robertson.
In coverage of Sanders's upcoming speech, mention is always made of another presidential candidate: Texas Senator Ted Cruz, who announced his campaign at a convocation there in March. Many other Republican candidates have spoken there, as well, and very likely others will. But the university website notes that convocation gives students the opportunity "to hear from prominent speakers of national/global significance from every sphere of society. Speakers challenge, motivate, and inspire students as they share their stories and impart wisdom from experience in their respective fields."
In fact, Falwell, Jr. told the Post that Liberty made the decision to invite Sanders even before Cruz became the first 2016 presidential candidate to make his bid official. "We've always believed that our convocation should be a forum for different views, a time to ask questions and learn," he said. 
"A university is supposed to be a place where all ideas are discussed," Falwell, Jr. added. So Bernie Sanders might feel welcome.
Before it's here, it's on the Bloomberg Terminal.
LEARN MORE