Before Foreign Audience, Trump Says Obama and U.S. Get No Respect
Remember the old adage "politics stops at the water's edge?" Fuggedaboutit!
by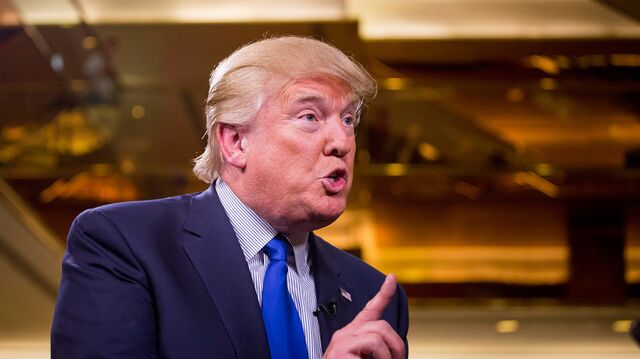 Republican presidential candidate Donald Trump, who has spent the week furiously criticizing elected officials of both parties, tested his message before a foreign audience Friday, blasting President Barack Obama as a weak leader in remarks beamed to a gathering in Kiev.
"Our president is not strong," declared Trump, who spoke via a videoconference link.
As he has with so many other unwritten rules of political etiquette, Trump ran roughshod over the adage "politics stops at the water's edge," in an appearance before the Yalta European Strategy conference organized by Ukrainian business mogul Victor Pinchuk. Trump treated the audience of about 350 foreign politicians, academics and business leaders — including disgraced former International Monetary Fund head Dominique Strauss-Kahn and former U.S. Treasury Secretary Larry Summers — like a group of potential voters to be wooed. He made flattering and sympathetic remarks about the country in which they were meeting.
"I know many people that live in Ukraine, friends of mine," he said. "They are fantastic." He suggested that problems of the country, which last year saw part of its territory annexed by Russia, could be blamed on Obama.
"Part of the problem that Ukraine has is with the United States," Trump said, adding, in a reference to Russian President Vladimir Putin, "Putin doesn't respect our president.
"It is a big problem," Trump continued. "There is a lack of respect for the United States, lack of respect for our president and there is a lack of respect for the government itself."
Related
Trump said Obama "is not doing what he should be doing for the Ukraine,"  eliciting a round of applause.
His listeners seemed intrigued and amused by the Republican front-runner, clapping and laughing throughout his remarks. Trump told the group he's running for president because "I love my country.
"It is a wonderful country but it is having a lot of problems," Trump said. He called recent polls showing him widening his lead over the Republican field "amazing," and offered his own interpretation for the audience. 
"The U.S. needs a strong leader," Trump said. "We do not have a strong leader right now. We have a leader that has no vision."
Organizers of the conference said it is their practice to invite leading candidates from countries holding elections to speak before the group, which was meeting for the 12th year in a row.  Attendees included two former prime ministers: Tony Blair of Great Britain and Carl Bildt of Sweden. Up until last year, the conference was held in Yalta but had to be moved after Russia took over the Crimean peninsula from Ukraine. Hillary Clinton spoke before the same conference in 2013 and her husband, former President Bill Clinton, also addressed the group Friday via a TV link. Former Clinton pollster Doug Schoen was on stage helping to run the video-conference when Trump spoke. 
Before it's here, it's on the Bloomberg Terminal.
LEARN MORE