Jeb Bush Tries to Wonk His Way Back to the Top of the Republican Field
As Donald Trump commanded the cable airwaves while hurling insults, the son and brother of the past two Republican presidents presented himself as the party's most prepared candidate.
by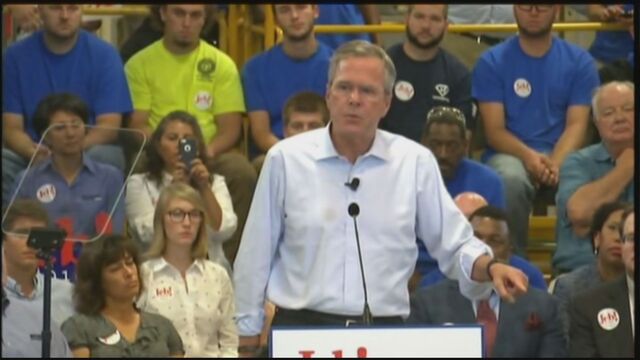 In a year when voters say the economy is the top issue, and increasingly trust Republicans to deal with it, Jeb Bush leaned in Wednesday, unveiling an overhaul of the U.S. tax code that he sees as the engine of his plan to double economic growth. But as Bush was speaking to modest crowd in suburban North Carolina, it was Donald Trump dominating the cable television airwaves.
Throwing his arms in the air and hurling insults at the nation's elected leaders from outside the U.S. Capitol, Trump drew live coverage simultaneously on Fox News, CNN, and MSNBC with his performance at a rally protesting President Barack Obama's proposed nuclear deal with Iran—a deal Republicans don't have the votes to stop. Meanwhile, Bush's explanation of his plan to eliminate tax bills for millions of low-income households, let businesses write off expenses immediately, and raise rates on hedge fund and private equity profits known as carried interest was relegated to a live feed on the webpage of ABC's affiliate in Raleigh, North Carolina.
If the moment encapsulated the current state of the Republican presidential race—New York's celebrity real estate mogul enters his third month leading the polls while the best-funded candidate in the field goes begging for attention—it also served as a baseline in Bush's battle to claw his way back into the spotlight. While Trump and Ben Carson, both of whom have never before served elected office, are the top two choices of GOP voters, the son and brother of the past two Republican presidents presented himself as the party's most prepared candidate, and its best chance to win a general election.
The tax plan from Bush, who published a book on immigration policy in 2013, comes two months after his proposal to cut the size of the federal government and limit the influence of lobbyists, and weeks ahead of plan to take on college debt in the coming weeks. Trump has released an immigration plan that relies on convincing Mexico to pay for a wall along the U.S. border, and amending the U.S. Constitution to end birthright citizenship.
"This political environment we're in now where the louder voices just turn up the volume, and that's a sign of strength and leadership? It isn't," Bush pleaded at Morris & Associates, a company that makes cooling equipment. "Having a thoughtful plan that has enough details where you're going to be able to get it challenged and fight back and persuade people that it's the right thing to do is the only way big ideas will be implemented in Washington, D.C."
Bush's tax plan, which Democrats criticized as "more extreme" than the cuts his brother, former President George W. Bush pushed into law, would be a $3.4 trillion cut over a decade, reducing federal revenue by about 8 percent, according to an estimate prepared by four economists, including Glenn Hubbard, one of Bush's top advisers. They expect the plan and forthcoming regulatory proposals to generate enough economic growth to cover about 65 percent of the costs, leaving a net revenue loss of $1.2 trillion. 
Bush has said his tax plan, combined with immigration, regulatory and education policies, would foster an era of entrepreneurial investment and ultimately generate 4 percent growth, a rate that was last reached during tech boom during the Clinton administration.
"The animal spirits still exist inside of Americans," Bush said on Wednesday, describing his plan as a "radical change" that would lead to 19 million new jobs.
"Secretary Clinton and Mr. Trump may not believe we can do it, but I do," Bush said, referring to his chief Democratic and Republican rivals for the presidency.
Bush will immediately road-test his plan on Thursday in New Hampshire, a state with no income tax, no sales tax, and some of the Republican Party's most libertarian-minded voters.
"It's a smart play for Bush," said Steve Duprey, the Republican national committeman from New Hampshire who is neutral in the presidential primary. "The average voter isn't going to go 20 pages into a policy proposal to see the fine print, but they like to know a candidate has a plan. And with 17 candidates, it's smart for Bush to be one of the first to roll it out."
While Bush has been a regular visitor to the Granite State, making at least a dozen trips in the past six months, he was trailing Trump by 20 points in an Sept. 6 NBC/Marist poll. The same poll showed Bush 23 percentage points behind Trump in Iowa. In South Carolina, the third state with an early presidential nominating contest, Bush was down 31 points in a Public Policy Polling survey released Tuesday.
Bush released the first TV ad of his campaign this week in New Hampshire, describing himself as separate from the "self-promoters" and "D.C. politicians" he's running against. "I'm offering something different: leadership, ideas and a proven conservative record," Bush says in the spot.
He'll use his tax plan to flesh out that message on Thursday while visiting a Exeter company that sells water pumps and at a townhall meeting in Salem. On Friday, Bush will discuss his plan at a Manchester tech company, where he'll hold another townhall meeting. 
Bush's policy rollout comes as he's routinely mocked by Trump as "low-energy." Bush has returned fire, accusing Trump of masquerading as a conservative.
Bush, who supports easing immigration laws, took aim at Trump on Wednesday by criticizing the New Yorker's proposal for a border wall as economically lacking.
"Now those on the left, and even some people who call themselves Republicans, will tell you that to save U.S. jobs we have to throw up a bunch of walls and tariffs and protect our businesses from compeition," Bush said. "That's a siren call of surrender."
A call Bush hopes he'll never have to utter.
—Richard Rubin contributed to this report.
Before it's here, it's on the Bloomberg Terminal.
LEARN MORE