Jeb Bush: 'I Have the Energy to Serve'
The former Florida governor has slipped in the polls as Trump criticizes his energy level.
by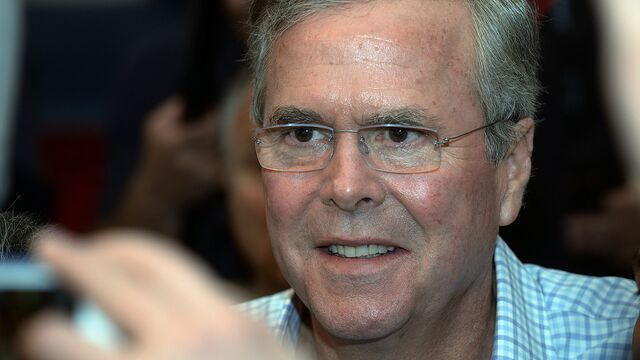 Less than a week before the second Republican presidential debate, Jeb Bush laughed off criticisms from Donald Trump that he's "low-energy." 
Asked if he had plans to change things up during the debate next week in California, Bush shrugged. "Nah, I'm just going to be my boring, normal self."
"I'll tell you a funny story," Bush continued. "When I was governor of the state of Florida, working 80-hour work weeks, I think the code name that the Florida Department of Law Enforcement gave me was 'Ever Ready.' I'm still ever-ready. I'll be ready for the debate. More importantly, I have the energy to serve. And it's not about me. It's not about him. It's about the fact that people need to be lifted up in America. I have the energy to be on their side for sure."
Bush, who is trailing Trump by 20 points in New Hampshire, a crucial early primary for the former governor, bounced into the Granite State on Thursday, a day after unveiling a wide-reaching tax plan that he promises will fuel economic growth in the country while cutting government revenue by 8 percent.
Bush shook hands and joked with workers at the R.E. Prescott Company, a water-pump distributer in Exeter. Speaking with reporters later, Bush was asked about Trump's recent attacks on fellow Republican presidential candidates Carly Fiorina and Ben Carson.
"They have to get in line," Bush said. "I'm still the No. 1 beneficiary of the Donald's insults. But look, he is who he is. He likes to disparage people. Ultimately, look, the guy's the front-runner. What's his tax proposal? The last time he had one, he called for the largest tax increase in world history."
Before it's here, it's on the Bloomberg Terminal.
LEARN MORE