Debbie Wasserman Schultz: 'We're Having Six Debates–Period'
The Democratic National Committee chair also jabbed at the candidate who's been most aggressive in agitating for more.
by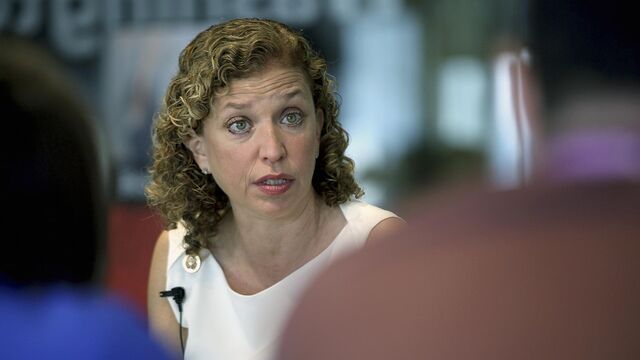 Facing increasing resistance from candidates and party officials, Democratic National Committee Chair Debbie Wasserman Schultz on Thursday stood firmly by her plan to hold exactly six presidential debates—and jabbed at the candidate who's been most aggressive in agitating for more.
"We're having six debates–period," the Florida congresswoman said at a Christian Science Monitor breakfast in Washington, repeating that pledge several times over the course of an hour, even when pressed on former Maryland Governor Martin O'Malley's claims that the process is "rigged" against all candidates other than former Secretary of State Hillary Clinton.
"We're not changing the process. We're having six debates," she said. "We're having six debates and the candidates will be uninvited from any subsequent debates if they accept an invitation to a debate outside the six DNC-sanctioned debates."
O'Malley repeated his charge that the process is rigged Thursday on MSNBC's "Morning Joe," saying that it was "the prerogative of the chair" to determine the debate schedule and that "there's always an inclination … for old relationships to kind of circle the wagons and protect one another," referring to Wasserman Schultz's relationship with the Clintons.
Asked about those comments hours later, Wasserman Schultz was dismissive. "A couple days ago, I think it was Drudge Report that suggested that I obviously delayed the debates, our first debate, to mid-October because I'm in the tank for Joe Biden. You know, every day someone is going to say something about my intentions," she said. "I have a party to run. I have to simultaneously make sure that we are getting ready to make sure that the party is prepared to support our eventual nominee and at the same time manage a neutral primary nominating contest, which I'm going to do."
After the breakfast, Wasserman Schultz offered a more pointed criticism of O'Malley's approach. "Every candidate does what they believe they need to to attract attention to their campaign," she told reporters. "He has chosen to focus on debates, rather than substance. That is certainly his prerogative."
While O'Malley has been most aggressive in calling for more debates—even calling out the DNC and Wasserman Schultz on the issue while on stage at a DNC meeting in Minneapolis last month—Vermont Senator Bernie Sanders has said she's in favor of more. Even Clinton, who is seen as benefiting most from the six-debate schedule, said this weekend that she'd be open to additional debates.
There's also opposition to the existing schedule from within the DNC leadership. Two DNC vice chairs, Hawaii Congresswoman Tulsi Gabbard and former Minneapolis Mayor R.T. Rybak, made their concerns public on Wednesday, calling it "a mistake" to limit the process to six debates with the threat of penalizing candidates who participate in non-sanctioned debates.
But Wasserman Schultz insisted that she'll stick to her guns.
"I'll make decisions that make people happy, that will make some people not happy. I can't worry about that," she said, arguing that six debates hits a sweet spot: enough for voters to see plenty of interaction between the Democratic candidates, and not so many as to burden their campaigns.
"The purpose of it is so we can make sure that the Democratic Party's debate process doesn't get out of control," she said, pointing to the 2008 Democratic primary, which included 26 debates, a number that "I don't think ... was helpful."
Too many debates could end up damaging the campaigning process, she argued. "It's important to make sure that we keep the candidates with a schedule that allows them to really engage in" intensive campaigning in the early primary and caucus states.
Before it's here, it's on the Bloomberg Terminal.
LEARN MORE