Alternate Realities: Iran Deal Portrayed in Dueling Speeches by Clinton, Trump and Cruz
The former secretary of state struck a measured tone. Her Republican presidential rivals opted for something different.
by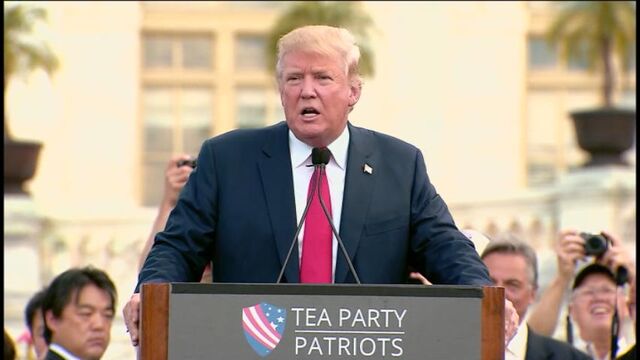 How differently do Republican and Democratic presidential candidates talk about foreign policy?
Well, let's see: At the Brookings Institution in Washington on Wednesday, Democratic front-runner Hillary Clinton spoke slowly and oh so deliberately, to invited guests of the think tank, about the various merits and weaknesses of the Iran deal in the context of a broader strategy in the region. Sounding very much like the diplomat she was, she acknowledged that "there are no simple or perfectly satisfactory solutions," and allowed that there was room for disagreement among "people of goodwill."  
A couple of miles away, outside the Capitol, meanwhile, opponents of the deal waved American and Israeli flags and signs that said "Jewish lives matter" and "POTUS in bed with those who behead." Several thousand in all, the crowd was waiting to hear from the two most theatrical Republican presidential hopefuls: Billionaire Donald Trump, whose war on subtlety began a lifetime ago, and Texas Senator Ted Cruz, who said outright and with great emotion that to allow sanctions to be lifted is to sponsor Iranian terrorism.
What Clinton sees as a hard-won accomplishment that will keep Iran from getting nuclear weapons, her Republican rivals call a capitulation guaranteed to get Americans and Israelis killed. Cruz implicated his fellow Republicans House Speaker John Boehner and Senate Majority Leader Mitch McConnell, too, for failing to stop the deal. But when Tea Party supporters then obliged him by booing them, he insisted that he was really only saying that it was not too late for congressional leaders to do the right thing and find a creative way to block the deal, which does have enough support to survive a filibuster.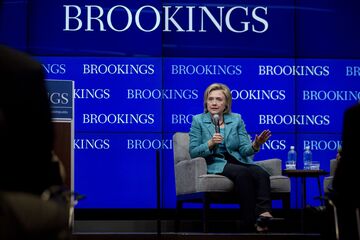 "I come not to bury Caesar, but to praise him," Cruz said of McConnell and Boehner, inverting what Shakespeare's fibbing Antony only says to calm the crowd at his friend's funeral. The opposite is true, of course; Antony has come to eulogize Caesar, and does. So, does that mean Cruz has come to bury the GOP leaders?
The Shakespeare-inspired message Cruz was really sending, in any case, was that unless Boehner and McConnell find some way to kill the deal, they can look forward to a lifetime of the kind of guilt that Lady Macbeth, of "out, damned spot" fame, suffered: "If you are directly responsible for sending billions of dollars to jihadists who use those billions to murder Americans," said the Texas senator, "you cannot wash your hands of that blood."
Trump's allusions were equally colorful, but more straightforward: "Never, ever, ever in my life have I seen any transaction so incompetently negotiated as our deal with Iran."
The front-runner did not declare himself at all surprised: "We are led by very very stupid people," and so "lose to everybody," Iran included. (Cruz, however, is not among the stupid: "It is a little bit of a romance" between the two candidates, Trump told reporters. "I like him. He likes me.") 
But what ho, should he who has been wooed by Cruz become president, even the foreign policy will be over-the-top. "We will have so much winning," Trump promised, "that you may get bored with winning, believe me." Oh, and "if I win the presidency, I guarantee you that those four prisoners are back in our country before I ever take office," he said of those still being detained, including Washington Post journalist Jason Rezaian, former U.S. Marine Amir Hekmati, and pastor Saeed Abedini.
Other Republican candidates, too, make all those who support the Iran deal out to be treasonous, and make bringing Iran, the Islamic State, and Syria's Assad to heel sound so easy. (An exception is South Carolina Senator Lindsey Graham, who says it will be hard, horrible, and worth doing anyway.)
Clinton, on the other hand, defends the deal by surrounding it with context she heaps on not with a shovel but a teaspoon.  
The cheekiest thing she said in her long, exceedingly and appropriately careful talk at Brookings, was that "Vice President Cheney may hope the American people will forget, but the truth is by the time President Obama took office and I became secretary of state, Iran was racing toward a nuclear capability" stopped only by Obama's (and Clinton's) "two-prong strategy of pressure and engagement."
"Iran didn't really feel the heat," she bragged, "until we turned this into an international campaign so biting that Iran had no choice but to negotiate."  
She does agree with Republicans that her name should be on the deal, as she helped begin secret negotiations for a deal that "blocks every pathway for Iran to get a bomb."
But naturally, her summary of the facts is not quite as cataclysmic as those of her GOP counterparts: "Without a deal, we would have no credible inspections" in Iran, and "with a deal, we'll have unprecedented access," including daily access to the supply chain. "Even with delayed access to some places, this deal does the job" because "microscopic nuclear particles remain for years and years; they are impossible to hide." 
Just as during a marathon day of arguments about the deal, it's impossible not to notice that she speaks both more seriously and less emotionally about the serious dangers in our world. 
On Syria, she does agree with Republicans who say that Obama should have done more to "train and equip the moderate Syrian opposition" that many experts argue doesn't even exist. And she is much more soothingly deferential to Israel than the president has been, even as she disagrees with its opposition to the deal.
While saying she understands skepticism about it, she adds that "I have a harder time respecting those who approach an issue as serious as this with unserious talk, especially anyone running to be president of the United States."
On Capitol Hill, McConnell disagreed with her on the deal itself, but was right there with her on the "unserious talk.''
"Tired talking points won't get us there," he said from the Senate floor, and "a filibuster won't do it, either, but here's what will: Respecting each other will get us there. Serious discussion will get us there. A debate worthy of the moment will get us there."
Right outside, the 50 speakers who'd come to argue against the deal included former GOP vice presidential nominee Sarah Palin, who when her turn came illustrated his point: "It's up to us to tell the enemy, 'We win, you lose,' just as Ronald Reagan would have told them."
"Is there any chance at all that you're going to run for president in '16?" a young reporter asked her. That may not have been a serious question, either, though she does sound like some of her party's candidates.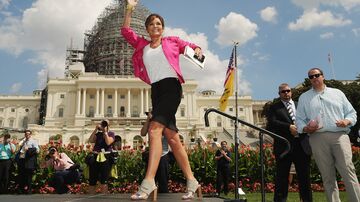 Before it's here, it's on the Bloomberg Terminal.
LEARN MORE