3 Charts Illustrate Donald Trump's Big Summer on Twitter
The billionaire and his family are big on the microblogging social network.
by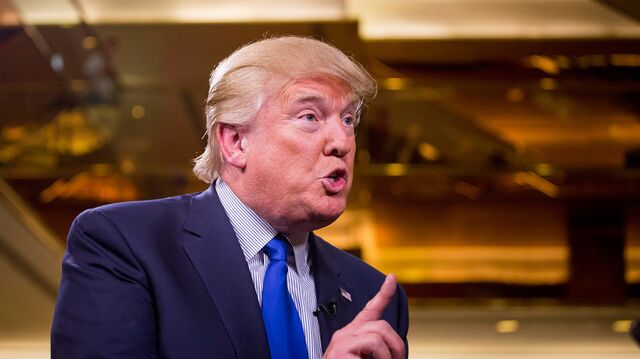 Republican presidential candidate Donald Trump was the talk of the summer and finished strong. Twitter analytics demonstrate just how much the billionaire has dominated the conversation on the social network, propelled by his appearance in the Fox News debate and his resulting feud with host Megyn Kelly.
Between Aug. 10 and Sept. 9, Trump was mentioned on Twitter more than 1.5 million times, according to data from Topsy. To put that in perspective, it's almost three times the number of mentions Democratic front-runner Hillary Clinton had. For each candidate, those numbers include all @ mentions, positive and negative, but it's safe to say that each one of them has a healthy mix of both. 
When it comes to his Republican competitors, the comparison is even more striking. Ben Carson, who has recently been polling at at a distant second place, had just 73,983 mentions. Jeb Bush, whom Trump has been berating as "low-energy," had 123,211.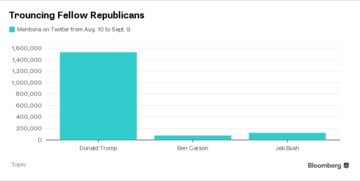 Trump saw an 11 percent increase in his Twitter followers over the month of August, going from 3,658,914 on Aug. 10 to 4,058,373 on Sept. 5.
Several of Trump's children have been involved in the campaign, and have seen their mentions on Twitter spike when the do something campaign related. For example, when Eric Trump tweeted a picture of his father signing a loyalty pledge to the Republican party on Sept. 3, he was mentioned more than 4,000 times, according to Topsy.
This attention that Trump brings to his children feeds back into the family brand, since each kid represents a facet of the Trump organization. While Trump may divert resources away from his business for now, the attention that he brings to his children can still ultimately help his brand. That said, he rest of the Trump brood's increases in followers were not nearly as dramatic as their father's. Each gained moderately over the course of the month, but not at the rate their father did. Ivanka picked up almost 20,000 followers between Aug. 10 and Sept. 9, Donald Jr. added more than 14,000, Eric's followers swelled by more than 11,000, and Trump's wife, Melania, drew nearly 9,000 more. At the same time, the total reach of the Trump family, including Donald Trump, his wife and children comes to almost 7 million.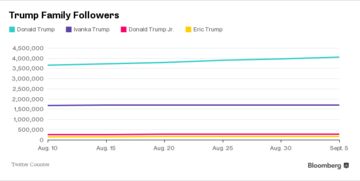 Before it's here, it's on the Bloomberg Terminal.
LEARN MORE